Pak can't ignore Headley's revelations: Krishna
Last updated on: July 20, 2010 23:59 IST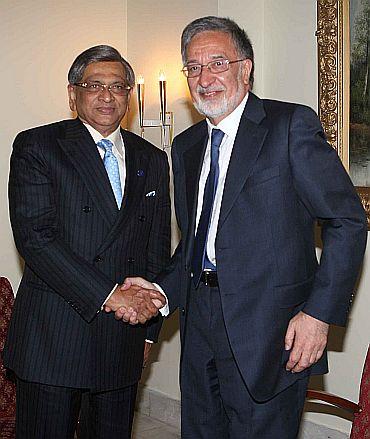 Talking tough, External Affairs Minister S M Krishna on Tuesday told Pakistan to take "seriously" the revelations made by Lashkar-e-Tayiba operative David Headley on the Mumbai attacks and not "push them under the carpet".
Faced with a series of flip-flops from Pakistan, India's concerns with regard to the 26/11 attacks will only be addressed "slowly" by that country, the minister believed.
"Whatever Headley has told the FBI (Federal Bureau of Investigation) has to be taken seriously by Pakistan and India's concerns have to be addressed," he told reporters accompanying him on his way back from Kabul, where he attended the International Conference on Afghanistan.
Text: PTI
Click NEXT to read further..
'Headley's revelations can't be brushed under the carpet'
Last updated on: July 20, 2010 23:59 IST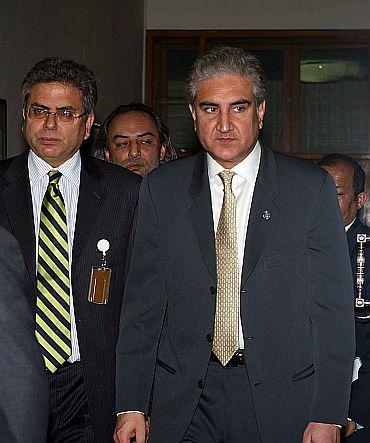 He was responding to a question on Home Secretary G K Pillai's contention that Inter Services Intelligence was involved in the Mumbai terror attacks.
"Whether we like it or not, Headley's statements have come into the public domain. His revelations cannot be brushed under the carpet," Krishna said.
Headley had told Indian investigators in Chicago that the ISI was involved in the planning of the 26/11 attacks from "beginning to the end".
During his visit to Islamabad in June, Home Minister P Chidambaram had provided leads to Pakistan based on Headley's interrogation by Indian authorities.
'New Delhi is keen to continue dialogue with Pak'
Last updated on: July 20, 2010 23:59 IST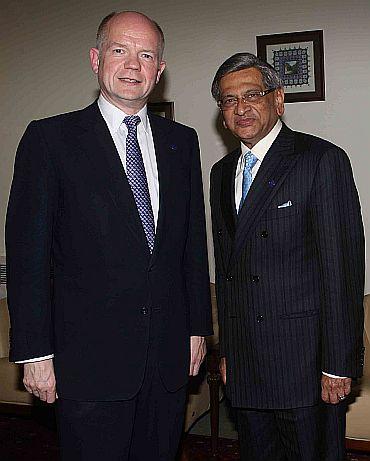 Krishna's comments came on a day Pakistan dismissed as "baseless" India's contention that Headley was linked to the Pakistani establishment and intelligence agencies.
Asked about the roadmap for the Indo-Pak talks, Krishna made it clear that New Delhi was keen to continue the dialogue process with Pakistan.
"I have just concluded one dialogue. As I have said earlier I have invited Pakistan Foreign Minister Qureshi to visit India in the later part of the year. So, I am looking forward to that so that we can take it up from where we left in Islamabad," he said.
'Indo-Pak dialogue can't be over in one sitting'
Last updated on: July 20, 2010 23:59 IST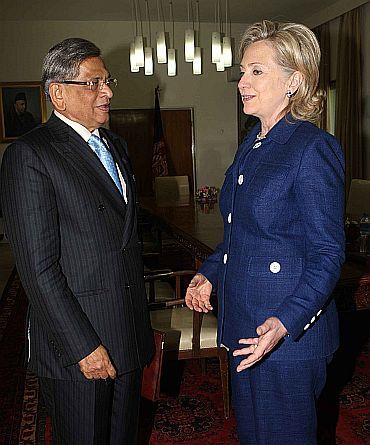 Krishna, who met his US counterpart Hillary Clinton on the sidelines of the International Conference, said he gave her his assessment of the situation in the region and his talks with Pakistan Foreign Minister Shah Mehmood Qureshi.
He said he told Clinton that India wanted a dialogue that could continue.
"I mentioned that India wanted a dialogue which could continue. It was not a dialogue which could be over in one sitting. I think there has to be continuity to the dialogue. Because the nature of the problems that we have inherited over 60 years cannot be resolved by one, two or three dialogues," he said.
Krishna said there has to be an institutional mechanism for resolving the concerns between India and Pakistan.
'We didn't discuss Kashmir with US'
Last updated on: July 20, 2010 23:59 IST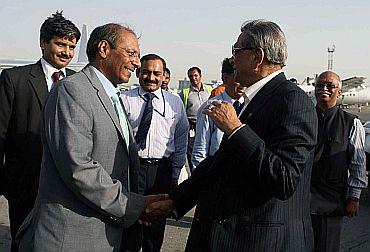 "So I gave my assessment of the situation. India wanted a graduated approach to settle the problems (with Pakistan). First we should dispose of those which are doables, which take very little complexities. We can deal with other problems later on when we meet again," he said.
Asked whether Kashmir issue came up during his discussion with Clinton, Krishna replied in the negative. The US Secretary of State, who was in Islamabad on Monday, had said that the Kashmir issue is an "impediment" in developing a relationship that will be beneficial to both India and Pakistan.
"Kashmir (issue) that have divided India and Pakistan and in my view are impediments to developing a relationship that would be beneficial to both countries," she had said.
© Copyright 2022 PTI. All rights reserved. Republication or redistribution of PTI content, including by framing or similar means, is expressly prohibited without the prior written consent.