Curfew shadow over Martyr's Day in Srinagar
Last updated on: July 13, 2010 16:52 IST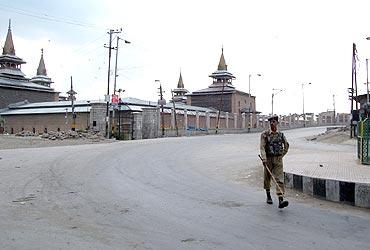 Curfew-like-restrictions were imposed on Tuesday in Jammu and Kashmir's summer capital Srinagar and other towns to scuttle the separatist called marches.
While the moderate All Parties Hurriyat Conference chairman Mirwaiz Moulvi Umar Farooq had called for a march from the Rajouri Kadal in old city to the martyr's graveyard, the hardline APHC had asked people to reach the graveyard for a march to Eidgah grounds.
However, early on Tuesday morning, the authorities moved heavy police and paramilitary Central Reserve Police Force reinforcements in the old city of Srinagar and blocked the road intersection with barricades to scuttle the pedestrian and vehicular movement.
Text: Mukhtar Ahmad in Srinagar
Elaborate security arrangements were in place
Last updated on: July 13, 2010 16:52 IST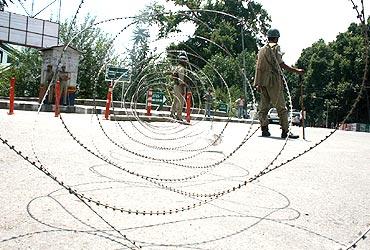 Security forces were patrolling the streets in the uptown areas of Srinagar to maintain law and order.
It was this day in 1931 that 22 Kashmiris were killed in an uprising against the autocratic rule of the Dogra Maharaja.
The Martyr's Day is being observed in Kashmir across the political divide of mainstream and separatist politics.
Elaborate security arrangements were in place around the graveyard since early on Tuesday morning with senior police and paramilitary CRPF offices overseeing them.
CM Abdullah pays tribute
Last updated on: July 13, 2010 16:52 IST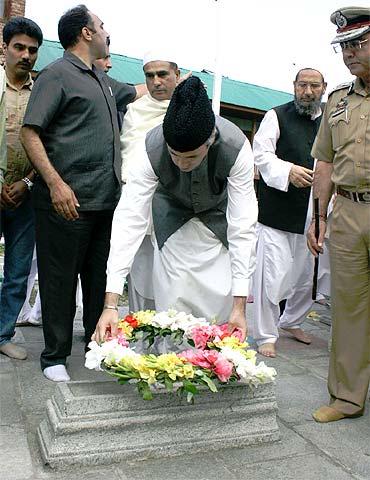 Chief Minister Omar Abdullah visited the graveyard in the Khawaja Bazzar locality of the old city along with his father and National Conference president, Dr Farooq Abdullah early on Tuesday morning to offer floral tributes at the graves of those killed in the Dogra soldiers firing outside the Srinagar central Jail in 1931.
The hurriedly held function began early morning and concluded within minutes. The security forces had been making announcements on the loud speakers asking local residents to stay indoors as curfew had been in imposed in the area.
Srinagar was deserted
Last updated on: July 13, 2010 16:52 IST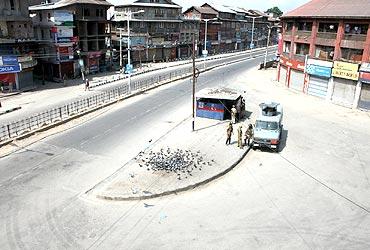 The opposition Peoples Democratic Party patron and former chief minister Mufti Mohammad Sayeed also visited the graveyard to offer tributes.
This is for the first time in recent years that no public meeting was held at the graveyard by the ruling NC because of the prevailing situation in Kashmir Valley.
Tension still persists in Valley
Last updated on: July 13, 2010 16:52 IST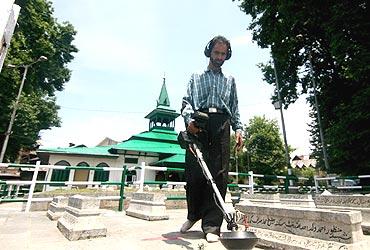 At least 15 persons most of teenagers and a 25-year old woman were killed in the firing by CRPF and police in past one month in Kashmir Valley which led massive protests and violence.
Security restrictions are also in place in the other Valley towns like Sopore.
Mirwaiz Moulvi Umar Farooq, continued to be under house arrest in his Nagin residence while the hardline separatist leader Syed Ali Shah Geelani has been arrested under the public safety act.