The man who delivers health care to rural India
Last updated on: January 15, 2010 20:55 IST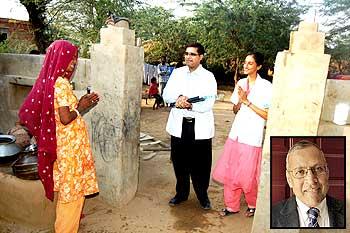 Just a few years ago, Dr Bhagwati P Agrawal, founder and executive director of Sustainable Innovations and erstwhile World Bank and United Nations Development Programme consultant, launched Aakash Ganga to harvest domestic rainwater to alleviate the perennial shortage of drinking water in India.

Now, along with his seed money provider and entrepreneur Atul Jain, Agrawal is at it again in, using new science, engineering and entrepreneurship to build self-sustainable social enterprises.



This time, Agrawal, who worked to commercialise innovations for more than three decades at Fortune 100 companies and entrepreneurial ventures, has just launched Arogya Ghar -- a mobile kiosk-based clinics to deliver health care to rural villages and urban slums in India.

He worked on the project in partnership of the Indian Institute of Health Management Research and the Birla Institute of Technology and Science, Pilani.

Click on NEXT to read further...
'Medical professionals found treating villagers economically unrewarding'
Last updated on: January 15, 2010 20:55 IST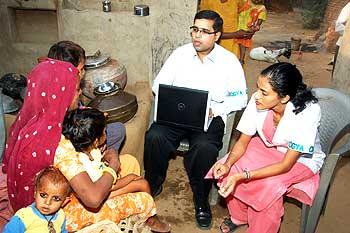 During one of his visits while working with Aakash Ganga in rural villages of Rajasthan, he asked a 50-year-old man, who was coughing profusely, about his health.
"His response was, 'I am a 50-plus years old and I am fine.' The response made me ponder: How easily he had rationalized his asthma as a natural aging process befitting his age, and I thought to myself, Is ignorance bliss? When I returned to the US, this story continued to gnaw at me, until I decided I got to act on it."

Shortly, Agrawal came across a survey by Dr Abhijit Banerjee, professor of economics at the Massachusetts Institute of technology, which highlighted the problems of health care delivery in rural Rajasthan. The survey cited widespread absenteeism at rural health sub-centres as a serious problem.

The survey pointed out that since only one nurse often mans the sub-centres, 'this high absenteeism means that these facilities are often closed', and that these sub-centres were closed 56 per cent of the time during regular opening hours.



Agrawal said medical professionals found treating patients in villages economically unrewarding because 'the villagers are poor and don't have the money to pay competitive fees for health care services. And, since there were no standardised protocols for treating common ailments and preventable diseases, this just compounded the problems of an acute shortage of trained health professionals'.

Agrawal said it was then that "Arogya -- the kiosk-based clinic for the masses -- was born to make medical knowledge mobile and serve vulnerable populations at extremely low cost and put this knowledge in the hands of social entrepreneurs going door to door treating patients at home."

'We assign every child a unique health identifier number'
Last updated on: January 15, 2010 20:55 IST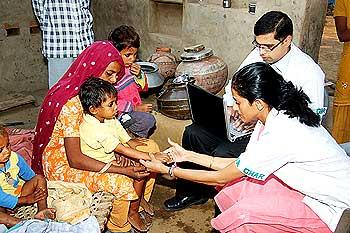 He said that with several physician friends, such as Drs S P Sudrania, Suman Kapur, and Alok Tyagi, "we computerised medical protocols for 15-20 prevailing common ailments and preventive medications such as diarrhoea, anaemia, tuberculosis, asthma, respiratory infection, reproductive tract infection, malaria, and also vaccinations."

The kiosk would assign every child a unique health identifier number. This number, he explained, is as secure as a credit number. "A patient's medical history can be retrieved using this number," he said.

According to Tyagi, a practicing paediatrician, and head of paediatrics, Birla Sarvajanik Hospital, the UHI was important "because mothers can seldom recall the vaccination dates of their children. They often associate dates with events in family or festivals. With the kiosk, you have a longitudinal history of immunisation."

He said the per visit cost was $0.25 (about Rs 12) and the kiosks are owned and operated by these high school to college-educated social entrepreneurs, who have been given several weeks training at IIHMR to run for-profit ventures.

Agrawal said he got a $200,000 (about Rs 90 lakh) grant from the World Bank for Arogya and help with the computerisation from Atul Jain at TEOCO in Fairfax Virginia.

"We hope to leverage this effort to computerize all protocols published by the World Health Organisation and UNICEF on health and nutrition for all ages -- children, adults, women," he said.

He said his project's approach was simple -- to make medical knowledge, if not medical professionals, accessible to rural populations. "That is, computerise the medical protocols for common ailments and preventable diseases. Rethink the best medical practices and reduce them to simple interactive algorithms."



Agrawal said the kiosk would provide instructions in multiple languages to cater to multi-lingual and multi-cultural populations, but that the graphically driven kiosk would require minimal language proficiency for health workers to enter the data -- demographics, chief complaints, symptoms, etc.

He said there would be control in the sense that "physicians would track the performance of the local health workers from captured data and take remedial measures, if required."

'Arogya equipped with protocol for child immunisation'
Last updated on: January 15, 2010 20:55 IST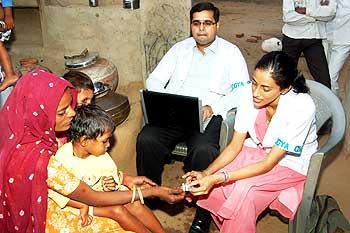 Agrawal said Arogya would have the innate ability to grow in both capability, as in the number of ailments addressed, and capacity, the number of patients.

He explained that, for example, "capabilities may be along several dimensions such as child development and immunisation, telemedicine, and chronic disease treatment. That is, Arogya will be equipped with a protocol for child immunisation, whether it be measles, mumps, rubella, hepatitis B, TB, diphtheria, or tetanus, he said.

He said the UHI of each child would maintain a health maintenance report and help track the child's progress. For chronic diseases such as asthma and diabetes, he said Arogya, "may create a daily diary for each child or adolescent and this will record lung capacity or sugar levels."

These diaries are to be reviewed by paediatricians in a nearby town or at IIHMR. In case of non-preventable diseases, Arogya would send the clinical data to specialists for a simple form of telemedicine.

He said that the growth in capacity "entails replication of Arogya from one village to another village in a region or from one region to another," and noted that the IIHMR has the "management facilities and training facilities to train up to 1,000 health professionals per year."



He said that work was on to couple Arogya with the National Rural Health Mission, a health programme sponsored by the Indian government. Agrawal said they had the qualified staff to modify medical protocols as required when replicating the Arogya model in other areas.

He said the social entrepreneurs would also be governed by policy set by an advisory board consisting of social workers, local governance and accredited social health activists, on issues like subsidised care for people below the poverty line. He said village contributions would form a revolving fund to replenish the stock of medicines.

Providing healing touch to vulnerable populations
Last updated on: January 15, 2010 20:55 IST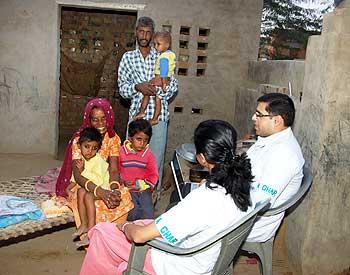 Agrawal heaped praise on Jain, saying he has been vigorously championing all his social enterprises to help the vulnerable populations in India. Jain, he said, personally supported the water and health care projects with a variety of resources, including the financial kind, and leads private donors in contributions.

"Atul and I are in the process of setting up a Centre for Sustainable Innovations Private Limited as a social enterprise in India," he said, and added, "Under CSI India, we are forming a charitable trust -- Sustainable Innovations India Trust to execute these projects."



Agrawal has made a name for himself with his development-related work. In 2006, he had won the World Bank Development Marketplace Award for domestic rainwater harvesting.

In 2007, he bagged the same award for low-cost delivery of health care to vulnerable populations. In 2009, he was named the Purpose Prize Fellow by Civic Ventures. He is an alumnus of the University of South Florida, where he received his PhD in engineering science and of MIT Sloan School's Executive Management Programme.