The next Dr Norman Borlaug?
Last updated on: January 13, 2010 18:04 IST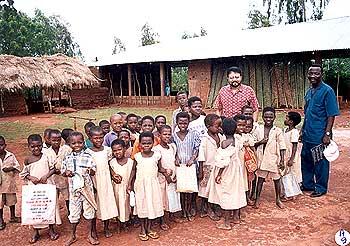 Dr Amit Roy, president and chief executive officer, International Fertilizer Development Center, could very well be the next Dr Norman Borlaug. Like Nobel Laureate Borlaug -- considered the father of the Green Revolution in India and Pakistan, in which fertilisers played a significant part -- Roy's contributions toward helping alleviate world hunger and poverty by improving sustainable agricultural productivity in the developing world is immense.
Kolkata-born, Indian Institute of Technology-Kharagpur alumnus Roy joined the Muscle Shoals, Alabama-based IFDC as a chemical engineer in 1978.
The IFDC, dedicated to enduring global food security, environmental protection and economic growth, was launched in 1974, after the First World Food Conference held in Rome.
Created jointly by the United States, Canada and Australia, it was to be the driving force in making available the advanced know-how of the industrialised world, particularly the US, to the developing countries to help them produce food to keep up with their population growth and achieve self-sufficiency.

More than 70 percent of all fertilisers available in the world today have been developed at the IFDC's Muscle Shoals campus.
Through his long tenure at the IFDC, Roy has helped reinvigorate Bangladesh's agricultural sector and establish a market for agricultural supplies and products in Albania following the fall of Communism. He has helped millions of people across Africa by being involved in research and development of new and modified fertiliser materials.
He took over as the IFDC president in 1992, and is currently focused on creating a virtual research centre that will tie in scientists and researchers around the globe to develop the next generation of fertilisers, which will more effectively release nutrients when crops need them.
Roy said the IFDC "has had two distinguished people from India on our board of directors -- Dr S K Mukherjee and Pratap Narayan.
Dr Mukherjee, along with Paul Pothen are considered the fathers of the Indian fertiliser industry. He was also the president of the Fertiliser Association of India."
Narayan, who was on the IFDC board from 1988 to 2000, was director general, Fertilizer Association of India.
Another revolution in the making
Last updated on: January 13, 2010 18:04 IST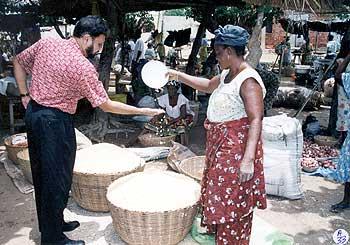 Roy disclosed that the IFDC is launching the next generation of fertilisers which would be a boon to India too and had developed three of the most important nutrients for growing crops -- nitrogen, phosphorous and potassium.
The nitrogen, he explained, "we get free from the air because air has 78 percent nitrogen. But, you need to have energy to convert that nitrogen into a form that the plant can yield. Today, urea is the most common nitrogen fertiliser used worldwide -- 135 million tons are used. To produce 1 ton of urea, it requires energy contained in four barrels of oil. Urea is the most common fertiliser, and India and China need it for their rice production."
He added that with the present usage, "it is only 30 percent efficient -- 70 percent is lost, both to air and water, not to mention the energy that you lose from not using it. We are trying to come up with the next generation of fertiliser, which will improve that efficiency from 30 percent to 70 to 80 percent, which will conserve energy, reduce environmental externalities in terms of global warming and other issues.

"Phosphate is a material that is mined and there is a big concern all over the world today in terms of how much phosphate do we have -- there are numbers from 150 years to more than 500 years," he said.
He said this is "particularly significant for India because India imports nearly 92 percent of its phosphate requirements from overseas."
"This year, India is in the market to import rice, wheat, cereal, sugar because of the drought."
India, he said, gives a very high level of subsidies for fertilisers and in 2008-2009 the subsidy was Rs 1,200 billion ($24 billion) -- a massive amount.
"So, subsidies are one of the big issues that may lead to some of the inefficient use of the material -- an unbalanced use."
More money for farmers
Last updated on: January 13, 2010 18:04 IST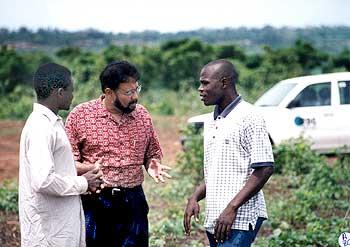 The IFDC, he said, was doing considerable research with a number of Indian entities "to help them design new types of fertilisers that will be more effective in the crop."
The Virtual Research Center, which he is setting up, he added, will "connect the best minds and the most advanced agricultural research centers to come up with the next generation of fertilisers".
This, he said, would be significant for India.
"It will allow India to use the nutrients for food production more efficiently improving productivity and efficiency. So, that will make farmers more efficient and put more money on the pockets of the farmers, and it will also address the whole issue of climate change," he said.
"We are also looking at fertilisers with regard to nutrient management and other new fertilisers that will allow the plants to cope with the climate change, like heat stress and other factors."

With the Virtual Research Center, he continued, the US-India agricultural cooperation envisaged under the Obama-Singh joint statement, would "lead to a very strong collaboration, particularly with the ICAR (Indian Council of Agricultural Research), which has all the universities and research centers under it."
Roy underlined that the biggest food security issue that India faces is nutrient management and productivity, and if that can be addressed, it would have a significant impact.
"In Bangladesh, rice is the staple food and they use a lot of nitrogen fertiliser to produce the rice and the government doesn't have the money to do so. We introduced a technology where you produce large granules and the farmers essentially hand-place those granules near the rice plant. They are now able to produce 20 percent more rice from the same area with 40 percent less fertiliser and it has now taken off very rapidly -- more than a million hectares."
This is something -- a technology -- which definitely has an applicability not only in India, but also in China, because in both countries, rice is so important. So, these are some of the new technologies that will reduce the cost of production, address the environmental issue as well as conserve energy -- make it all more efficient."
Reducing food costs
Last updated on: January 13, 2010 18:04 IST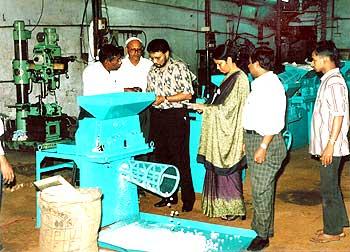 Roy pointed out that the subsidy in India goes directly to the input, not support for the farmers and the output, which is different from the subsidies by the US government to American farmers.
"If you look at the productivity of the cereal crop in India, it is less than what you have in Brazil. If you really want to compete with the United States, look at what Brazil has done and they compete toe-to-toe with the US for soybean, corn, orange and any other crop," he said.
Roy said why Brazil is so effective is because "the tracts of land in Brazil are so huge that you can do commercial agriculture -- the issue is the land consolidation. When you consolidate those lands to make big tracts of land, there's economy of production. Having said that, the farmers in Punjab can definitely compete. They not only have the knowledge but the issue is the subsidy that is given directly to the farmer in support of price.
"So, Indian farmers need to really get to a point in efficiency, where they can compete."

He agreed that huge conglomerates like Monsanto could always keep Indian farmers as subsistence farmers and lead many of them to bankruptcy and despair.
That's why, he said, the IFDC was hoping to collaborate with Indian scientists to produce the new generation of fertilisers so that the hold of these companies could be broken.
"I strongly believe that the potential of the current seeds that are produced in India by MAYCO of Maharashtra and others have not reached that genetic potential yet. So, there is a huge gap even as it exists today."
"The whole drive that we had in the Food Security Conference in Rome was how do you reduce the cost of food to make it more accessible, but you don't want to reduce it at the expense of having very little margin of profit for the farmers, otherwise you are going to drive those farmers out of business.
"While on one hand you have to increase productivity and efficiency, which will lead to reduction in costs, but at the same time, you need to increase the employment generation in the urban areas so that they can access food and that will leave enough profit for the farmers."
"The whole drive toward keeping the urban food at a cheaper price because there is a voting population on one hand, and I can see the rationale. But, on the other hand, you don't want to drive it down such that farmers don't find it profitable to continue farming."