Washington, NYC buried under record snow
Last updated on: February 11, 2010 18:34 IST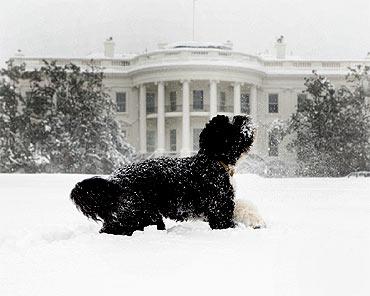 Washington and several cities in America's East Coast set a record since 1899 for snowfall after a blizzard slammed the region on Wednesday for the second time this week.

Tele-working accompanied by latest technological gadgets came to the rescue of the Obama administration and corporations through the record-breaking snowstorms that shut down the federal government offices since Monday.

In regions across the East Coast massive snow dumped up to two feet of snow during the day, with Washington, Philadelphia, New York and Baltimore being the hardest hit.

Click on NEXT to see more photographs of a record-breaking snowfall in US...


The last record was set in 1898-99
Last updated on: February 11, 2010 18:34 IST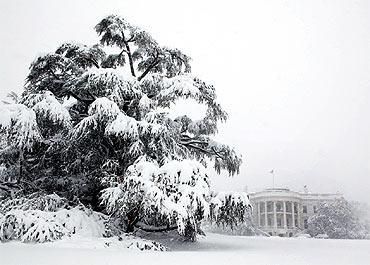 Washington set a new record of 139 centimetres, breaking the old record -- set in 1898-99 -- by more than one centimetre, while Chicago set a record for the biggest daily snowfall in February.

The 13 inches of snow there topped the 11.5 that fell February 18, 1908. Baltimore's previous winter snowfall record of 158.8 centimetres was broken and in Philadelphia, 178.6 centimetres of snow has fallen so far this winter, breaking the previous record of 166.37.

In Baltimore and several other cities authorities imposed blanket ban on movement of vehicles except for emergency ones as driving was considered hazardous.


Hundreds of flights cancelled
Last updated on: February 11, 2010 18:34 IST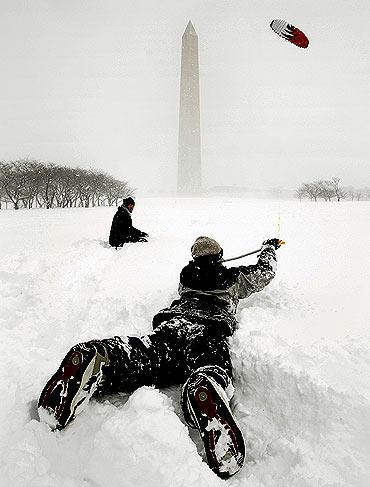 Majority of airports in the region including the three airports around Washington were closed with hundreds of flights cancelled.

The air traffic is expected to be badly affected for the next few days. As many as 5,600 flights were cancelled in the last two days, reports said.

In Pennsylvania one person reportedly died and 18 others were injures as 25 vehicles were involved in two separate accidents.

Another death was reported in Chicago where a pickup truck plowing snow hit and killed a 71-year-old woman. In New York and New Jersey some 25 to 40 centimeters of snow were reported during the day.


Modern technology to the rescue
Last updated on: February 11, 2010 18:34 IST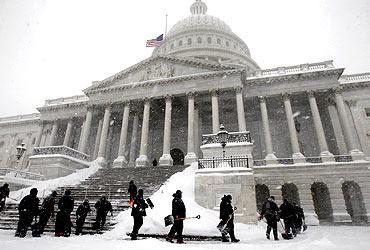 The United Nations headquarters in New York was closed for the day, so were schools and offices.

Offices have been closed since Monday as two blizzards hit the region in less than a week.

"Thanks to modern technology that has not been an issue," Jen Psaki, a White House spokeswoman was quoted as saying by The Hill.

Icy roads and heavy snows have left a number of White House staffers unable to get to the White House, but they have been able to work remotely, according to Psaki.


Tele-working from home
Last updated on: February 11, 2010 18:34 IST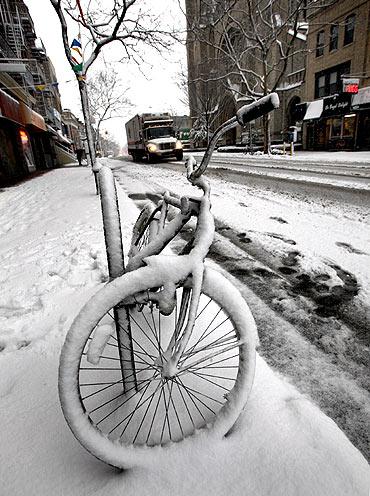 Same has been the case with most of the private sector and corporations, especially software companies which are dotted along the Beltway in Virginia.

Employees have been asked to work from home as commuting to offices was considered to be unsafe.

Officials at the State Department too resorted to tele-working this week.

As reporters were unable to reach the headquarters of the State Department, Assistant Secretary of State for Public Affairs P J Crowley held his daily press briefing over a teleconference on Tuesday. As many as 40 reporters joined the teleconference.


Management resistance is a challenge
Last updated on: February 11, 2010 18:34 IST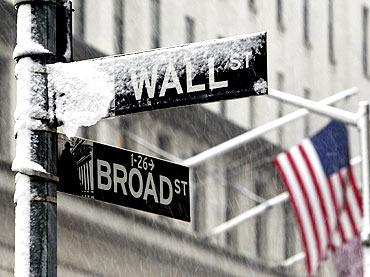 But this was not the case with most of the federal government, which is yet to integrate teleporting technologies with the office work.
According to a 2009 report by Office of Personnel and Management 102,900 federal staffers were tele-working, out of a total of 1.96 million employees.
That's an increase from past years, but it still represents a small portion -- a fraction over 5 per cent -- of the federal workforce.
The report said management resistance was one of the biggest barriers to modernisation and change. Similarly staffers at the Capitol worked from home this week.
Congressional hearings cancelled
Last updated on: February 11, 2010 18:34 IST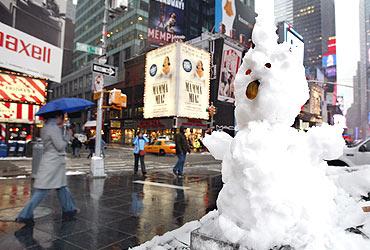 Most of the Congressional hearings have been cancelled this week.

The House of Representative has cancelled votes for the remainder of the week.

"[On Tuesday] some of us made it to the office though we were told to work from home unless we could safely come to work," one Republican staffer was quoted as saying by The Hill.

"With laptops and Blackberries, it's not as though it's a total loss of time. As for Thursday, I am sure we will be working from home again though I have not received official word yet," the staffer said.


It sure looks brighter a day later
Last updated on: February 11, 2010 18:34 IST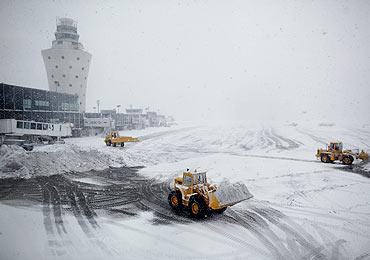 The Washington Post reported that heavy snowfall across the region was expected to taper off by early Thursday morning as the system responsible for Wednesday's extreme weather moved farther offshore.

Patches of light snowfall and strong winds could persist across the Lower Great Lakes and the central and northern Appalachians, it added.
A report in Bloomberg said that the blizzard and record snowfall is costing taxpayers about $100 million each day the federal government is shut.
With major cities like Vancouver, Toronto and Ottawa so far experiencing milder-than-normal winters, some Canadians are offering relief to their US neighbours, reported the
Montreal Gazzette
.