Pick of the Week: Columns
Last updated on: February 7, 2010 14:58 IST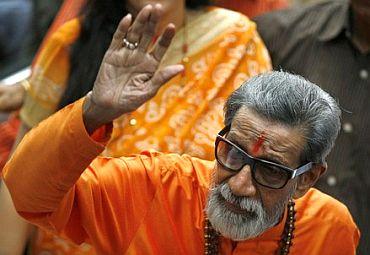 An open letter to Balasaheb from a Marathi Manoos
'Mumbai belongs to me...us, Balasaheb... It belongs to Bharatiyas. Don't try to take it away... and please remember, there is a Rashtra in Maharashtra... but there is no Marathi there.'
Why Pakistan can never be a great neighbour
We, in India are quick to vilify those who propose a hard line approach to Pakistan that includes severing cricket ties by branding them as radical and uncivilised. We cannot mix cricket with politics is the oft quoted mantra. But what is so sacred about this dichotomy? Is it a directive derived from logic or common sense or an abstract feel good notion with no utility value? And has continued cricketing ties mitigated Pakistan's terror shenanigans?
VIP security: When VP Singh was prime minister...
B Raman recollects how VP Singh was taken for a ride at the taxpayers' expense when he was prime minister
After the Dalai Lama, what?
Talks between China and special envoys of the Dalai Lama were not a Sino-Tibetan dialogue, but a meeting with two 'private representatives' of the spiritual leader on the future of His Holiness and his associates, write B Raman.
Ten more things I hate in India
Having completed 35 years in this country, I realise how much I love this incredible India, these irritants notwithstanding.
India unprepared and unwilling to defend democracy
With the American declaration of an exit from Afghanistan, Beijing and Islamabad are upbeat. This leaves India in the lurch as it is ill prepared to face the threat posed by Islamic fundamentalists and the Chinese Communists.
Click on NEXT to read more interesting picks of the week...


Pick of the Week: Images
Last updated on: February 7, 2010 14:58 IST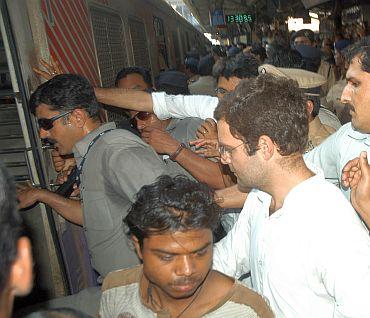 Meet Rahul Gandhi, the train commuter
In a snub to Shiv Sena, Congress General Secretary Rahul Gandhi hopped on to two suburban trains on Friday.
Activists keep the Telangana fire burning
A day after human chains were formed, some activists on Thursday set up mock kitchens in an apparent effort to send a message of cultural moorings.
The most bizarre terror threats ever heard
A look at some of the bizarre alerts that have been issued and also try to understand why such bloopers occur in the first place.
'Terrorised' airlines now want passenger profiling
Security can only be guaranteed by making a risk assessment of people.
Vibrant India comes to life at Surajkund
The internationally acclaimed annual Surajkund Crafts Mela, which showcases the skills of hundreds of craftsmen and artisans from the country and abroad, is on in Faridabad, Haryana.
'Longest human chain' formed for Telangana
The people of Telangana on Wednesday formed a 500 kilometers-long human chain all along the National Highway number 7 from Adilabad on the northern most tip of the region to Alampur on the borders of Kurnool district, to press their demand for a separate state.
Mid-road kitchens keep Telangana fire burning
A day after human chains were formed, some activists on Thursday set up mock kitchens in an apparent effort to send a message of cultural moorings.
Pick of the Week: Specials
Last updated on: February 7, 2010 14:58 IST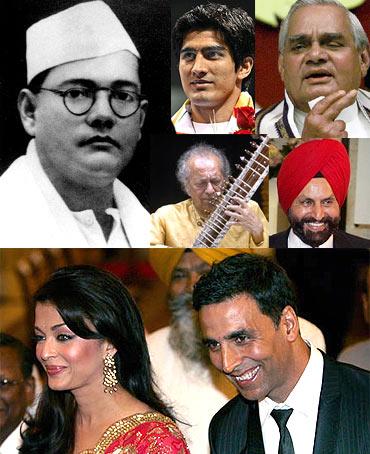 The chequered history of our national honours
National awards and the controversies surrounding them have a long history in India.
India will depend on US for military hardware
Rahul Bedi, who has been writing relentlessly on India's strategic and defence related issues, thinks this year will cement India-United States defence ties like never before. New Delhi-based Bedi is a correspondent for the prestigious Jane's Defence Weekly spoke to rediff.com's Sheela Bhatt.
A case of mistaken identity ruined her life
She had to watch her husband bleed to his death live on television. As he lay dying, he begged the ministers, bureaucrats, policemen and media persons at the spot to help him. They didn't.
'Old people are being made to feel redundant'
As Indians boast about their rising GDP, seniors are increasingly feeling left out of the picture. The irony is while the new India (and its markets) are obsessed with its youth, old India is growing rapidly. Over 8 crore are over 60 in India today. By 2050 a quarter of the population will over 60. "The biggest increase has been in the category of 80 plus," says Matthew Cherian.
How Hakimullah Mehsud became a dreaded jihadi
Hakimullah Mehsud, the feared head of the Tehrik-e-Taliban, has written a short autobiography that highlights his transformation from a student to a fierce jihadi.
Pick of the Week: Most Commented
Last updated on: February 7, 2010 14:58 IST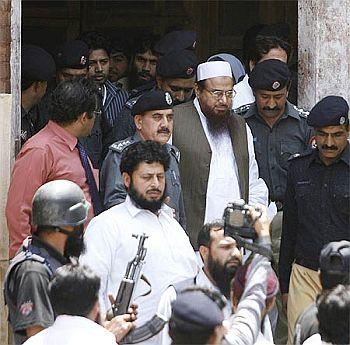 NATGRID will track all your spending
Big brother has come to India, the government wants to network 21 available databases across government and private agencies to 'flag potential terrorist threats.' In less than two years, these databases will be linked to enable security and intelligence agencies get any information at the press of a button under the National Intelligence Grid (NATGRID), a brainchild of Home Minister P Chidambaram.
Rahul dares Sena, reaches out to youth
Congress General Secretary Rahul Gandhi on Friday called upon the youth of Mumbai to focus on the inclusive development of India and stay away from divisive politics.
Why anti-India jihadis met openly in PoK
IB sources have told rediff.com that although the meeting was held under the guise of observing the Kashmir solidarity day, it was focussed at regrouping forces.
Chatwal: Nobody can stop me from getting the award
'I don't care about the BJP,' says controversial New York hotelier Sant Chatwal, who has been awarded the Padma Bhushan. 'One thousand percent, I am going to accept the award.'
More faces of terror are emerging from Hyderabad
Indian Intelligence Bureau officials told rediff.com that Hyderabad had become a big worry in the security set up and as the days passed, the number of such elements was on the rise.
Pick of the Week: Readers' Voice
Last updated on: February 7, 2010 14:58 IST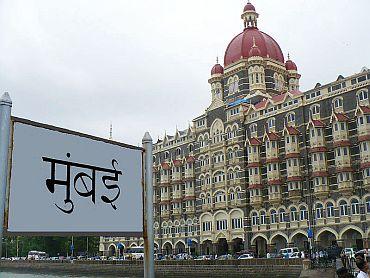 Mumbaikars Speak: When will trains be less packed?
What Mumbai issues must political parties really focus on? Tell us!
Readers Speak: Don't trust Islamabad blindly?
Will India's talks with Pakistan on the issue of terrorism yield any results, given the infamous nexus between that country's Inter Services Intelligence directorate and the merchants of terror? Tell us!