Jolie gave $100,000 for Pak flood relief
Last updated on: August 25, 2010 15:06 IST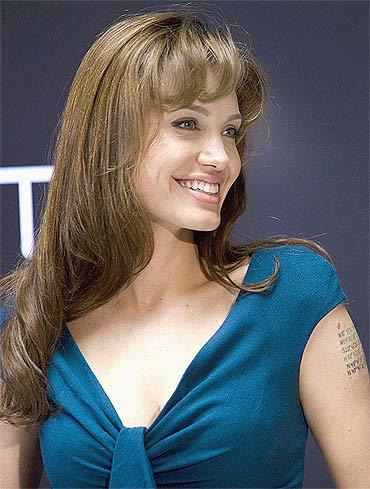 Most Pakistani politicians have not matched the contributions made by Hollywood star Angelina Jolie and the national cricket team for the millions of people affected by devastating floods sweeping the country.
 
Jolie recently contributed US $ 100,000 or 8.5 million Pakistani rupees for flood victims -- more than the PRs 5 million each
donated by ruling Pakistan People's Party chief and President Asif Ali Zardari and Altaf Hussain, head of the Muttahida
Qaumi Movement.
 
The Pakistan cricket team has donated bonuses worth PRs 4.62 million (US $ 54,400) from their victory over England in the third Test last week to flood relief efforts -- significantly higher than the cash contributions of most political leaders.
 
Besides, the Pakistan Cricket Board announced last week it would donate PRs 11,42 million (US $ 134,000) to flood relief on behalf of the players and employees. Very few Pakistani politicians and parliamentarians have set such an example with their donations.
Text: PTI
No cash, only kind from Pak PM Gilani
Last updated on: August 25, 2010 15:06 IST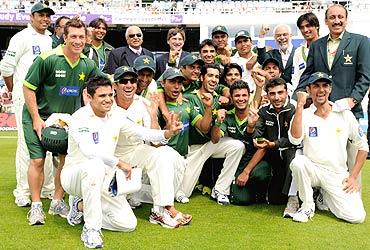 Some leaders, including Prime Minister Yousuf Raza Gilani and leaders of the PML-Q, Awami National Party and Jamiat Ulema-e-Islam, have only donated in kind.
"Gilani has said that he does not believe in cash contributions and thus did not deposit money in the fund, but his son in Multan dispatched many trucks of goods on behalf of the family," Shabbir Anwar, Gilani's press secretary, told the media. 
Pakistan Tehrik-e-Insaaf chief Imran Khan has donated PRs 500,000 in cash and his party is also involved in fund-raising campaigns.
Bilawal Bhutto is collecting funds in Britain
Last updated on: August 25, 2010 15:06 IST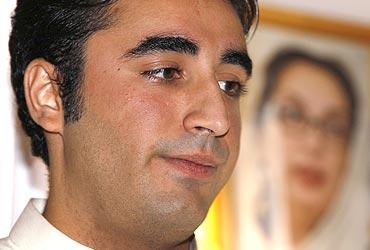 PML-N chief Nawaz Sharif, his brother and Punjab Chief Minister Shahbaz Sharif and their family have also donated about PRs 25 million in kind and nothing in cash. A PML-N spokesman even criticised Zardari for contributing only PRs 5 million towards floods relief.
Zardari announced a donation of PRs 2.5 million during his recent visit to Britain and contributed another PRs 2.5 million to the Prime Minister's Flood Relief Fund.
 
His children Bilawal Zardari-Bhutto, Bakhtawar and Asifa have established a fund in Britain to collect donations from overseas Pakistanis and others.
'Image deficit' behind low collections
Last updated on: August 25, 2010 15:06 IST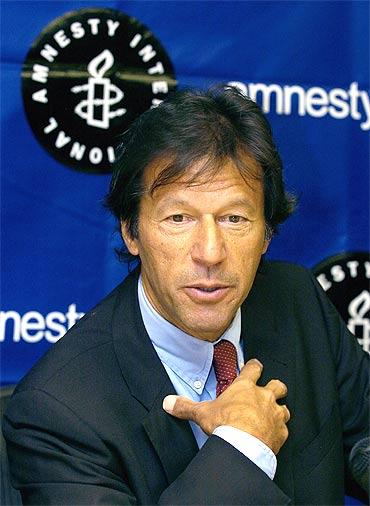 In a reflection of the differences between the PML-N and the ruling PPP, senior PML-N leader Chaudhry Nisar Ali
Khan has reportedly asked party members to donate to the Punjab Chief Minister's Relief Fund instead of the prime
minister's fund.
National Assembly Speaker Fehmida Mirza's call for donations too has failed to stir members of the lower house of
parliament. Mirza set up a Speaker's Relief Fund to collect money for flood victims on August 4, but it has reportedly not
received any sizeable donations.
 
A member of the National Assembly staff said the speaker's fund had only received money raised through mandatory deductions from salaries of staff. The UN recently acknowledged that Pakistan's efforts to mobilise funds and aid from the world community had been affected by the country's "image deficit".
 
Western leaders have also expressed concern that aid could be diverted to militant groups, including the Taliban.