Floods create major human crisis in Pakistan
Last updated on: August 10, 2010 13:59 IST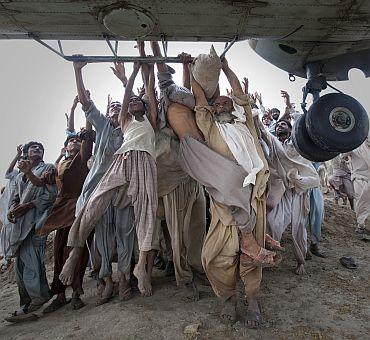 The flood situation in Pakistan continues to be grim.

Thousands of residents are evacuating Muzaffargarh city in Pakistan's Punjab province after local authorities issued an urgent flood warning.

Flood warnings were played out from loudspeakers of mosques in the city throughout the day after water in the nearby Ringpur Canal reached alarming levels.

'The situation is very serious. We are totally helpless. That's why we asked people to move to a safer place,' The Daily Times quoted Farasat Iqbal, local official, as saying.

Washington has provided an additional $35 million in financial aid to the $7.5 million that was already designated to assist people in the affected area, as well as food, shelter, medical supplies and other vital items. The funding is being provided by the US Agency for International Development to established international and Pakistani relief organisations with substantial experience on the ground in the affected areas.

In addition, 436,000 halal meals, 12 pre-fabricated bridges, 14 rescue boats, 6 large scale water filtration units and a 25kw generator have been delivered to support flood relief efforts. US helicopters are supporting rescue efforts and have saved more than 1000 to date. Click on NEXT to read further...


'The waters are still rising. It's still raining'
Last updated on: August 10, 2010 13:59 IST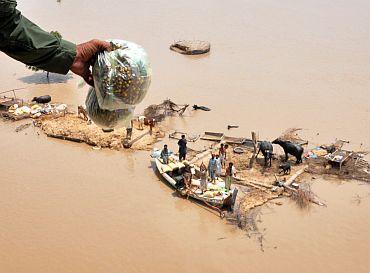 Residents of Punjab province said that people were leaving the city crammed into every type of transport, including the relief train operated by the Pakistan Railways.

Officials said that people were travelling to Sukkur, third largest city of Sindh province, as heavy rains continued to lash Punjab and water levels rose further in the swollen Indus river.

'People are heading towards Sukkur. It is a big human crisis. We don't know how many have come and how many more will come,' said Inamullah Dhareejo, a senior administration official.

Meanwhile, Special US Representative for Pakistan and Afghanistan, Richard Holbrooke, told media persons at a State Department news conference on Monday, "I stress to all of you, the waters are still rising. It's still raining. The dams are in danger. This is not over. An earthquake happens and then you start rebuilding; this thing is still developing. The rains are continuing, the great dam above Sindh is in danger. If it breaks, the situation will reach an even more catastrophic level. It's already exceeded in the number of people affected the 2005 earthquake, but not as many people dead of course, that was 75,000. It is a major international humanitarian catastrophe."


Pakistan will need billions of dollars
Last updated on: August 10, 2010 13:59 IST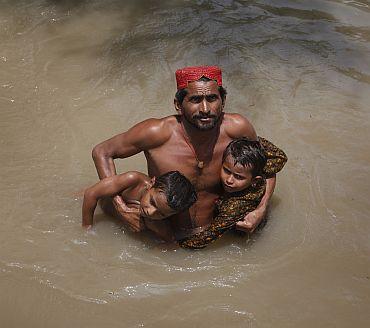 Over 1,600 people have been killed and 15 million affected as raging floodwaters continue to wreak havoc in the country.

In addition to causing major human loses, it has destroyed hundreds of thousands of homes, washed away crops and livestock.

Relief and rescue work has been hit badly by continuous rains, particularly in the north western region.

The United Nations says that Pakistan will need billions of dollars to recover from the deluge, which is being described as the worst in the last 80 years.


Far worse than tsunami and Haiti quake
Last updated on: August 10, 2010 13:59 IST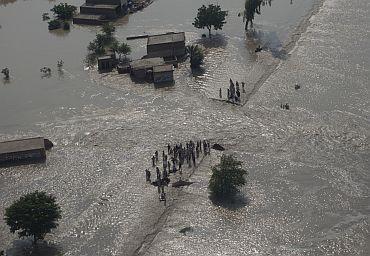 Maurizio Giuliano, a spokesman for the UN Office for the Coordination of Humanitarian Affairs, has described flood-hit Pakistan as going through an experience that was far worse than the December 26, 2004 Indian Ocean tsunami, the October 8, 2005 Kashmir earthquake and the January 13, 2010 Haiti earthquake.

''It looks like the number of people affected in this crisis is higher than the Haiti earthquake, the tsunami or the Pakistan earthquake, and if the toll is as high as the one given by the government, it's higher than the three of them combined,'' a foreign news agency quoted Giuliano, as saying on Monday.

On Sunday, UN special envoy for the disaster, Jean-Maurice Ripert, said Pakistan would need billions of dollars more from international donors to recover from the floods.


Scale of the crisis has overwhelmed Islamabad
Last updated on: August 10, 2010 13:59 IST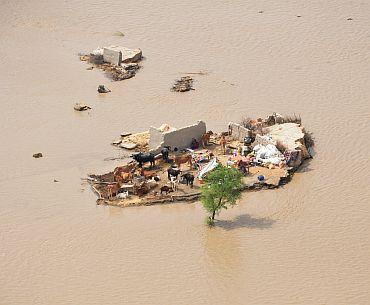 The scale of the crisis has overwhelmed Islamabad and generated widespread anger among flood victims about aid not reaching them quickly enough or at all.

According to reports, rescue workers have been unable to reach up to 600,000 people marooned in the Swat Valley.

Hundreds of thousands of people have also had to flee rising floodwaters in Punjab and Sindh as heavy rains continue to pound parts of the country.

The government is already struggling with a faltering economy and a brutal war against Taliban militants that has killed thousands of people.

The US and other international partners have stepped in to support the government by donating tens of millions of dollars and providing relief supplies and assistance.