Malaria has killed 24 in Mumbai this year
Last updated on: August 5, 2010 14:58 IST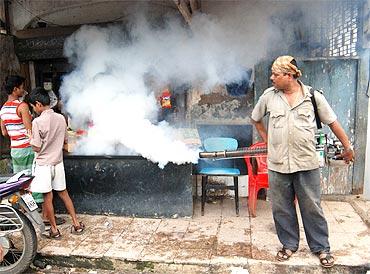 Malaria has hit Mumbai with a vengeance.
This year, the city has recorded one of the highest cases of Malaria so far. Till August 3, 24 people had died and 4,492 patients had been diagnosed with malarial infection.
Usually, cases of Malaria are diagnosed in the city with the onset of monsoon in June and last till November. However, this year, the deaths due to Malaria were recorded even before the onset of monsoon -- from January to May this year, Malaria had claimed 19 lives.
The city's health services are bursting at its seams unable to tend to population of 1.4 crore.
The highest number of cases was recorded on August 3, when 543 patients were diagnosed with Malaria in Mumbai.
Hospitals construct temporary sheds
Last updated on: August 5, 2010 14:58 IST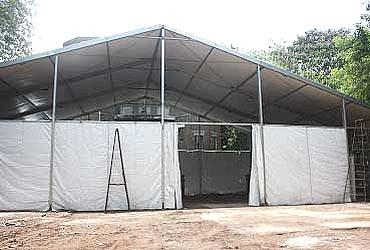 Unable to handle the increasing flow of patients with symptoms of malarial fever, civic hospitals in Mumbai like the KEM at Parel and the Lokmanya Tilak Municipal Hospital at Sion have erected temporary sheds outside to treat the patients, said Dr Gaurish Ambe, executive health officer of the Municipal Corporation of Greater Mumbai.
Mumbai hit by Malaria
Last updated on: August 5, 2010 14:58 IST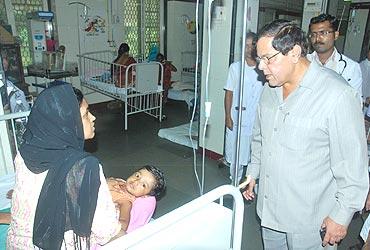 Malaria is a vector borne disease and is carried by the female species of the Anopheles mosquito. The virus plasmodium vivax is the common variety of Malaria with the lowest rate of mortality, while the plasmodium falciparum is the rare variety of Malaria but has the highest rate of mortality.
Since Anopheles mosquitoes require water to breed, the civic body has been directed to disinfect construction sites, where there are water puddles.
Construction sites are bredding grounds
Last updated on: August 5, 2010 14:58 IST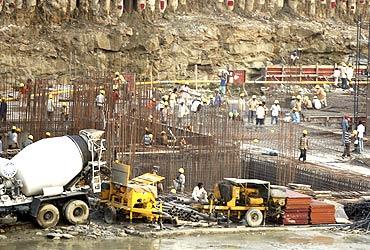 According to experts, an increase in construction activity in the city has always seen a proportional increase in malarial cases.
The last major peak of malaria in Mumbai was seen in 1995, four years after the liberalisation of the Indian economy that resulted a boom in the construction activity.
That year, the civic body had recorded an unprecedented 170 deaths from Malaria.
Of the four metros in the country, Mumbai is the only city where malarial deaths have been on the rise in the last decade.
Mumbai's long tryst with the disease
Last updated on: August 5, 2010 14:58 IST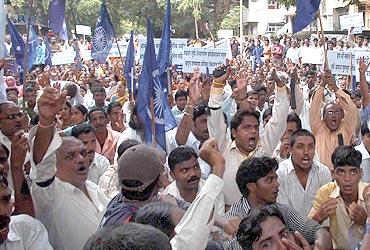 In 2002, Chennai and Delhi had recorded zero deaths from Malaria whereas Kolkotta had 42 and Mumbai 18.
In 2007, Delhi and Chennai maintained their nil statistics in malarial deaths, Kolkotta registered one death, while in Mumbai the deaths had skyrocketed to 99.
The city's tryst with Malaria dates back to the 17th century when the virus thwarted a plan by the Portuguese to build a port in the Island and eventually Bombay was given in dowry to British monarch King Charles II in 1662.