Pak's poltical googly
Last updated on: April 28, 2010 11:24 IST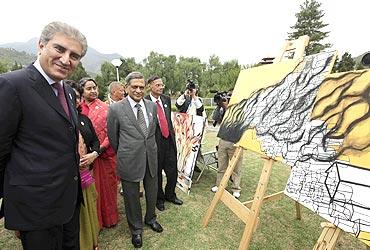 Call it a diplomatic googly.
In an apparent bid to drive a wedge between Indian government and the ruling party, Pakistan has said that "well-meaning" Prime Minister Manmohan Singh was keen to normalise ties with it but "elements in Congress" did not support him.
Its Foreign Minister Shah Mahmood Qureshi criticised India for refusing to have "meaningful" talks till Pakistan acts against terrorism, saying the contention had been "dragged too long" and "nobody is buying that anymore".
In an interview to PTI, he insisted that Pakistan has moved "considerably" against perpetrators of Mumbai attacks and the reply to India's dossiers recently was "not to gain time" but to get additional information so that the case can be taken to its logical conclusion.
Dialogue "is the only sensible thing to do. Two prime ministers of this region, two important countries of this region, have to sit and work out (bilateral issues)," said.
Qureshi who is in Thimphu to attend the two-day SAARC Summit that got off today.
He said Pakistan was always ready for dialogue but "it seems India is not yet ready, perhaps because of domestic political considerations".
Elaborating on his contention, he said, "I am convinced that Prime Minister Manmohan Singh wants to move forward".
"I think, he (Singh) is a well meaning individual, he has a vision, he wants to leave a legacy behind, he is an academic, he is an economist. He understands the benefits that can accrue to the region if there is normalisation between two important players of the SAARC region. But it seems that elements within the Congress are not giving him the support he should be given".
He, however, did not identify the "elements" within the Congress whom he was referring to.
We have had many Mumbais: Pakistan
Last updated on: April 28, 2010 11:24 IST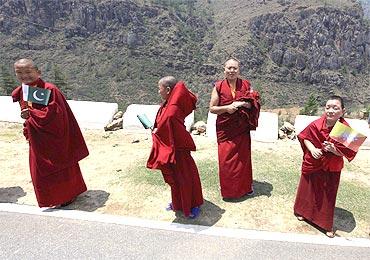 The Pakistan foreign minister said both India and Pakistan have recognised that dialogue is the only way forward and. "If that is so, how can we have dialogue not engagement?
Pakistan has never shied from the engagement. We have said we are ready".
On India's emphasis that there can be no meaningful dialogue till Pakistan takes credible action against cross-border terrorism, Qureshi said, "That has been dragged too long, nobody is buying that anymore because Pakistan has moved considerably forward on that score on the perpetrators of Mumbai".
He said seven of the perpetrators of Mumbai attacks have been arrested and the trial is going on.
"You got to recognise that... What you are not realizing that Pakistan today is in a different state of mind. Pakistan has woken up to the challenge of terrorism. Pakistan is a victim of terrorism," Qureshi said.
"You are talking of Mumbai, we have had many Mumbais in all the major cities of Pakistan. Innocent lives have been lost like innocent lives were lost in Mumbai," he said.
When pointed out that India was unhappy that Pakistan was only targeting Taliban and not groups like Lashkar-e-Taiba, Qureshi claimed, "We do not differentiate. We are not differentiating between acts of terrorism. An act of terrorism is an act of terrorism, period".
Pakistan goes on the same old beaten track
Last updated on: April 28, 2010 11:24 IST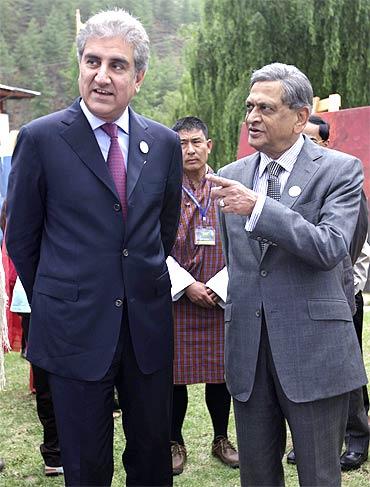 When his attention was drawn to LeT chief Hafiz Saeed against whom India wants action, he cryptically said, "Same old beaten track".
He said Saeed was arrested twice by Pakistan government but courts let him off "because in the eyes of the judicial process, the evidence against him was not strong enough to keep him locked up. That is a legal process. You have an independent judiciary, so do we".
Asked whether Pakistan was making any efforts to collect evidence against Saeed in connection with terror activities, Qureshi said, "Pakistan has, is and will continue to try and collect evidence against any terrorist. We do not want our soil to be used against anyone".
Queried whether it meant that even Saeed would not be allowed to use Pakistani soil against India, he repeated, "Anyone... Anyone means anyone".
He said that by "disengaging," India was sending out a message to the terrorists "that you control the agenda, by one act, you can scuttle the whole process".
Dr Singh is good, not his party: Pakistan
Last updated on: April 28, 2010 11:24 IST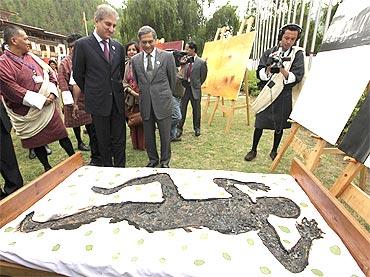 Q
ureshi also reminded India about the "agreement" that the peace process, started in 2004, is "irreversible and acts of terrorism will not impede the peace process".
Maintaining that India was not "fully recalling" that "agreement", he said, "understand the spirit behind that, recognise the changed situation, recognise that terrorism is a common challenge".
He said that "harping on the same string, it seems, is not going to pay off".
Asked about Pakistan's demand for handing over of Ajmal Kasab, the lone terrorist held during Mumbai attacks, Qureshi refused to comment, saying the matter was sub-judice.