India is hunting for these Naxal leaders
Last updated on: April 8, 2010 17:02 IST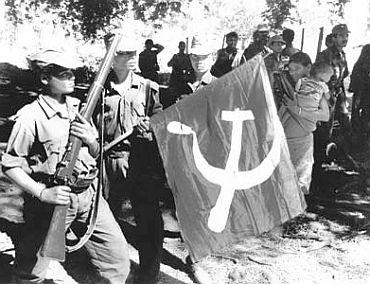 The brutal
killing of 75 Central Reserve Police Force troopers and a Chhattisgarh head constable
in the Naxalite-infested Dantewada district on Tuesday morning is a stark reminder of the murderous power that the Maoist terrorists wield today.
The Union home ministry has prepared a dossier with the help of police officers in Naxalite-affected states and the Intelligence Bureau, which identifies top Naxalite terrorists. While they have gathered some information about these dreaded outlaws, they are yet to put a face to most of them.
The sinister leader
Last updated on: April 8, 2010 17:02 IST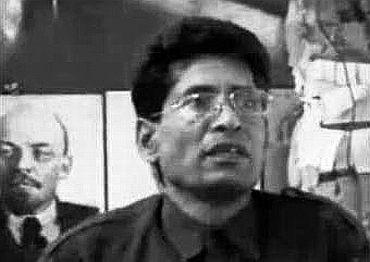 Mupalla Laxman Rao alias Ganapathy
General secretary of the Communist Party of India-Maoist.
Laxman Rao is said to have lived in the jungles for decades. According to security agencies, the 60-year-old Naxal terror leader is never stationary, and often changes hideouts in Kerala, Andhra Pradesh, Chhattisgarh and West Bengal to avoid capture.

His tact, grasp of Maoist ideology and planning has earned him the rank of supreme commander of the movement and control of Naxal armies in over 15 states.
Born in Andhra Pradesh's Karimnagar district, Rao is a science graduate and has a degree in education as well.

After the death of Kondapalli Seetharamaiah, the founder of the Peoples' War Group, the main Naxal group in the 1980s, school teacher Rao took charge. Intelligence agencies say he has trains cadres in guerrilla warfare; he is also the final word on Naxal strategy.
The soundbytes Naxal
Last updated on: April 8, 2010 17:02 IST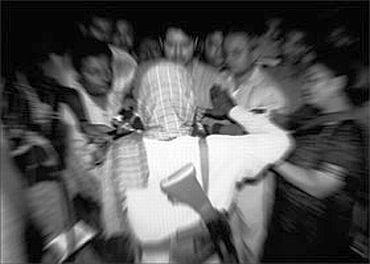 Mallojula Koteswar Rao
Koteshwar Rao has given more media interviews in recent months than most ministers and movie stars have.
There has been speculation that Rao was injured in a recent police encounter in West Bengal, a state where he controls the Naxal terror forces, but the Naxals have denied this in an unusual faxed statement to the media.
Rao -- who is called Kishenji by his cadres -- is yet another Naxal leader who hails from Andhra Pradesh.
Born in Pedapalli village, Karimnagar district, the plight of farmers in his region is said to have driven him to Naxalism.
Rao -- who has a degree in science -- is believed to have worked in Maharashtra and Chhattisgarh before he was sent to West Bengal where he revived the dying Naxalite movement. He is said to live in the jungles of Lalgarh, emerging usually to grant media interviews.
Did Sudarshan mastermind the Dantewada massacre?
Last updated on: April 8, 2010 17:02 IST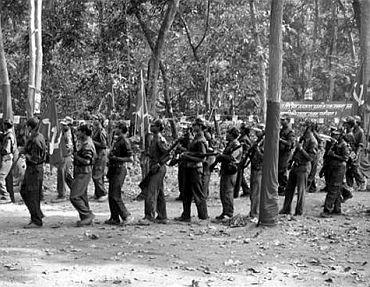 Katakam Sudarshan alias Anand
Sudarshan began fighting for Telangana's farmers before he gravitated to the Naxalite movement. Bureau secretary of the CPI-Maoist's central region he has been a Naxalite for nearly 30 years.
Intelligence Bureau sources believe he is in charge of Naxal operations in Andhra Pradesh and Chhattisgarh, two important Naxal states. Sudarshan is particularly influential in Chhattisgarh's Dantewada area and that is why security agencies believe Tuesday's massacre could not have occurred without his intervention.
Cherukuri Rajkumar alias Azad
Is the Naxalite spokesperson, one of the movement's senior-most leaders, in police custody?
His mother believes so as do Naxalite cadres who say Azad went missing some weeks ago en route to a meeting with other Naxal leaders.
An alumnus of the prestigious Regional Engineering College in Warangal, Andhra Pradesh, Cherukuri did his master's in technology before leading the Radical Students Union during the Emergency.
He went underground thereafter, and is one of India's most wanted men. Or is Azad no longer most wanted?
Deadly quartet
Last updated on: April 8, 2010 17:02 IST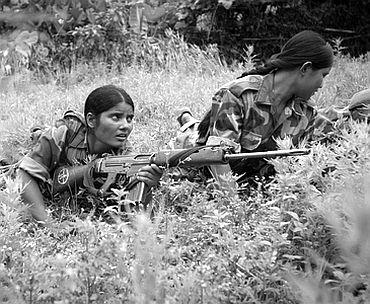 Prashanth Bose alias Kajal alias Mahesh
Bose -- a rare Bengali in the Andhraite-dominated Naxal leadership -- is the Naxalites's international face.
Bose, whose name is said to have cropped up several times during the interrogation of Naxalite ideologue Kobad Ghandy, interacts with Nepal's Maoist leaders.
Nambala Keshavarao alias Ganganna alias Basavaraj
Not much information is available on this Naxal who is believed to be 54 years old and a native of Srikulam district in Andhra Pradesh.
Mallajula Venugopal alias Bhupathi
This native of Andhra Pradesh's Karimnagar district shuttles between Andhra Pradesh and Chhattisgarh, and is Lalgarh Naxal M Koteswar Rao's younger brother.
Balraj alias BR

BR is in charge of the Naxal publications which are printed in Bihar.