'The last time he called, he said he would come home in April'
Last updated on: April 8, 2010 21:07 IST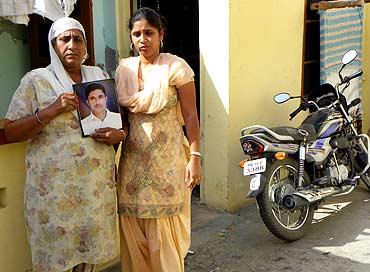 Seventeen Indian youngsters -- labourers, drivers and carpenters -- were sentenced to death on March 28 for the murder of a Pakistani in Sharjah last year. Rediff.com's Krishnakumar P travelled to Punjab to meet some of their family members, who are praying fervently for their imprisoned sons.
When people return from the Middle East, they usually bring goodies for family and friends. But when Rajinder Singh came back from Sharjah, he had only news: Good news and relief for his family, bad news and devastation for 17 other families.
"I last spoke to my cousin Namjyot Singh on March 28. He did not say anything about being in jail or being sentenced to death. Then the next day, I got a call from this boy -- I don't even know his name -- saying that 17 people including Namjyot have been sentenced to death," said Sukhdev Singh, of Kulla Patti village in Raikot.
Namjyot, 23, who has studied up to class 10, was working as a driver in the village when the family managed to save up close to Rs 1 lakh to send him abroad, where he landed a job as a labourer. But after he went there, his family rarely heard from him.
"Earlier, he used to call once a month, then it became erratic. Same with the money he sent. Some months he would send Rs 10,000, and then he would not send any money for months together," his sister Rajvinder Kaur said.
In the months since his arrest in January 2009, he had been calling the family every month without fail. "The last time he called, he said he will come home in April. We were very happy and were expecting his visit when this news came," Sukhdev said.
About Namjyot not revealing his situation, he said, "Boys in these parts consider the family's honour too. That could be the reason why he did not tell us anything."
'Kuldeep never harmed anyone'
Last updated on: April 8, 2010 21:07 IST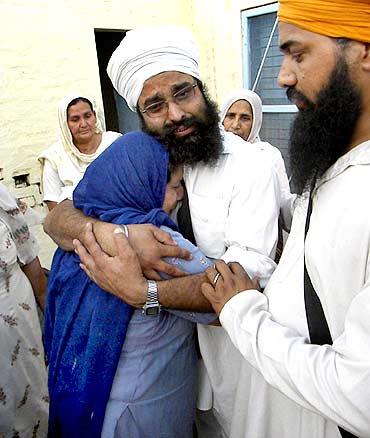 Almost all the 17 people arrested are labourers, drivers, and carpenters. All of them had spent more than Rs 1 lakh to get to Sharjah. They haven't been able to visit home even once in the two to three years since they left home.
All the families maintained that their children did not have any criminal record and have been falsely implicated. While some families like Namjyot's belong to the lower middle-class strata, most families of the convicts are extremely poor. Like that of Kuldeep Singh, 27, who used to work as a driver in the village after completing class 10.
His family first shelled out Rs 90,000 to send him to the Emirates, then sold their land to send him Rs 350,000 more for expenses. His elder brother Jaswinder Singh, who works in the local gurdwara, is the only earning member now.
On April 3, the community in Bangsipura village, Ludhiana, organised a prayer meet for Kuldeep's safe release. A lot of youngsters were present.
"Kuldeep is 6'5" but even when he was here we used to taunt him a lot. He never used to harm anyone," one of them said.
The family learned about Kuldeep's plight through the papers. "Somebody from the government could have come and told us about the situation. And we don't understand why even Kuldeep did not tell us all this while. He was supposed to have come back today," Jaswinder said.
Among those who gathered at Kuldeep's house to console the family is Iqval Singh. He had lived with most of the convicted men in Sharjah, but had returned to India shortly before the incident.
"Some time before this incident, a bunch of Pakistanis attacked and killed an Indian. Nothing was done in that case. Only our boys are targetted. Even I was among those injured in that attack," he said, pointing to a thick, six-inch scar on his left hand.
Asked why he was attacked, he ducked the question and went away.
'We learned about his plight from the newspapers'
Last updated on: April 8, 2010 21:07 IST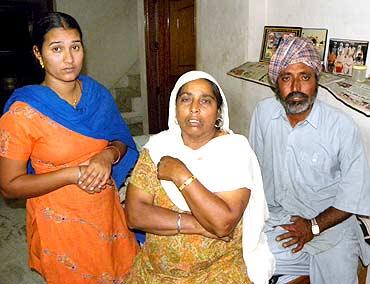 Daljeet Singh's family is among the poorest of the lot, and its plight is the worst. He lost his father, a driver, in a road accident in Vadodara, Gujarat, 10 years ago. His mother, who had a stroke at that time, never recovered. His grandmother is paralysed and lives alone in a room that is home for the family. His aunt and uncle, who live next door, have taken in his sister Baljit Kaur and have been taking care of her ever since he left home.
"We arranged for her wedding and got her married. We could not even invite him, because money was a huge problem," Sakhminder Singh, his aunt, said, adding that they too sold their land to help Daljeet and their son get driving licenses in Sharjah.
They hadn't heard from Daljeet for nearly four months. "We learned about his plight through the newspapers. Neither did he tell us anything when we last spoke to him, nor did the government tell us about the incident. He never had a criminal record. He never harmed anyone. We just want him back," she says.
The family has not told his mother, fearing that it might affect her already weak heart.
'We want our boys back. It is now up to the government'
Last updated on: April 8, 2010 21:07 IST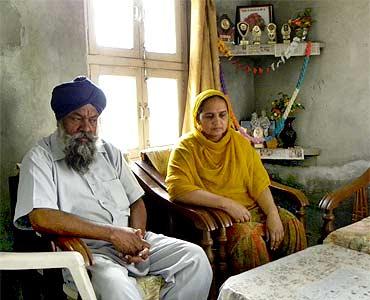 Sukhjot Singh, 22, is a carpenter and is among the younger boys convicted, who are all aged between 17 and 30. His father Jagdev Singh is an electrician who stopped working after suffering a slipped disc. Sukhjot is one of the few who had told his parents about his arrest and kept them posted ever since.
"He told us he was picked up from his camp along with some other boys one night last January. He told us that they had not done anything wrong and that everything would be all right. We even spoke on March 28 (the day of the verdict) and he said he would soon be released and will come to India," Jagdev said.
Then the call from Rajinder came. "This boy said he was also arrested along with our son, but was let off. He said the boys were tortured in prison and were given electric shocks and subjected to other brutal treatment. That was when the seriousness of the matter sunk in," he said.
That was also when the family learned that Sukhjot was being tried for murder. On April 1, all the families got together and met Minister of State for External Affairs Preneet Kaur and sought immediate action.
"We think the government has already dithered a lot. We need immediate action. We want our boys back. It is now up to the government," he said.
Illegal liquor mafia rivalry runs deep
Last updated on: April 8, 2010 21:07 IST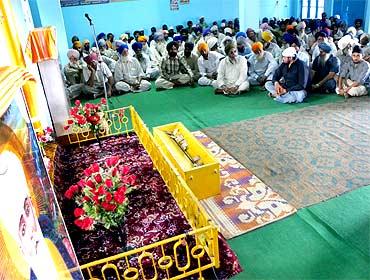 Though the families are in denial, reports from Sharjah said the boys had accepted during the trial that they assaulted the Pakistanis. Coupled with what Iqval said about gang rivalry, what really is the situation in Sharjah?
"There are three major illegal liquor mafia in the Emirates," said Chennai-based journalist Daniel P George, who has reported from the Middle East for a decade. "The Kasargod (Kerala) gang, the Punjabi gang and the Pakistani Punjabi gang. They brew their own liquor (which is banned in the Emirates) and the market is worth billions of dirhams. Most of these people from the various gangs live in the same labour camps outside the city's industrial areas. The rivalry is fierce and there is a lot of bad blood."
He said the battle lines are usually drawn on Fridays. "They drink themselves silly on Thursday nights. Friday mornings are for haircuts and shaves. Then they play cricket on the beach. The money bet on these matches is also huge. In the evening, the fights break out," he said.
According to a report in the Khaleej Times, the 'bootlegging' boys who 'murdered a rival in an ongoing turf war' are not entirely innocent.
Hinting that India is overreacting on this issue while not doing anything about the plight of nearly 120 Indians allegedly held hostage by Somali pirates, the paper, in an editorial on April 1, said, 'Firstly, no one is hanging them. The procedure will take its own course so there is no undue haste. They are confessed criminals. The external affairs ministry had Overseas Indian Affairs Minister Vyalar Ravi alert the Indian embassy and express great horror over the sentencing of these gangsters.'
'India stands by the youngsters'
Last updated on: April 8, 2010 21:07 IST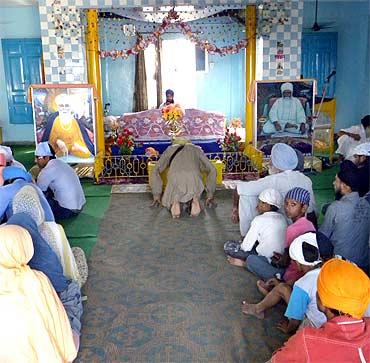 Observers said this is the first time that an Indian has been sentenced to death in UAE. As many as 17 accused being sentenced to death at one go is definitely unprecedented, they said.
Almost all the families said their sons did not know why they were arrested. They claimed that the men were led to believe that they would be let off, and had no clue that they were being tried for murder and might face the death sentence if convicted.
Asked if the Indian government acted belatedly, Minister Vayalar Ravi, who is recuperating in Kerala after a recent accident, told rediff.com, "How can you say that? I had written to the consulate asking for a detailed report even before the media reported the verdict."
Asked why the government did not even bother to inform the families, Ravi claimed that another ministry was taking care of that aspect.
"That is a different matter. I reacted on time and assured the families that we will do anything to support the youngsters," he said.
He added that the lawyers began the appeal process on April 7. They have till April 14 to file the appeal in a higher court.
"We have engaged a reputed law firm to fight for the youngsters and they have started the appeal process. The boys will get the best legal support and my ministry will bear the entire cost. There is a higher court, and then there is the supreme court. Due steps will be taken to ensure that the boys get all the legal support they want," he said.
For the families back home, meanwhile, the agony continues.