Gandhi never won a Nobel, his followers do
Last updated on: October 9, 2009 21:25 IST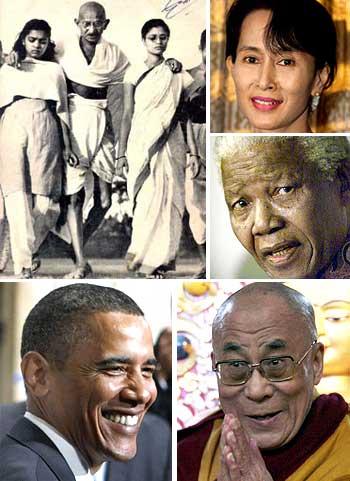 Although Mahatma Gandhi was not awarded the Nobel Peace Prize but the coveted honour has gone to several individuals who believed in and propagated the Gandhian philosophy of peace and non-violence globally.
Barack Hussein Obama, the 44th President of the United States, is latest in this club of Gandhian followers to have been awarded the Nobel Peace Prize.

Prominent followers in the recent past have been Nelson Mandela, Aung San Suu Kyi and the Dalai Lama.
Obama, the first African American president of the United States, has been an avid admirer of Mahatma Gandhi. Only recently he told a group of students he would like to have dinner with Mahatma Gandhi.

The Father of the nation Gandhi's contribution and influence in the rise of Obama is being acknowledged too.
Gandhi never won a Nobel, his followers do
Last updated on: October 9, 2009 21:25 IST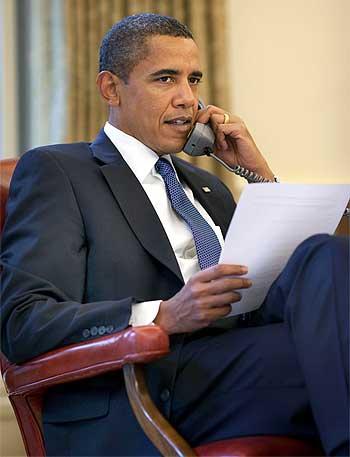 "I surely believe without (Mahatma) Gandhi -- without Gandhi in India -- there would be no Barack Obama as president' of the United States," said Congressman John Lewis, and an eminent American civil rights leader, at a Capitol Hill event Wednesday, held to commemorate the 50th anniversary of the visit of Martin Luther King Jr to India.
Martin Luther King Jr, whom Obama considers as his ideal, had termed his trip to India 50 years ago as a pilgrimage to the land of Mahatma Gandhi.
In several interviews and speeches in the last few years, Obama himself has acknowledged the contribution of Mahatma Gandhi in his rise and his true believe in the philosophy and preaching's of Mahatma Gandhi.
On the eve of Mahatma Gandhi's birth anniversary early this month, Obama issued a statement to express appreciation for the life and lessons of Mahatma Gandhi.
"This is an important moment to reflect on his message of non-violence, which continues to inspire people and political movements across the globe," he said.
Stating that Americans owe an enormous measure of gratitude to the Mahatma, Obama said, "His teachings and ideals, shared with Dr Martin Luther King Jr on his 1959 pilgrimage to India, transformed American society through our civil rights movement."

Gandhi never won a Nobel, his followers do
Last updated on: October 9, 2009 21:25 IST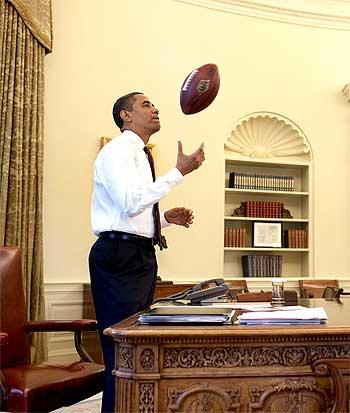 The America of today has its roots in the India of Mahatma Gandhi and the non-violent social action movement for Indian independence, which he led, Obama had said.
"As we remember the Mahatma on his birthday, we must renew our commitment to live his ideals and to celebrate the dignity of all human beings," said the US President.
"In my life, I have always looked to Mahatma Gandhi as an inspiration, because he embodies the kind of transformational change that can be made when ordinary people come together to do extraordinary things," Obama wrote in an article in India Abroad last year.

"That is why his portrait hangs in my Senate office; to remind me that real results will not just come from Washington, they will come from the people," Obama had said.
Gandhi never won a Nobel, his followers do
Last updated on: October 9, 2009 21:25 IST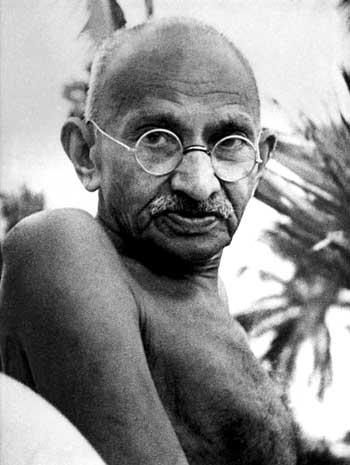 Not just Obama, time and again several world leaders, who have followed the ideal of Mahatma Gandhi, have been awarded with the Nobel Peace prize.
However, it is still a mystery that why Gandhi himself was deprived of this coveted peace prize, despite the fact that he was nominated in 1937, 1938, 1939, 1947 and 1948 a few days before his assassination.

In recent years, members of the Nobel Committee have publicly regretted the omission. When the Dalai Lama was awarded the Peace Prize in 1989, the chairman of the committee said that this was "in part a tribute to the memory of Mahatma Gandhi".
Oyvind Tonnesson, the Nobelprize.org Peace Editor, says Mahatma Gandhi was shortlisted for the award at least thrice -- 1937, 1947 and 1948. But for one reason or the other, the Committee members did not find him to be the most appropriate candidate for the award.
Gandhi never won a Nobel, his followers do
Last updated on: October 9, 2009 21:25 IST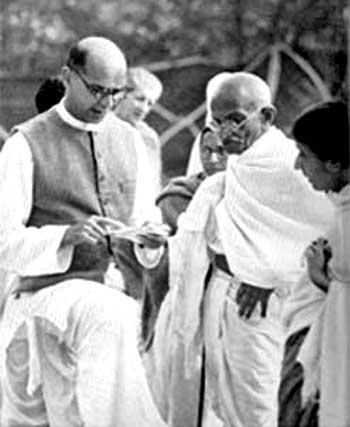 In 1937 Gandhi was not selected as members of the committee felt that he was too much of an Indian nationalist.

Despite making it to the shortlist of six people and one of the favourite a decade later, Gandhi was again not considered for the award in 1947, Tonneson said because of partition.
Gandhi was again considered for the award in 1948, soon after his assassination. Committee adviser Seip wrote a report on Gandhi's activities during the last five months of his life, Tonnesson said.
However, the Nobel committee decided against giving him the award, possibly because nobody had ever been awarded the Nobel Peace Prize posthumously.
On November 18, 1948, the Norwegian Nobel Committee decided to make no award that year on the grounds that "there was no suitable living candidate".