Violence marks Telangana shut down
Last updated on: November 30, 2009 20:21 IST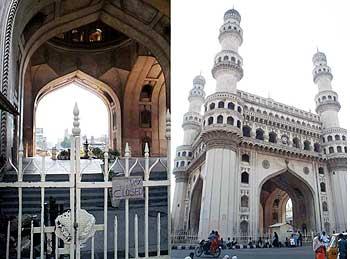 Sporadic incidents of violence and suicide by at least three activists marred the Telangana Bandh called by Telangana Rashtra Samiti (TRS) on Monday to protest against the arrest of its president, K Chandrasekhara Rao and police cane charge on students in Hyderabad on Sunday.
The state government managed to end the fast unto death stir of the TRS chief on Monday. Doctors at the government hospital in Khammam managed to administer saline to Rao after he was shifted there from Khammam sub jail.
The TRS chief had launched the stir on Sunday, demanding the immediate initiative by the Union government for the formation of Telangana state. As a result, normal life was badly hit in many parts of Telangana region, including state capital Hyderabad.
BJP and Praja Rajyam Party offer support
Last updated on: November 30, 2009 20:21 IST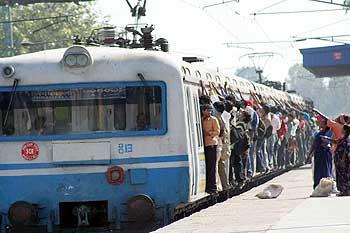 Police took more than 500 protestors into custody in different places in Telangana region as they held sit-in protests at the gates of bus depots to stop them from coming out. 
A teenager Srikant hanged himself in Dedded village of Medak district, allegedly in protest against the arrest of KCR. Similarly in Valugonda village of Karimnagar, a TRS worker Vruddhiraj committed suicide demanding KCR's release. Another youth, Praveen, a B.Ed student, committed suicide at home on Monday after returning from a demonstration earlier in the day.
Osmania University campus in Hyderabad and Kakatiya University campus in Warangal remained the epicentre of the protest by students even as several other parties, including the BJP and Praja Rajyam Party, also supported the strike.
State transport buses keep off roads
Last updated on: November 30, 2009 20:21 IST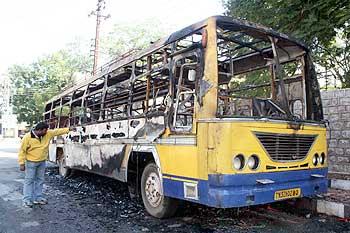 In view of large-scale attacks on its buses on Sunday, the state-owned Road Transport Corporation withdrew its services in parts of Hyderabad and other districts, including Karimnagar, Warangal, Adilabad, Nizamabad, Medak and Mahbubnagar, leaving thousands of commuters stranded.

Shops, business establishments and educational institutions remained shut in the entire region and attendance in the government office was also low.

The protestors were demanding immediate release of Chandrasekhara Rao and action against the police officials responsible for the brutal lathicharge on the students of Osmania University.
Crude bombs found near Osmania University campus
Last updated on: November 30, 2009 20:21 IST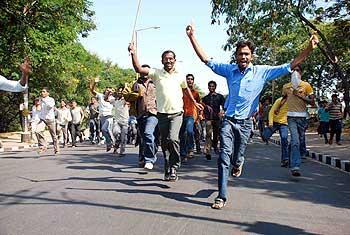 In a related development, heightening apprehensions of the government that anti-social elements may try to hijack the protests, 15 crude bombs were found near National Institute of Nutrition, adjacent to the Osmania University campus.

They were found in a bag, left in a deserted place by unknown miscreants. A bomb disposal unit defused the bombs.
The police said that they have taken four persons into custody for questioning. KCR's son K Taraka Rama Rao, who was arrested on Sunday in Warangal was released on bail on Monday. He appealed to the people, especially the youth, not to resort to any extreme steps like suicide or self immolation.

"We will achieve Telangana through a peaceful struggle", he said.
Plain-clothed policemen attacked
Last updated on: November 30, 2009 20:21 IST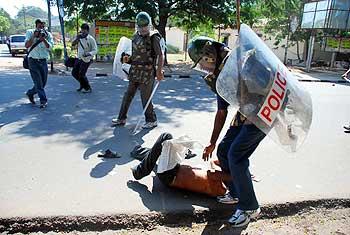 Meanwhile, tension prevailed in the Osmania University campus as students continued their sit-in. They took out a rally to Tarnaka area where they attacked a petrol bunk and some commercial establishments alleging that they had encroached upon the University land.
The students also chased and beat up some plain-clothed policemen, demanding the total withdrawal of police from the university campus. Some miscreants set on fire a bus of an educational institution and damaged two state transport buses in Hyderabad.

Security was tightened at educational institutions run by coastal Andhra-based organisations in Hyderabad and other parts of Telangana.
Half-naked students stop traffic
Last updated on: November 30, 2009 20:21 IST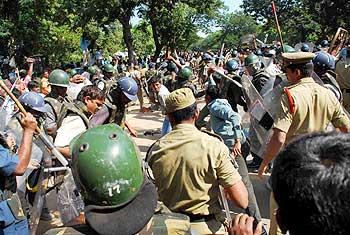 In Warangal, Kakaktiya University's half-naked students held protest demonstrations and stopped the traffic on Warangal-Karminagar road.
They also took out a mock funeral procession with the effigy of the Chief Minister K Rosaiah. When police tried to stop them, students pelted stones.
In Nalgonda district, TRS workers set Tehsildar office on fire in Munagala village. Computers, furniture and the record were gutted in the incident.
The police, meanwhile, took video footage of Rao being administered saline -- which will be aired on television channels -- to cool down tempers of his supporters and bring the situation under control throughout the region.