Last year alone, 8750 tonnes of plastic was deposited there!
Last updated on: November 30, 2009 14:02 IST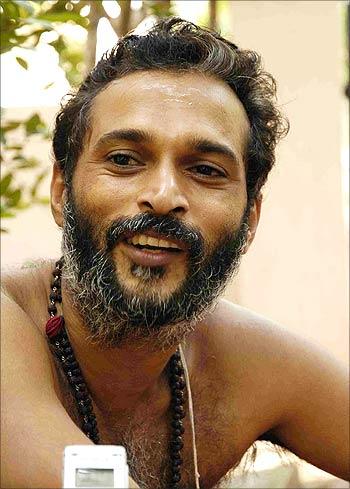 Sabarimala, one of the most important pilgrimages in the country, is facing a new threat. Rediff.com's Shobha Warrier measures the depths of the crisis, and discusses the possibilities of its solution.
It is reported that 35 million people visited Sabarimala last year. It is also found that every person who goes to Sabarimala leaves behind at least 250 grams of plastic there. That means, last year alone, 8750 tonnes of plastic was deposited there!
Three incidents in the last couple of years made Sreejith E Namboodiri, a priest in an Ayyappan temple in Chennai, take a vow that he would do something actively to free the forest in Sabarimala from plastic.
In Ettumanoor, near Kottayam, when a cow died all of a sudden, a post-mortem was done on it, and the result was shocking to all animal lovers. There was 17 kg of plastic in its stomach. "Because it happened near Kottayam, a post-mortem was conducted. I don't know how many animals in the Sabarimala forest die of consuming plastic thrown away irresponsibily by the devotees. The thought was painful."
Photographs: Sreeram Selvaraj
'Sabarimala has become a hill of pollutants'
Last updated on: November 30, 2009 14:02 IST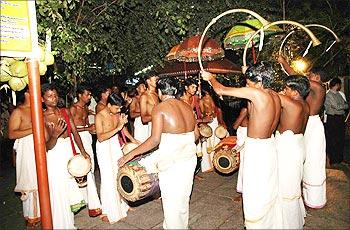 The priest's recent pilgrimage to Gomukh cave in Uttarakhand also gave him ideas about how nature can be protected from plastic if the authorities and pilgrims make a little bit of effort.
"At the Gangotri forest check post, we were checked for the plastic items we had with us and were asked to sign the list. We also had to make a deposit there. One gentleman had 28 chocolates with him. When we came back, we were checked again. They also checked whether the gentleman brought back the chocolate covers! I was very impressed with the efforts they take to keep the Himalayas free of plastic," Namboodiri said.
"Immediately, my thoughts went to the piles of multicoloured plastic, clothes and dirt that are left behind by the Ayyappa devotees at Sabarimala. Nobody thinks that we are encroaching into a forest full of trees and inhabited by many animals. We behave as if we have no thought for nature or animals. On the whole, Sabarimala has become a hill of pollutants," he added.
'More awareness needs to be created'
Last updated on: November 30, 2009 14:02 IST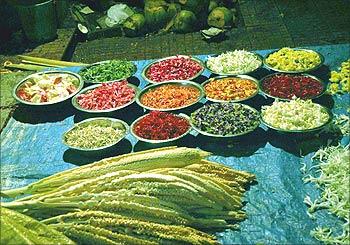 Though Namboodiri has been bringing back whatever plastic bags he -- and the other devotees who travel with him -- uses every year, he feels that he has to do more to cleanse Sabarimala. More awareness has to be created about the dangers of polluting the abode of Lord Ayyappa.
That was how he decided to distribute and popularise 'plastic-free' irumudi kettu (which Ayyappa devotees carry on their heads on the pilgrimage). "These days, Ayyappa devotees buy a kit with lots of plastic packets inside and after the darshan, throw away all the plastic packets there. This contaminates the forest permanently. So, what we do here is, educate all the Ayyappa devotees to pack all the items in butter paper instead of polythene. They also buy cheap raincoats (made of plastic) and throw them away at the foothills," he said.
Namboodiri and three others (T R Anantha Padmanabhan, Bhaskaran Guruswamy and Krishna Kumar) have joined hands and distributed 10,000 pamphlets at various temples urging Ayyappa devotees to keep Sabarimala clean and plastic-free.
Anantha Padmanabhan, who has been walking from Chennai to Sabarimala for the last 15 years, has taken several pamphlets with him to distribute on the way.
Moreover, he says, "Lord Ayyappa is a dhyana swaroopan in Sabarimala. The Bhagavad Gita says meditation has to be done in clean surroundings -- sucho dese pratishtabhya. Similarly, Lord Ayyappa also sits in a place that is clean, inside the quietness of the forest. But what have his devotees done? They have turned the place unclean. So, the initiative has to be taken by each and every bhakta who goes to the hill. There is a limit to what the temple authorities or the government can do, as the number of pilgrims are in excess of tens of millions."
'A devotee is not supposed to destroy anything'
Last updated on: November 30, 2009 14:02 IST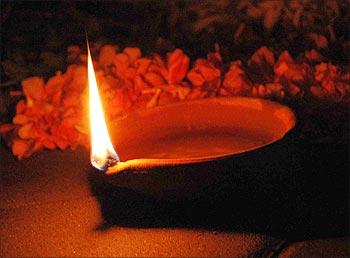 Namboodiri feels the new initiative started by the Devaswom Board of giving Re 1 to anyone who gives them a plastic bottle, is admirable. "Even if the devotees throw away the bottles, there may be poor people there who will collect them for money. They can make Rs 100 a day if they collect 100 bottles," he said.
Namboodiri is of the opinion that the multinational companies, who market water in bottles, can also take an initiative and sell water in tetra-packs which will not pollute the soil.
His request to all the Ayyappa devotees who go to Sabarimala is, "Stop using plastic as much as you can. Bring back whatever plastic you carry with you. Don't carry any plastic in the irumudi kettu. Lord Ayyappa is described as Bhootha natha, that is, the king of pancha bhootha (jal, akasha, vayu, agni, prithvi). And if we go there contaminating the pancha bhootha, it will not be a good Ayyappa darshan! A bhakta is not supposed to destroy anything or cause harm to anyone. So, all Ayyappa devotees should go there without disturbing the river Pamba, the forest and its animals."