Sonia to decide on Andhra CLP leader
Last updated on: November 27, 2009 23:08 IST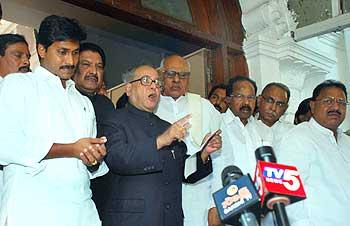 The Andhra Pradesh Congress legislature committee unanimously passed a resolution on Friday, requesting Congress president Sonia Gandhi to choose the Congress Legislature Party leader. The resolution, moved by Kadapa member of Parliament YS Jaganmohan Reddy, was supported by 150 Members of the Legislative Assembly and 49 Members of Legislative Council
Sonia to decide on Andhra CLP leader
Last updated on: November 27, 2009 23:08 IST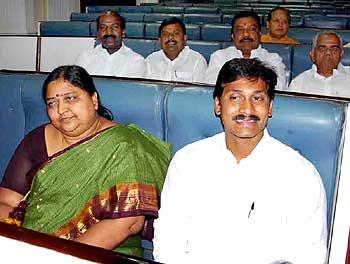 After an hour-long meeting, Finance Minister and All India Congress Committee observer Pranab Mukherjee told the reporters that the resolution has left the issue of leadership to Sonia Gandhi and she will take a final decision.
However, it was largely understood that Rosaiah will remain the chief minister, as the high command has already made it clear to YS Jaganmohan Reddy, the other claimant of leadership, that he will not be made the CM.
Sonia to decide on Andhra CLP leader
Last updated on: November 27, 2009 23:08 IST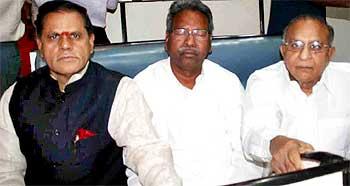 Pranab Mukherjee said that he will report to Gandhi about the development and she will take a decision. The much awaited meeting of the CLP was held almost three months after the death of Chief Minister YS Rajaskehara Reddy in a helicopter crash.
The meeting was chaired by state Congress president D Srinivas.