'All my staff members are heroes'
Last updated on: November 26, 2009 20:11 IST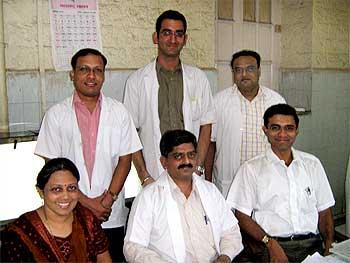 There were many, many heroes during those horrific nights and days last November. A Ganesh Nadar meets the doctors, nurses and ward boys at the J J Hospital who put their fears and concerns aside to save lives.
On the night of November 26, 2008, as Mumbai confronted a series of unprecedented terror attacks, doctors, nurses, ward boys and others at the JJ Hospital in south Mumbai worked frantically to save lives.
As the city lay in a state of terror siege, the 3,500 staffers at the hospital did all they could to provide solace to the victims.
"It was a team effort, so please do not make any individual a hero. All my staff members are heroes. Our orthopedic theatre worked non-stop for 48 hours, obviously everyone was involved," says Dr Ajay Chandanwale, the chief of the hospital's orthopaedic department.
The orthopaedic surgeons operated on 31 patients in 48 hours. The same outstanding effort was played out across the hospital -- in Emergency Ward 4, Dr M B Tayade's unit was tirelessly helping patients while Dr C B Upasni's unit was hard at work in the anaesthesia department.
Dr H H Jadhav, the hospital's superintendent, told rediff.com, "We immediately called the psychiatry team because most of the victims were in a state of shock."
The JJ Hospital can accommodate 1,352 patients, so the hundreds of injured victims pouring in for treatment that night did not deter Dr Jadhav and his colleagues.
Three hundred resident doctors are present at the JJ Hospital round the clock. Since the hospital also conducts courses for nursing students, there was no dearth of nurses either.
'I am a doctor and I am needed'
Last updated on: November 26, 2009 20:11 IST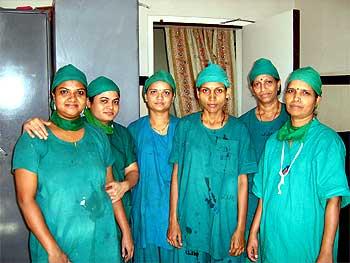 That first night, 19 men, 11 women and one child needed emergency orthopaedic surgery.
Three patients, who were badly injured on the night of 26/11, still visit the hospital for treatment. One of them suffered multiple fractures. "It will take 18 months to two years for it to heal completely," says Dr Chandanwale. "We managed to save his leg from being amputated."
He recalls how he first heard about something being wrong on the night of November 26 through an SMS sent by an agriculture officer in Alibaug, a town located across the harbour from the city, which informed the surgeon about reports of firing in south Mumbai.
When Dr Chandanwale called up the Mumbai police's emergency room, he was told that it was a fight between two underworld gangs.
Dr Sachin Jadhav was having dinner in the Lower Parel area, south-central Mumbai, when he received a call about the attacks. He convinced a reluctant taxi driver to take him to the JJ Hospital, telling him, 'I am a doctor and I am needed in JJ.'
The first patient arrived at 9 pm; the injured victims kept coming in for the next four days.
One doctor, who did not wish to be named for this feature, added, "It was easy to handle the emergency because there were no politicians and no relatives hindering our work."
Malathi Aggo, a nurse who was on duty that night, recalls, "I came to work at 11 am that day. I stayed the night and also late into the next day. Our entire team was here."
Doctors on duty during those traumatic hours praise Aggo and her colleague Malini Dhakad. "They not only tended to the patients's wounds," one surgeon said, "but also kept the patients calm. They maintained their wards with so much discipline that the patients were happy and comforted."
JJ Hospital lived up to the expectations
Last updated on: November 26, 2009 20:11 IST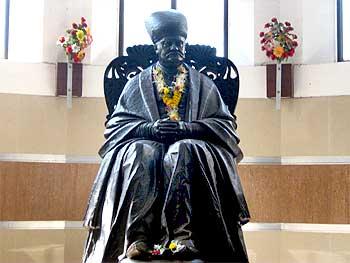 The Maharashtra government-run JJ Hospital also has the Grant Medical College attached to it and manages the St George's, Cama and GT hospitals in south Mumbai. A week after the tragedy, all the 26/11 victims at these latter hospitals were transferred to the JJ Hospital.
The doctors on duty at Dr Chandanwale's unit were Drs Nitin Mahajan, Piyush Gawai, Ameet Jadhav and Shashi Navle; the resident doctors were Bharath Loganathan, Nilesh Dharavale, Mohit Kukreja, Manu Bohra and Ashish Narang.
Then hospital dean Dr B N Sabnis and Superintendent Dr Jadhav made sure there was no shortage of manpower or equipment while treating the victims.
Though four agencies supply implants to the JJ Hospital, only one came forward to help out that night. Brothers Rajesh and Nilesh Tiwari not only took the orders but also supplied the implants in the middle of the night.
"They were brave to venture out when others did not even answer our calls," says one doctor.
On the nights of the terror attacks, JJ Hospital lived up to expectations. Sir Jamshedji Jeejibhoy, who built this hospital, would have been proud of the team of doctors, nurses and ward boys who went much beyond the call of duty on those horrific nights of terror.