Hillary meets Dr Singh
Last updated on: July 20, 2009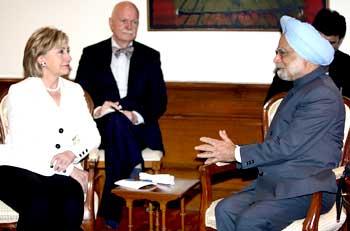 Visiting United States Secretary of State Hillary Clinton met Prime Minister Manmohan Singh at his official residence in New Delhi on Monday.
The Clinton cavalcade arrived from Delhi University, where the visiting dignitary addressed students and faculty. According to sources, Clinton and Dr Singh discussed ways to jointly counter the menace of terrorism.
They also reviewed the current state of bilateral relations, with a focus on non-proliferation, climate change, civil nuclear cooperation, all subjects aimed at taking the strategic partnership between the two countries forward.
The two sides are expected to sign a series of bilateral agreements after their discussions, including an 'end-use monitoring' agreement to ease the sale of sophisticated US arms to New Delhi.
Unveiling new strategic dialogue
Last updated on: July 20, 2009
The top agenda of Monday evening's meeting is the unveiling of the new strategic dialogue architecture, which will cover areas like non-proliferation, security, education, health and development.
The other highlight is the signing of an agreement to facilitate the launch of US satellites and satellites with US components on Indian launch vehicles.
The new Technology Safeguards Agreement (TSA) to be signed will cover launches involving satellites owned by the US government or academic institutions or by third country space agencies and universities which have US equipment on board.
Another agreement on a framework, for robust result-oriented cooperation in science and technology for collaborative research and its commercialization, will also be signed between the two countries.
Advani discusses Indo-Pak ties with Clinton
Last updated on: July 20, 2009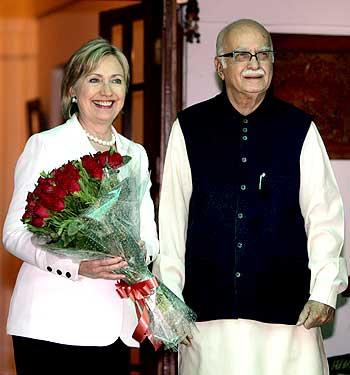 Clinton also met Leader of Opposition L K Advani, who told the US Secretary of State that the Joint Statement by India and Pakistan, delinking terrorism from the composite dialogue between the countries, had 'tried to disrupt the national consensus' among political parties on the issue.
Advani also expressed his unhappiness over the reference to Balochistan in the statement, saying it puts India 'in the dock' on disruptive activities in the region.
"We are in favour of good relations with the US but any action against this consensus will not get the country's support. Therefore we should not succumb and try to placate others." Advani told Clinton.