Punjab government lied to its farmers
Last updated on: July 16, 2009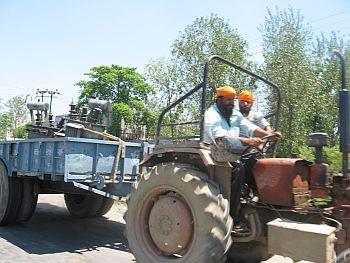 The monsoon shortfall has resulted in a drought-like situation emerging across northern India. Add to that a shortfall in electricity and what emerges is a perfect recipe for disaster for farmers. Rediff.com's Krishnakumar P travels across such areas and assesses how farmers are coping with the dry spell this year.
Here are his first reports from Punjab, a crucial agrarian state.
The Punjab government was the first to react to the failing monsoons when it guaranteed 8 hours of power supply to farmers even if it meant long power cuts in urban areas and buying power at a higher cost from other states.

Though the move is commendable at the outset, the situation on the ground shows that the government is cutting corners and is not being fair.
"It is true that they promised power for eight hours. But what they are not telling the world is that this eight hour supply is at a lowered wattage," Gurmeet Singh, a 56-year-old farmer from Bhairok village in Amritsar district says.
Explaining in layman's terms, he says: "What happens when you have a 100 watts bulb and there is fluctuation in the input power? The bulb flickers, right? That's what happens to our pump sets. Not only is the government lying to us, it is also causing us more harm than good. Not only can we not pump in enough water to the fields, but also our motors are damaged. We also end up spending more on repairing our motors," he said.


The government provides transformers to the farmers to overcome such hiccups. "While the electricity board is supposed to come and install the transformers in our farms, in reality they rot in the electricity board offices. In the past few days, farmers have begun coming to Amritsar from their villages and they take the transformers at their own cost," he said.
'We haven't got a single drop of water in four days'
Last updated on: July 16, 2009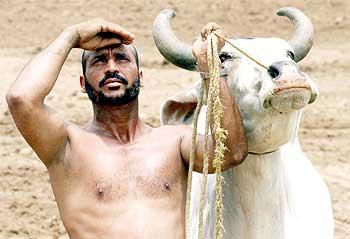 In Amritsar, the power goes out at exactly 10.30 am. It comes back at 1 pm. While the next scheduled power cut is at 3 pm, half an hour before that, the power goes out again.

"The scheduled power cuts are from 10.30-1 pm, 3-5 pm, and then 8-9 pm -- six hours a day. But everyday, there is no power for up to nine hours. It is horrible," says Vipin Mehra, a cyber cafe owner.

"Commercial places like ours depend on generators. And about 50 per cent of the houses have inverters. The remaining people have a really hard time. It rained a bit day before yesterday, and the situation has marginally improved," he adds.

To its credit, the Punjab government was the first in the country to swing into action. But sadly these are mostly eyewash. It first asked government offices to function without air conditioning and then in a knee-jerk reaction to a knee-jerk reaction, it changed the government office timings from 7.30 am to 1.30 pm. It claimed that the move would help deliver more power to the farmers.
But the government's moves have resulted in long power cuts clubbed with the shortage of water. This has made life miserable in both urban and rural areas of district -- from housewives to farmers -- as a consequence.
Even while there is acute water shortage in the urban areas, there is neither any water in the rural areas.


"We haven't got a single drop of water in four days. Even to cook food, we have to bring water from nearby colonies," PC Sharma, an advocate and a resident of Jagdambey Colony. The condition is no different in other colonies.

Civic officers, however, have the same old official line: 'Things are under control'.

Municipal Commissioner DPS Kharbanda said the shortage of water occurred due to power cuts. "We have already installed generators to run tube wells to ensure proper water supply during power cuts in most of areas," he said.
'There is nothing the government can do'
Last updated on: July 16, 2009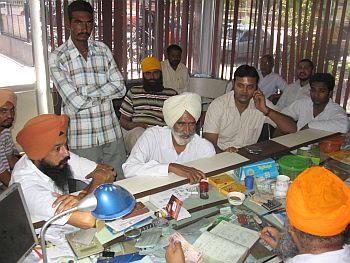 Whatever the claims of the commissioner, the rush at Amritsar's most famous generator vendor tells a different story.

Kesar Singh Generator-wala is located in Nawan Pind, 10 km from Amritsar town. But still people from the town and far away trust the shop's propritor over the ones in town.

"He has a reputation of being clean and professional. I wanted a generator for my office. While the local vendors promised me one in two days, I went to Kesar generators. He said he would take a week. That's the kind of trust he has earned over the years," said Mehra.

At the shop, there are at least 40-50 people sitting outside. That's because proprietor Nanak Singh's office cannot accommodate more than 15 people, including standing room. Last year, the rains were good and he ended the year with 75 per cent of his goods unsold.

This year not only has he sold off whatever was left from last year, he is struggling to meet the spike in demand. "My garage works on 35-40 generators a day, most of them new pieces and some of which are repairs. But the rush is never ending," he says, adding, "There is nothing that the government or any other force can do in such situations. It is all in nature's hands."

A standard 10 kilo volt generator costs Rs 45,000 and the bigger ones up to a capacity of 60 kv cost about Rs 70,000.
Baldev Singh has come to collect his 60 kv generator. Over and above the Rs 66,000 he has spent on the generator, he talks about the operating cost.

"To run this for one hour I will need five litres of diesel. I would have to run this to at least a minimum of 8 hours and if I chose to irrigate the field at the night also, then double that. My input cost shoots up by at least Rs 6,000 a day. Where will I recover this from?"
Punjab government lied to its farmers
Last updated on: July 16, 2009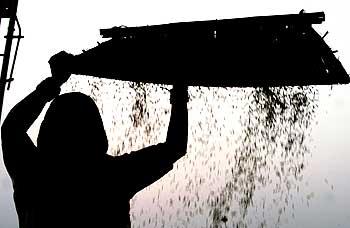 "Do not underestimate Punjab's farmers. They may be in distress, but they will never give up. Even now, that's why you see most of them lining up to buy generators. Somehow or the other, they will cultivate their crop. They are smart," said one of the hangers-on outside Kesar Singh Generator-wala.

Ask Gurmeet Singh whether he has a contingency plan, and he replies in the affirmative. "I have set aside about 2 acres of my 20 acre field. I will plant Basmati if the rains continue to fail," he said.

The thing with Basmati is that it is sown late in July or early in August. It consumes less water than other paddy crops and the water available in the late months is enough to cultivate it. Also, by late July, farmers have a clear idea of how much rain has fallen and are able to decide their sowing area.

So, this year many farmers like Gurmeet have kept that as plan B. Traditionally, only small patch on the river Ravi's riverbed on either side of the Indo-Pakistan border cultivates Basmati. On the Indian side, this area covers Chogawan, Harsha Cheena, Ramdas, Ajnala.

"The rice produced in this region sells is longer and more fragrant than other varieties. They go up to Rs 300 a kilogram in Middle East and Europe. In India, not more than 10,000 quintals are sold," Singh said.

It is estimated that Basmati is now sown in about 60,000 hectares in Amritsar district alone. The delay in the monsoon will mean the cultivation area will go up to 80,000 hectares. And the pattern will be the same in other districts too.
"The delay in rainfall might help divert rice acreage to basmati," Agriculture Development Officer Gurdeep Singh, who is also crop pattern expert, said.

Gurdeep, however, said that the increase in the area where basmati is sown will not affect the production of the non-basmati rice. "Farmers have already sown the regular paddy crops. We estimate that 80 per cent of cultivable area has witnessed sowing already. So, while farmers will ensure that they get a good crop, the Basmati will only be an added advantage to those who sow it," he said.

There is a downside to this, though. With the monsoon nowhere in sight, more farmers have set their sights on cultivating Basmati. "When the production goes up, the rates come down," said Raja Sethi, a leading rice exporter. The Basmati crop market is totally private-driven. Hence, more supply will lead to a fall in price as exporters would have a larger pool to buy from.

"But as long as there is a way out of our troubles, we won't mind the fall in prices," Gurmeet concluded.