Proving everyone wrong
Last updated on: December 17, 2009 17:53 IST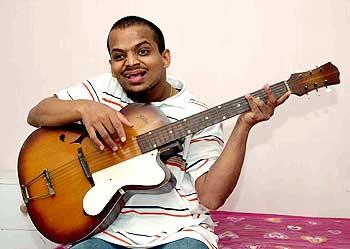 Being disabled does not mean the end of the world. Shobha Warrier narrates G J Siddharth's inspiring story.
Five years ago when I met G J  Siddharth, he had just landed a job with ABN Amro at a job fair for the disabled. Though he took his Masters in Economics with flying colours, he had not got a job till then. He could have easily, but he always wanted to be treated like any other human being by recruiters. Reason: he suffered from cerebral palsy.
Siddharth had to fight to get admission in schools and colleges despite scoring 100% in computer science and mathematics. He also had to go for a job fair for the disabled.
Five years later, he now works as an executive at RBS Business Services, part of Royal Bank of Scotland, RBS Group (ABN Amro no longer exists).
He has also added one more award to his kitty, the Helen Keller award.
How Dr Kalam changed his life
Last updated on: December 17, 2009 17:53 IST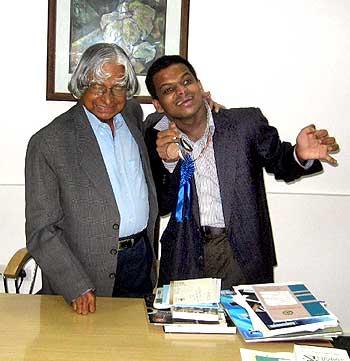 Siddharth says with a smile, "My life changed completely after that one article on rediff. The first major attention I got was from Dr Abdul Kalam. The then president's office wrote to me after reading my story on rediff. I was overjoyed. I met him at the Chennai airport and gave a presentation on how society looks at and treats the disabled, especially one with cerebral palsy. I told him what I wanted to do for the disabled at the individual level.  I also told him I had a mission; of educating the general public about us."
So impressed was Kalam that he spoke about him on World Disability Day, and repeatedly from various platforms.
When a delegation from the Special Olympics, led by Dr Timothy Perry Shriver, CEO of Special Olympics International, called on Kalam in 2005, he said he wanted to share two things. And the first was about "a boy called Siddharth Jayakumar, who suffers from cerebral palsy and yet he worked hard and achieved success in his life".
Kalam said his story proved that rather than sympathy, they needed support and encouragement to acquire specials skills and capabilities so that even when their supporting parents are gone, "they can survive on their own with dignity."
Siddharth was invited to meet Dr Kalam many times after that.

'Awards make me satisfied'
Last updated on: December 17, 2009 17:53 IST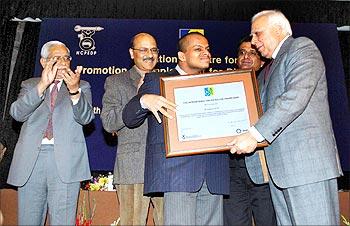 Awards followed. The latest (fourth) in his kitty is the Helen Keller award which he collected last week from Union Minister of State for Science and Technology and Ocean Development Kapil Sibal. The citation says, 'The award is for carrying a huge responsibility on his shoulders to show that a person with cerebral palsy can perform at a very high competitive world.'
The committee introduced him as a 'young man with cerebral palsy who has fought huge battles and surmounted innumerable hurdles to emerge a winner.'
It was his friend for the last 18 years, and now brother-in-law, Amit Kumar Rath who nominated him for the award. 
"Awards make me satisfied. I am happy that a person with cerebral palsy has won these awards. I work in a highly competitive environment. I don't like to be compared with anybody else," says Siddharth.
What keeps Siddharth going is the fact that he is contributing to the organisation like any other employee. Last year, he won the National Award from the ministry of social justice and empowerment for being the 'best employee with cerebral palsy'.
'I am angry with myself most of the time'
Last updated on: December 17, 2009 17:53 IST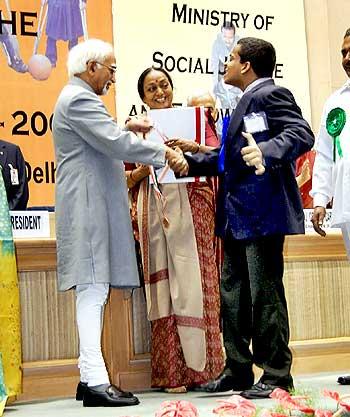 He says he has a mission in his life. "My mission is not to start an NGO. There are many who do that. I would like to show to the world that as a student, as an employee, as a human being, I am on a par with anybody else. That is very important for me and people like me. The general feeling among the public is that we cannot be like other normal persons."
How does he deal with all this? "I have become tolerant and patient. I tolerate a lot of nonsense. I am learning patience from my mother. She is the most tolerant human being I have ever met. She has taken all efforts to help me come up to this level. Whenever I become impatient, I tell myself, why can't I be as patient as my mother?"
Yes, he does get angry, not at others but at himself.
"I am angry with myself most of the time. There is a gap between my thoughts and the way to implement those thoughts. It is very frustrating. I would like to a drive car, but I can't. I know driving a car along the East Coast Road in Tamil Nadu is a great feeling.I want to ride a bike. Am I able to do these things? There are so many things I can't do. I have to adjust my mind with my body. Otherwise, you will go mad."
'For me, the world is changing slowly'
Last updated on: December 17, 2009 17:53 IST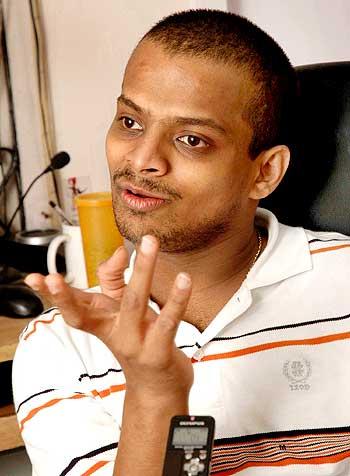 Siddharth admits that there is a change in people's attitude of late.
"Ten years ago, it was different; I had to struggle hard at every step. Today, take my case itself, I work in a normal office, in a competitive environment and I am not treated differently. Many people are now willing look beyond disability and support us. I am very happy that the world is changing, albeit very slowly."
What makes Siddharth happy? "The very process of living! I am living and battling my own limitations every day. And that makes me extremely happy!"