What binds Mahatma, Mamata, Karuna and KCR?
Last updated on: December 14, 2009 14:57 IST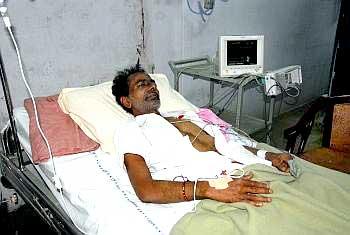 Going on a fast-unto-death has long been used as a non-violent method of protest in Indian politics. The power of 'fasting' as a political tool got underscored again recently with the Centre conceding to fasting Telangana Rashtra Samiti chief K Chandrasekhar Rao's demand for a separate Telangana state.
There are many popular leaders from history who used fasting as a means to fulfill their demands and the most revered name among those is that of Mahatma Gandhi.
Another revered figure is freedom fighter Jatin Das, who died while fasting in pre-independent India. The revolutionary, who began his strike in Lahore Jail on July 13, 1929, demanding equal rights for Indian and British political prisoners, died on September 13.
His death is said to have fired the imagination of the Indian youth, unleashing a new wave of protests.
Freedom fighter Bhagat Singh fasted with comrades Rajguru and Sukhdev
Last updated on: December 14, 2009 14:57 IST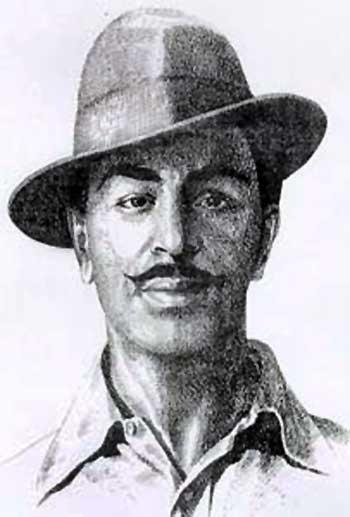 Post-independence, Potti Sriramulu was the first political leader to die during a hunger strike. Demanding a separate Andhra Pradesh, he began his fast in Madras on October 19, 1952 and died on December 15 after 58 days. His death triggered off violent protests in the region that finally led to the creation of Andhra Pradesh.
Darshan Singh Pheruman was another martyr to the cause of statehood post Independence. The Sikh leader, who began his fast on August 15, 1969, eventually died on October 27, 74 days after he gave up food. He was demanding, among other things, the inclusion of Chandigarh in Punjab.
Mahatma Gandhi undertook fasts for as many as 15 times during his life. His hunger strike in 1932 led to the 'Poona Pact' under which untouchable leaders renounced separate representation during British rule. Again in 1943, he went on a hunger strike for 21 days at Aga Khan Palace in Pune, to end the deadlock over negotiations between the Viceroy and Indian leaders.
This was a turning point in the freedom struggle. The last fast by the Father of the Nation was in 1948, when he resorted to it for five days to bring an end to post-partition violence.
Freedom fighter
Bhagat Singh
had gone on a 63-day fast along with his comrades Rajguru and Sukhdev in Lahore Jail in 1929
Sunderlal Bahuguna fasted against the construction of the Tehri dam
Last updated on: December 14, 2009 14:57 IST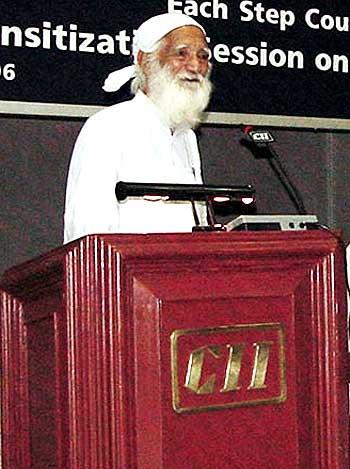 Among the other high-profile hunger strikes, Sunderlal Bahuguna's was a prominent one. Bahuguna, who spearheaded the anti-Tehri dam movement, undertook a 45-day-long fast in 1995, protesting the construction of the dam.
He called off his fast after then Prime Minister P V Narasimha Rao gave an assurance to set up a review committee to look into the ecological impacts of the dam.
Two years later, he again went on another long fast which lasted for 74 days at Mahatma Gandhi's Samadhi at Raj Ghat, during the tenure of Prime Minister H D Deve Gowda, who assured him that the project would be reviewed.
Hunger strikes misused by politicians
Last updated on: December 14, 2009 14:57 IST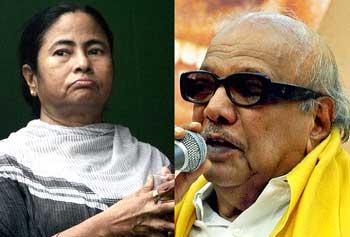 In 2006, Trinamool Congress leader Mamata Banerjee used this weapon to protest forcible land acquisitions in West Bengal. She called off her 25-day-long hunger strike on December 28, 2006, following appeals by President A P J Abdul Kalam and Prime Minister Manmohan Singh. However, her act changed the state's political complexion, pushing the ruling Left Front to a corner.
In April this year, Dravida Munnettra Kazhagam chief M Karunanidhi went on a fast-unto-death to press the Sri Lankan government to declare a ceasefire, when the country was nearing the end of its decades-long war against the Liberation Tigers of Tamil Eelam. But his much-hyped fast lasted barely for half a day, and the Opposition joked that the DMK chief had managed to start his fast after breakfast and end it before lunch.
Handed down by the Mahatma as a medium to peacefully protest for a cause, hunger strikes have, however, been used by many politicians for achieving individual and petty goals. Many leaders have been successful while some failed in getting their demands conceded, but fasting is still considered an effective weapon of protest in Indian polity.