Telangana: Yesterday, today and tomorrow
Last updated on: December 7, 2009 13:59 IST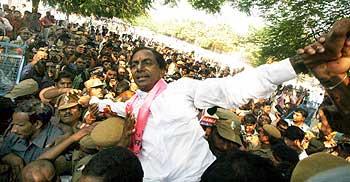 The Telangana issue is on the boil again. Other than creating national interest in the last few decades, not much has been spoken about the movement. That said the release of the book titled Telangana: The State of Affairs recently could not have come at a better time.
Some of the essays in the book look at the basic premise of identity politics and sub-regionalism in the context of Telangana, the social structure of regional politics and the current political scenario of Andhra Pradesh with the rise of new political parties vis-a-vis the demand for a separate state.

Interestingly, the book has also includes two short stories -- one by former Prime Minister P V Narasimha Rao and the other by eminent Telugu writer Allam Rajayya.

The two stories underscore the unchanging conditions of the region and the tenacity of its struggle at two points of time in contemporary history.
Click on NEXT to read excerpts from the book

Excerpted with kind consent of publisher AdEd Value Ventures.
'Telangana is relatively backward economically'
Last updated on: December 7, 2009 13:59 IST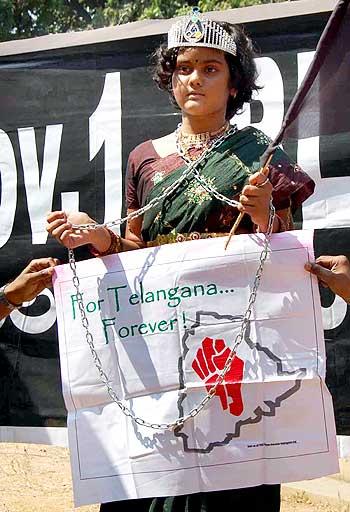 The Andhra Pradesh of today is a state of 20 districts, which corresponds fairly accurate to the area in which Telugu language and culture are dominant. The state is divided into three well-defined regions: the Delta, Rayalaseema, and Telangana.

For administrative purposes, the Delta and Rayalaseema are treated as one. The Delta, well irrigated and fertile, is the most prosperous and wealthy of three regions.

Rayalaseema is a dry, infertile area, subject to frequent droughts and famine. The nine districts, which comprise Telangana, are relatively backward economically.
For 200 years, Telangana was separate from the rest of the Telugu country, maintained in a rather backward feudal condition by the Nizams of the Asaf Jahi dynasty. The jagirdar system of landholding seems to have stood in the way of agriculture development.


The book's first chapter comprises sections covering broad issues related to understanding of regional inequalities in general history of discrimination towards Telangana in particular, and the ongoing movement vis-a-vis the Telangana Rashtra Samithi.
'Debate on regional inequalities in Andhra is complicated'
Last updated on: December 7, 2009 13:59 IST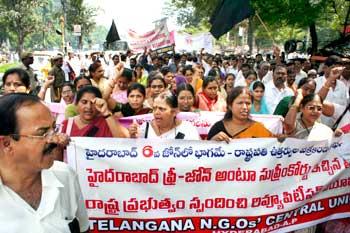 Studies in the political economy of India are replete with references to 'regional inequalities' or 'imbalances' or 'uneven development' between different states or different regions within a state. Though the debate has been on for a long time, a close examination of the diverse contexts in which the concept was used reveals a lack of consistency as well as inadequate clarity among the writers.
In debating regional inequalities one has to examine the concepts of development, backwardness or lack of development (or under-development, as some social scientists prefer) and several related concepts.
Development debates based on traditional income indices of per capita and national product and attendant per capita consumption, per capita expenditure and per capita wealth have moved a long way to overcome the constraints of an 'average' indicator that hides and ignores the stark realities.
The UNDP's Human Development Index to determine living standards based on indices of life span, educational opportunities and per capita income has been further improved by Amartya Sen's emphatic rejection a relative definition of development and poverty and insistence that the definition include the lack of entitlements/rights essential for the realisation of capabilities shared in common by members of a society.
Backwardness of any region cannot be attributed to natural factors alone and that is evident from the data about the region's soil fertility, cultivable land, rainfall, water resources forest cover, mineral and human resources.
The debate of regional inequalities in Andhra Pradesh is more complicated with several unimplemented promises during the past five decades. Government policies with overt prejudice towards certain regions, patronising one and depriving the other in resource allocation, education, employment, and irrigation sectors led to exploitation and oppression of some regions.
'Study is required of the history that condemned Telangana'
Last updated on: December 7, 2009 13:59 IST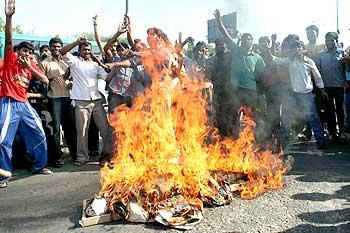 Although it is true that Telangana is backward and discriminated compared to coastal Andhra it is important to acknowledge the significance of the other issues. Efforts of the ruling classes to systematically neglect and suppress aspirations of Telangana people, and deliberate, inexcusable and inordinate delay in addressing these aspirations display several dimensions of the Telangana question.

These problems are becoming increasingly difficult and complex. Giving importance even today to arguments of backwardness or developmental programmes or special packages will amount to taking history back by 30 or 50 years.

It is essential to discuss history on par with or more than the issues of development inequalities. Detailed study is required of the history that condemned Telangana to backwardness and lack of development. It is necessary to survey the history, at least in brief, to know that experiences over five decades prove that Telangana interests are incompatible with the integrated Telugu state.

That Telangana interests are not protected even when there was a Telangana chief minister is the evidence that state policy on political and economic matters is fundamentally discriminatory. It is also true that Telangana leaders in power didn't have adequate concern and honesty. But inadequacies were only additional factors but not the sole reason.

Search into history must go beyond the formation of Andhra Pradesh in 1956 to understand the discriminatory nature of state policy. Thinking of a unified state for Telugu-speaking people in two distinct regions dates back to early days of the 20th century. These views were shared by all political sections and intellectuals of that time.
'Telangana people were not as enthusiastic to the idea of integration'
Last updated on: December 7, 2009 13:59 IST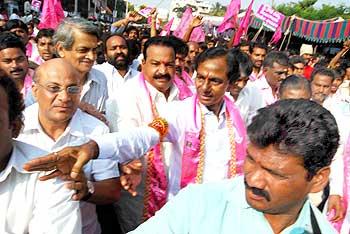 The Indian National Congress in 1927 resolved in favour of linguistic states. The Andhra Congress Swarajya Party proposed integration of all Telugu-speaking area including Telangana in 1936.
Mamidipudi Venkatarangayya, an educationist and historian associated with the national movement, made a proposal of an integrated Telugu state way back in 1937 in his article to The Indian Express.

Subsequently many leaders from coastal Andhra supported that proposal. That communist also supported the demand is evident from Puchalapalli Sundarayya's book Visalandhralo Praja Rajyam (people's rule in united Andhra) in 1946.

Communists from coastal Andhra were in support of Visalandhra in 1937. However, it is also clear that people of Telangana were not as enthusiastic to the idea of integration of all Telugu speaking areas into one state.
'TRS became the centre of hope then'
Last updated on: December 7, 2009 13:59 IST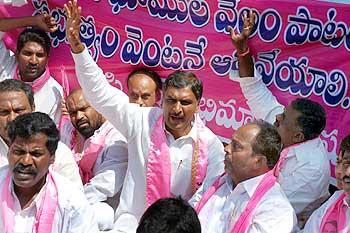 Among the existing pro-Telangana political parties, the TRS is the oldest formed exclusively on the demand of achieving separate state. The TRS will be completing eight years by the time the next elections are fought on the plank of separate Telangana.
No other political party in Telangana with an objective of securing a separate state had lived for such a long time in parliamentary policies. It is unique compared to the TPS (Telangana Praja Samithi), which abandoned the very cause for its emergence in order to merge with the Congress despite unprecedented victory in elections.
The TPS existed for less than three years only. In contrast, the TRS formed on April 20, 2001 scored several victories from very first year in local elections and subsequent general elections and recent by-elections in May 2008 to assembly and Parliament.

It has been effective in drawing attention to the demand of separate state not only locally and within Andhra Pradesh or on the national scenario but also internationally. It played a significant role in explaining the imperative to form separate state as the only solution to end injustice and discrimination that the region is subjected to in Andhra Pradesh by effectively utilising every space available from local elections to parliamentary polls.

It became the centre of hope for varied sections to rally around as the main champion of the cause of separate Telangana.
'TRS failed miserably in keeping vigilant against the Congress'
Last updated on: December 7, 2009 13:59 IST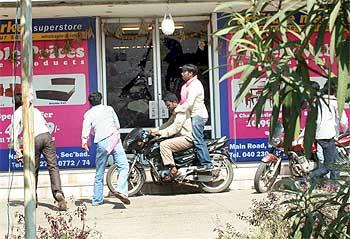 It is important to acknowledge that the TRS along with its victories in its eight-year journey also has failures, handicaps, and faults, which are not less significant. No social organisation, especially a political party operating in a complex social milieu, can claim immunity from ups and downs, or gains and losses.

Before answering how the actions and practice of the TRS are to be measured, it is important to answer what is success to a regional political party? A narrow and limited perspective views achieving a geographically separate Telangana state is its sole success. It is native and narrow understanding and reduces the scope of a political party's role and direction. It fails to see that achieving a geographical separate state is not that simple or easy.

The Congress is notorious for its legacy of anti-people policies and rule. Yet forging alliance with the Congress in 2004 elections may be considered a wise and shrewd move by a parliamentary political party like the TRS, to dethrone the Telugu Desam Party that was considered the main enemy then.
But the TRS failed miserably in keeping vigilant against the Congress that came to power in 2004. The keenness that was shown to join the state and central ministers was lacking in fighting for the separate state giving scope to critics to allege that the TRS has mortgaged the cause of Telangana for the lure of sharing power.
'TRS became prey by giving consent to Cong's dubious plan'
Last updated on: December 7, 2009 13:59 IST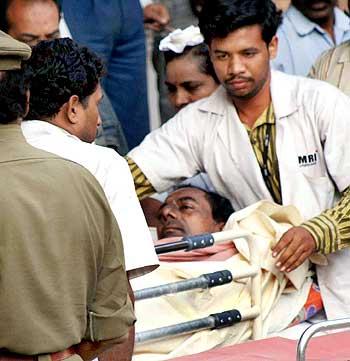 It may take the credit of getting an assurance from United Progressive Alliance through the insertion of a sentence in favour of Telangana in the National Common Minimum Programme of the government of India in May 2004.

The CMP stated 'the UPA government will consider the demand for formation of a Telangana state at an appropriate time after due consultation and consensus'. This assurance was made in such impractical manner with several tags and traps.

The TRS could have played a serious job to insist on an unambiguous and unconditional assurance from the UPA in the situation around May 2004, but failed to work in such a manner.

Instead of refuting and challenging why conditions of "consultations and consensus" are imposed only in regard to Telangana when such conditions were not applied to the formation of any other state in the country, the TRS became prey by giving consent to the dubious plan.
Besides, it took the burden to building "consensus" on its head and went around losing precious time seeking support from numerous political parties, which did not even have an idea of where Telangana was and what was its rationale for separation.

The TRS forgot to provide an action plan articulating the aspiration of 35 million people, owing to its busy schedule of collecting consent letters from heads of two-dozen irrelevant political parties in Delhi.
'Repetition of policy is not an adequate answer from TRS'
Last updated on: December 7, 2009 13:59 IST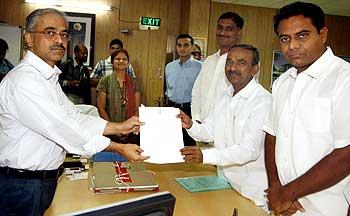 While more than two years and a half were wasted in Delhi in the name of lobbying and consensus building their leaders and legislators, who had berths in the state cabinet, made no efforts to building and taking forward the movement. They had no struggle to demonstrate during these crucial years.

Consequently, the TRS pulled out of the Y S Rajasekhara Reddy cabinet in 2005 and a year later quit the central government. Quitting the Congress alliance was viewed by people as an essential price for their role in the misdeeds and treachery of coalition government.
People of the region excused the several past misdeeds of the TRS and the by-elections to Karimnagar Lok Sabha seat was a rebirth to the party and provided another opportunity for self-evaluation and correction of the mistakes in its direction and programme.
Repetition of its 'policy' that it has a 'single point agenda' viz., achievement of a separate state through lobbying and electoral process and alliances with any political party, is not an adequate answer to varied sections of the people who need to identify with the struggle for the separate state as well as with the acts of the party that claims to be working towards that goal.

Ignoring destructive development projects, perpetuation and exploitation of the region adversely affects chances of the TRS to win support of the affected sections.
'TRS needs concerted mid-course correction'
Last updated on: December 7, 2009 13:59 IST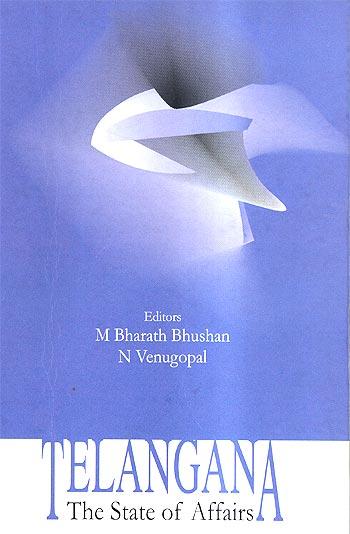 Similarly brazen inconsistency in the rationale for joining or falling out with a political party becomes severe handicap of the TRS to make inroads into sections of the people sharing certain political views.
On the contrary to building a pro-people Telangana struggle, the TRS has been springing surprises by showering assurances to settlers, who have acquired thousands of acres of land in Hyderabad and Ranga Reddy districts.


Warning of stern action against small employees juxtaposed with repeated assurances and promises of protection to landlords and capitalists grossly negates the argument that the rationale for separate Telangana is a people's demand.


Assessment of the TRS will be incomplete and distorted if the shifts in its path away from the interests of the people are not taken into account. There have been serious flaws and a concerted mid-course correction is needed.


Similarly, the party has to be cautious of not playing into the hands of anti-Telangana forces. Only then it will become a matured political party and can move effectively in the direction of achieving its goals.