Bhopal mourns for victims of 1984 gas leak
Last updated on: December 3, 2009 17:50 IST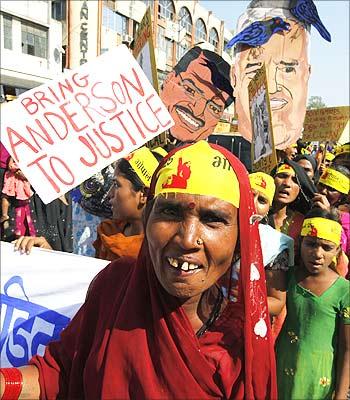 Victims of the Bhopal gas tragedy and their families held a rally outside the Union Carbide Factory to mark the 25th anniversary of the world's most deadly industrial disaster.
The factory was seen as a symbol of the new emerging India -- a factory that would not only generate thousands of jobs, but manufacture cheap pesticides for millions of farmers.
But the Union Carbide plant in Bhopal left a more potent legacy when it accidentally released toxic gases into the air, killing thousands of people and causing many more to suffer in the world's deadliest industrial disaster.
Bhopal mourns for victims of 1984 gas leak
Last updated on: December 3, 2009 17:50 IST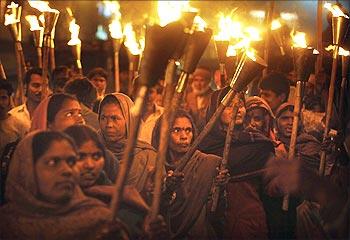 Suffering survivors were holding placards, banners and installations showing guilty political leaders and officials of Union Carbide and Dow Chemicals.
"Organisations will keep on protesting till the time Bhopal gas victims don't get justice and a life of dignity. Prime Minister Manmohan Singh has assured that the government will take all possible measures to help the victims with rehabilitation and relief. We also want to say that the promise, which the PM made 18 months ago about formulating an authorised commission for Bhopal, should be fulfilled," said Rachna Sarangi, one of the protestors.
Family members of the victims and survivors of the Bhopal gas tragedy also staged a candle-light vigil on Wednesday.
'A disaster within a disaster'
Last updated on: December 3, 2009 17:50 IST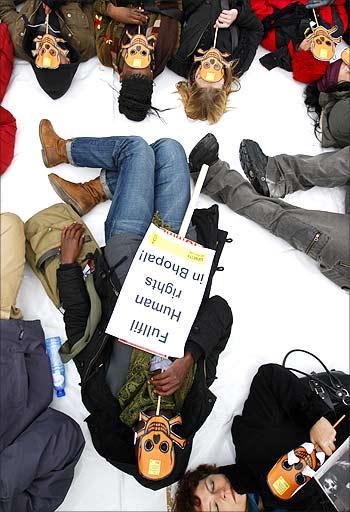 A quarter of a century on, the derelict factory stands abandoned, but behind its locked iron gates lies, environmentalists say, 'a disaster within a disaster' -- a highly polluted site which, according to a new study, is slowly poisoning the drinking water for thousands of Indians.
In the early hours of December 3, 1984, around 40 metric tonnes of toxic methyl isocyanate gas had leaked into the atmosphere and was carried by the wind to the surrounding slums.
The government says nearly 3,500 died as a result of the disaster. However, activists calculate that 25,000 people died in the immediate aftermath and the years that followed.
Activists and health workers say over 100,000 people, who were exposed to the gas, continue to suffer today.
Bhopal has long cast a shadow over India
Last updated on: December 3, 2009 17:50 IST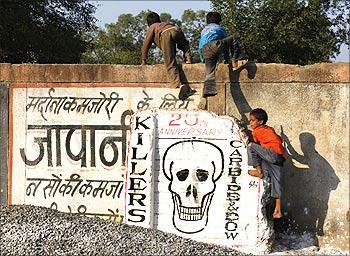 Bhopal has long cast a shadow over India and how it handles the challenges of a 1.1 billion, largely poor population, improves health and safety regulations, and a fast-growing economy.
Sicknesses due to the gas leak range from cancer, blindness, respiratory difficulties, neurological disorders, female reproductive disorders as well as birth defects among children born to affected women. But activists and lawyers representing the affected populations from the nearby slums say the tragedy of this disaster is that it continues unabated.
Source: ANI