25 years on, lives are still poisoned in Bhopal
Last updated on: December 2, 2009 17:18 IST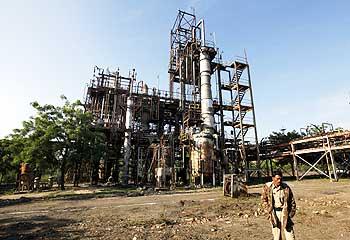 It's been 25 years since the world's worst industrial and environment disaster ever -- the Bhopal gas tragedy -- claimed scores of lives. However, there seems to be no end to the victims' woes.


The incident took place in 1984, when the lethal Methyl Iso Cyanate (MIC) Gas leaked from the Union Carbide factory that was producing pesticides.
Hitting out at the Centre and Madhya Pradesh government, NGOs fighting for the cause of the Bhopal Gas Tragedy victims have alleged that neither the gas-affected persons were paid adequate compensation, nor any steps had been taken to dispose off the toxic wastes from the plant site.
They also accused the Centre and the state government of being responsible for not extraditing former Union Carbide chairman Warren Anderson. Click on NEXT to read further ...
15,274 lives lost, 5,74,000 affected
Last updated on: December 2, 2009 17:18 IST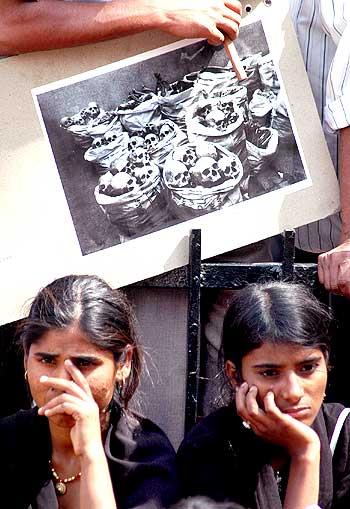 The case is still being fought at the Chief Judicial Magistrate level and after that it may be challenged again in the Madhya Pradesh High Court.
Meanwhile, a number of events including photo exhibition related to the disaster, agitations, sit-in, poetry night, press briefings and felicitation programmes are being organised since last couple of days.

Apart from these, an all-party religious prayer meeting in which Madhya Pradesh Chief Minister is also expected to take part, that claimed 15,274 lives and affected 5,74,000 persons after leakage of MIC gas from the Union Carbide India Limited (UCIL) plant on the intervening night of December 2-3, 1984.
Various NGOs, including Bhopal Gas Peedit Mahila Udyog Sangathan (BGPMUS) and Bhopal Group for Information and Action (BGIA) came under an umbrella and alleged that huge toxic waste was still lying in the Union Carbide factory premises, spread over an area of 67 acres.
Bhopal's drinking water is still toxic
Last updated on: December 2, 2009 17:18 IST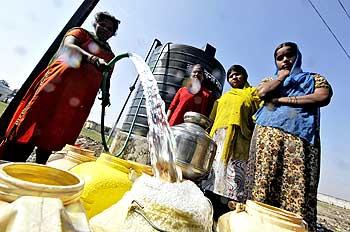 A recent report indicated high levels of toxic chemicals in Bhopal's drinking water. Residents in the areas surveyed had high rates of birth defects, rapidly rising cancer rates, neurological damage, chaotic menstrual cycles and mental illness, it said.

The report, 'Analysis of chemical contaminants in groundwater of communities surrounding UCIL Plant Site in Bhopal' was made by Bhopal Medical Appeal, a UK-based nonprofit; and the Sambhavna Trust Clinic in Bhopal that offers free treatment to those suffering from both the 1984 chemical gas disaster and the present day water poisoning.
This report, which includes testing results from as recently as June 2009, demonstrates that the water in and around the Union Carbide factory site in Bhopal still contains extremely unsafe levels of carbon tetrachloride, a carcinogen, and other persistent organic pollutants, solvents, nickel and other heavy metals.

Some of these chemicals were used in the production process of Sevin at the Union Carbide plant. The new data found that the level of carbon tetrachloride increased compared to earlier tests. The toxins are still rising as the chemicals leach through the soil and into the aquifer, still used as a source of drinking water.
25 years on, nobody has been punished
Last updated on: December 2, 2009 17:18 IST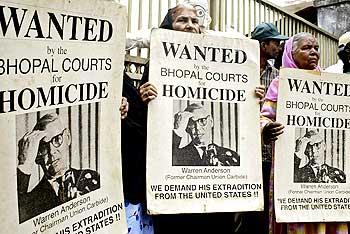 They also alleged that despite several arrest warrants being issued against the former Union Carbide Chairman Warren Anderson by local courts, charging him with culpable homicide not amounting to murder, the CBI has not extradited him for trial in India.
The NGO leaders said that Anderson may be proclaimed offender in India but he is leading a luxurious life in a palatial home in Bridgehampton in Long Islands near New York.

Anderson, who never faced any court for Bhopal gas tragedy, had been released on bail on December seven, 1984 soon after his arrival in the city after the incident but since then he never ventured on Indian soil, they said.
"It is surprising that no one was punished for the Bhopal gas tragedy even after 25 years of the world's worst industrial disaster," the NGOs said.
Voices of protest grow louder
Last updated on: December 2, 2009 17:18 IST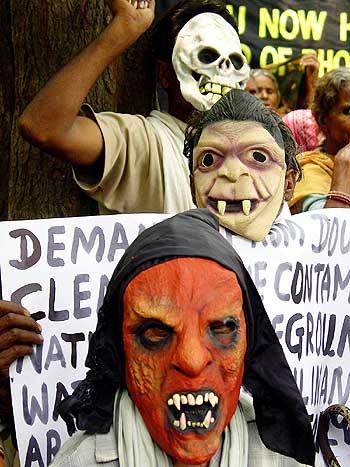 "We have launched a campaign along with BGPMSKS and Bhopal Gas Peedit Mahila Purush Sangarsh Morcha (BGPMPSM) from November 28 to disprove the state government's claim that there is no toxic and hazardous waste there," BGIA convener Satinath Sarangi said.
Sarangi alleged that Union Environment and Forests Minister Jairam Ramesh and Bhopal Gas Tragedy Relief and Rehabilitation Minister Babulal Gaur are favouring Dow Chemicals, which has taken over Union Carbide by saying that wastes lying in the factory premises are not harmful.
The three NGOs would intensify protests against Dow Chemicals from Thursday to press for the removal of the toxic waste from the factory and seek financial and medical help to the gas tragedy victims, he said.
Why waste funds building memorials?
Last updated on: December 2, 2009 17:18 IST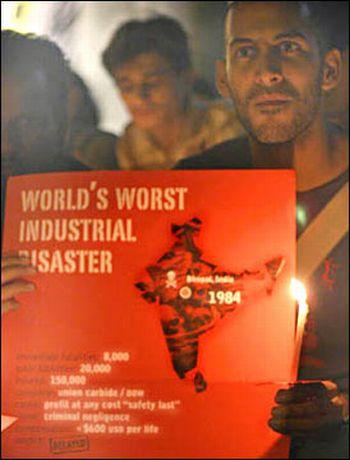 Meanwhile, BGPMUS convener Abdul Jabbar demanded the Centre to release compensation money to the gas tragedy victims.
According to an agreement on February 15, 1989 facilitated by the Supreme Court, US-based Union Carbide Corporation provided a compensation of $470 million (Rs 715 crore) to the victims of the toxic gas emission, he said.
However, Jabbar said, a meagre flat amount of Rs 25,000 each as compensation was given to the affected people while for death Rs one lakh was provided between 1992 and 2004.
The NGOs also opposed government's proposed plan to build a Rs 116 crore memorial for the gas victims and urged the Centre and the Madhya Pradesh government use the money in other welfare activities for gas victims, including health, rehabilitation and education, rather that wasting it in constructing memorials.
AGENCIES