Ted Kennedy: Death of a patriarch
Last updated on: August 26, 2009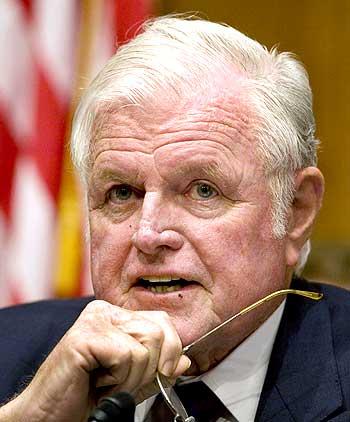 Ted Kennedy, the youngest of the charismatic Kennedy brothers and a prominent member of one of America's most famous political families, died on Tuesday at his home in Hyannis Port, Massachusetts, after a year-long battle with brain cancer.
Senator Edward Moore 'Ted' Kennedy, 77, was one of the senior-most members of the US Senate; serving since 1962. At his death he was sitting in his eighth full term. Known as the Liberal Lion, this popular politician worked tirelessly at carrying on his brothers John and Robert's legacies, always putting his heft behind liberal issues.
The end of a dynasty
Last updated on: August 26, 2009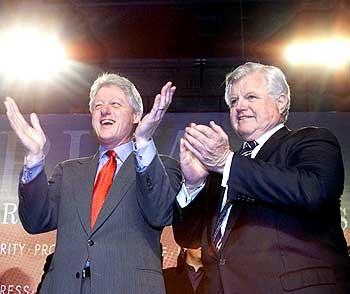 After the deaths of his brothers John F Kennedy and Robert K Kennedy, two lodestars of American politics, Ted, less of an achiever than his glamorous siblings, took on the mantle of heading this radiant, accomplished clan and fathering his brother's children and for the past 41 years did a handsome job of it.
He grew up in New York, attended Harvard and the University of Virginia, served in the US army and aspired for a bright political career, with hopes of attaining the American presidency. But his suspicious connection with the accidental drowning, in 1969, of Mary Jo Kopechne, an aide, who was travelling in his vehicle after a party, put paid to that.
The Liberal Lion
Last updated on: August 26, 2009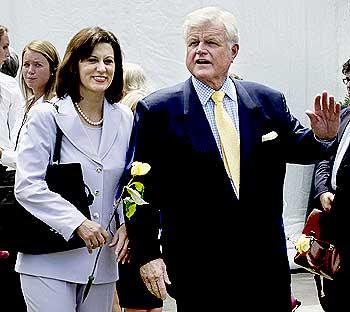 With dreams of becoming a US president now out of reach, Kennedy invested his considerable energies in his career as a senator. He made sure he became a pillar of the Democratic Party. The senator highlighted and vigorously supported women's rights, abortion, health care reform, unions and worked relentlessly hard to bring change in these areas.
The soldier
Last updated on: August 26, 2009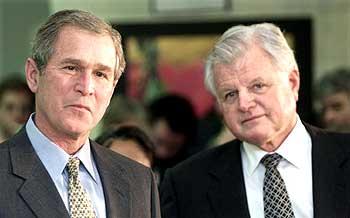 Tragedy sadly dogged Ted's life.
Not only did he have to come to grips with the sudden deaths/assassinations of four of his brothers and sisters, he dealt with various damaging family scandals and also coped with the death of JFK's son (with whom he was close) in a plane crash, his son's fight with bone cancer, only to learn belatedly of his own brain cancer.
But Kennedy soldiered on and announced courageously, 'I pledge to you that I will be there next January on the floor of the United States Senate when we begin the great test.'
And he was.
He lost the battle with cancer eight months later.