How India secretly helped Lanka destroy the LTTE
Last updated on: August 21, 2009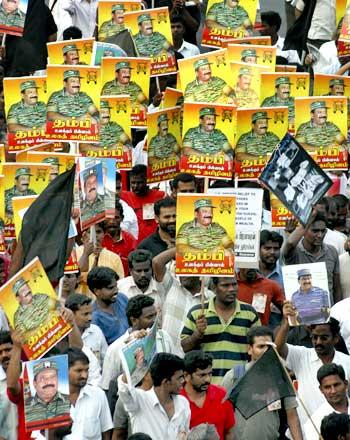 Nitin Anant Gokhale, NDTV's Defence and Strategic Affairs Editor, has been reporting on military affairs and militancy from hostile terrains like India's north-east, the Kashmir valley and the Naxal heartland.
His latest book Sri Lanka: From War to Peace is based on his reportage of the 33-month civil war in Sri Lanka. Gokhale chronicles the details of an unprecedented military campaign by the Sri Lankan armed forces and analysis the reason for the Liberation Tigers of Tamil Eelam's decline.
In this exclusive excerpt, he details how the Indian government, bound by domestic political compulsions, covertly helped the Sri Lankan army and navy to scour out and destroy the LTTE.
By the end of November 2008, the script was no longer in LTTE chief Vellupillai Prabhakaran's hands.
It was being written by the Sri Lankan forces tacitly supported by India and openly assisted by China and Pakistan.
Since December 2005, when Mahinda Rajapaksa made his first visit to New Delhi less than a month after he took over as Sri Lanka's president, India was aware of his intention to take the LTTE head on.
Although in the initial days he was advised to seek a negotiated settlement with the Tigers, New Delhi saw merit in Rajapaksa's argument that the LTTE was only biding its time to regroup and rearm itself and that war was inevitable sooner than later.
And if the LTTE was preparing for a showdown, Rajapaksa did not want to be caught off guard either. His armed forces needed to be ready for any eventuality.
The president therefore sent his brothers Basil and Gotabaya to New Delhi with a shopping list for essential weapons and equipment that the Sri Lankan armed forces needed. The shopping list included air defence weapons, artillery guns, Nishant unmanned aerial vehicles and laser designators for precision-guided munitions.
Initially, New Delhi was non-committal.
Top officials involved in the talks on either side told me that in its typical bureaucratic style, New Delhi neither said yes nor said no to the visiting Sri Lankans. So the two brothers went back slightly disappointed but were still hopeful of getting Indian help.
Outwardly, India did adopt a hands-off policy vis-a-vis the Sri Lanka conflict. But that was because of domestic political compulsions born out of the fact that the ruling United Progressive Alliance government in New Delhi was dependent upon the Dravida Munnetra Kazhagam party from Tamil Nadu for its survival in Parliament.
Aware of DMK chief M Karunanidhi's soft corner for Prabhakaran, the UPA did not think it politically prudent to annoy the DMK patriarch by openly supporting the Sri Lankan government against the LTTE.
So, publicly India maintained that it would not give Sri Lanka any offensive weapons.
Excerpted from Sri Lanka: from War to Peace, by Nitin Gokhale, HarAnand Publishers, 2009, with the publisher's permission.
New Delhi didn't want to annoy the DMK
Last updated on: August 21, 2009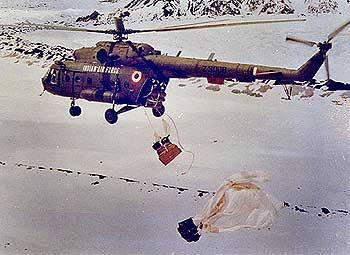 Yet, in early 2006, India quietly gifted five Mi-17 helicopters to the Sri Lankan air force. The only Indian condition was: These helicopters would fly under Sri Lankan air force colours. New Delhi clearly did not want to annoy UPA's Tamil Nadu allies like the DMK unnecessarily.
The Mi-17s were in addition to a Sukanya Class offshore patrol vessel gifted by the Indian Coast Guard to the Sri Lankan navy in 2002.
Sri Lankan defence sources later told me that these helicopters played a major role in several daring missions launched by the Sri Lankan air force to rescue the army's Deep Penetration Units and the eight-man teams, whenever they were surrounded by LTTE's counter-infiltration units, or when injured soldiers had to be airlifted from deep inside LTTE held territory.
As a senior Sri Lankan army officer confided in me, "Our soldiers operating behind enemy lines functioned with greater degree of confidence and efficiency in Eelam War IV since they knew these helicopters were always on hand to come to their rescue whenever necessary. This was surely one of the key factors in our Special Forces delivering spectacular results."
But hampered by domestic compulsion, New Delhi could not go beyond such meagre and clandestine transfer of military hardware. And publicly all that India was willing to acknowledge was the supply of low-flying detection 'Indra' radars to the Sri Lankan air force since this equipment was considered a defensive apparatus.
Colombo, on the other hand, was becoming increasingly restless since an all-out war with the LTTE looked inevitable. Domestic political pressure had also stalled the signing of a Defence Cooperation Agreement between India and Sri Lanka. Although both sides had publicly committed themselves to such an accord in 2004 itself, the DCA never materialised.
Insiders in Sri Lanka's defence establishment reveal that India's insistence on securing exclusive rights to the use of Palaly air base in the Jaffna peninsula was the most contentious point between the two delegations.
Colombo saw this demand from India as downright insulting and symptomatic of India's hegemonistic mindset. So the DCA never got off the ground. Ironically, three months after the Eelam War IV ended, India decided to fund the repair and restoration of the Palaly air base in north Sri Lanka.
Excerpted from Sri Lanka: from War to Peace, by Nitin Gokhale, HarAnand Publishers, 2009, with the publisher's permission.
Sri Lanka needed India's support
Last updated on: August 21, 2009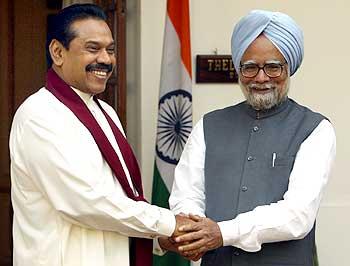 The Rajapaksa regime was nothing if not shrewd. It knew the past history. It was aware of the dynamics that determined India's domestic politics in the context of Tamil Nadu. It was also conscious of India's anxiety in losing strategic space in Sri Lanka.
But above all, the Rajapaksa brothers were pragmatic enough to realise that Sri Lanka needed India's support in the prosecution of the war against the LTTE, total support from China and Pakistan notwithstanding, simply because India was Sri Lanka's next door big neighbour. Colombo could ignore India but only up to a point.
So Mahinda Rajapaksa hit upon an idea of setting up an informal exchange mechanism between New Delhi and Colombo. The president nominated both his brothers Basil (a member of parliament and presidential adviser) and Gotabaya, the defence secretary, along with his own secretary, Lalith Weeratunga, as members of an informal yet powerful delegation that would update the Indian government on the latest developments as frequently as possible.
India too reciprocated immediately.
India's National Security Adviser M K Narayanan, Foreign Secretary Shiv Shankar Menon and Defence Secretary Vijay Singh formed the Indian trio. The two teams interacted frequently both on the phone and by visiting each other. The Sri Lankan trio in fact visited New Delhi at least five times between 2007 and 2009. The Indian delegation made three return visits in the same period.
Most of the interactions were low-profile and discreet except the Indian team's June 2008 trip to Colombo that attracted huge attention mainly because of its timing. That time Sri Lanka's military operation was pushing the LTTE out of its north-western coastal areas in the Mannar district.
And two months later, Sri Lanka was supposed to host the 15th summit of the South Asian Association for Regional Cooperation.
When Narayanan, Menon and Singh arrived in the Sri Lankan capital in a special Indian Air Force plane, almost unannounced, military analysts, both in India and Sri Lanka, were speculating a massive retaliatory strike by the LTTE.
Indian intelligence agencies apparently had credible information that such a counter attack could be aimed at the 15th SAARC summit that Colombo was hosting on August 2 and 3.
The Indian officials wanted to ensure foolproof security for the summit. New Delhi in fact persuaded the Sri Lankans to accept India's help during the summit. After much persuasion and even a veiled threat that India may stay away from the summit if New Delhi's suggestions on a security upgrade in Colombo was not met, Sri Lanka reluctantly allowed Indian naval ships, anti-aircraft guns and helicopters to be deployed in and around Colombo for the duration of the meet.
Excerpted from Sri Lanka: from War to Peace, by Nitin Gokhale, HarAnand Publishers, 2009, with the publisher's permission.
Conclude Eelam war before polls
Last updated on: August 21, 2009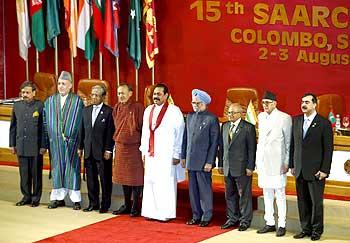 I happened to be in Colombo as part of the media delegation that traveled with Prime Minister Manmohan Singh. I had never seen such tight security in Sri Lanka. The Sri Lankan capital was indeed locked down in a tight security grid for the duration of the summit.
The Indian prime minister and all top Indian officials were transported in Indian Air Force helicopters from the Bandarnaike International Airport to the heart of Colombo. All roads used by the VIPs were shut hours before they traveled on them. In fact, I remember friends in Colombo having left town to avoid being inconvenienced by the stifling security arrangements.
The SAARC summit did pass off peacefully although, as usual, its focus was hijacked by the hyped meeting between the Indian and Pakistani prime ministers.
But security at the SAARC summit was not the only point of discussion that India was interested in. The top Indian officials, according to sources in Colombo, also wanted detailed briefing on the on-going operations in the north. This was readily done at the ministry of defence by both the commander of the army, General Fonseka and commander of the navy, Vice Admiral Karannagoda.
The Indian delegation, I was told by an insider, once again raised the issue of increasing Chinese and Pakistani involvement in Sri Lanka's military campaign, but was quietly reminded that it was India's refusal to supply lethal weapons that had compelled Colombo to look elsewhere, primarily to China.
But the most important political message was delivered by the Indian delegation to President Rajapaksa. He was told to try and conclude Eelam War IV before the summer of 2009 when India was expected to hold the general election.
The ruling Congress party obviously did not want the shadow of Sri Lanka's ethnic conflict to fall on the politics of Tamil Nadu and needlessly complicate matters during the election campaign. President Rajapaksa did not commit himself on the deadline, but promised to expedite the operations. The trio returned to New Delhi perhaps with a mixed feeling of achieving only part of its objective.
Colombo may have been ambivalent about meeting Indian requests to end the operations before the general election, but the Sri Lankan leadership once again gratefully acknowledged the Indian Navy's contribution in locating and destroying at least 10 'floating warehouses' owned by the LTTE.
These warehouses or ships of varying sizes were used by the LTTE to store arms, ammunition and even armoured personnel carriers. These ships, which had no names or identification numbers, used to remain on high seas for months on end. They were brought near Sri Lankan shores whenever the LTTE needed the arms. Smaller ships and craft were used to transport these arms to the Sea Tiger bases on the east and the west coast.
Excerpted from Sri Lanka: from War to Peace, by Nitin Gokhale, HarAnand Publishers, 2009, with the publisher's permission.
Well-coordinated operations by the two navies
Last updated on: August 21, 2009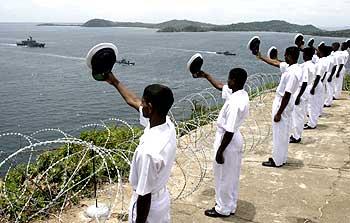 Indian and Sri Lankan navy sources revealed that well-coordinated operations by the two navies between 2006 and 2009 actually broke the backbone of the Sea Tigers.
The Indian Navy, the Sri Lankans said, helped in various ways.
For instance, the Indian Navy's Dorniers based at Ramnad in Tamil Nadu flew regular reconnaissance missions over the seas around Sri Lanka. These Dornier aircraft, fitted with high-powered radar, scoured the area for ships with suspicious movement and cargo.
Whenever such a ship was detected, the Indian Navy passed on the information to the Sri Lankans. The real time intelligence helped the Sri Lankan navy track and then destroy LTTE arms consignments.
Once the rogue ships were located, Sri Lankan navy's Offshore Patrol Vessels (OPV) would go after these floating warehouses and destroy them. The Sri Lankan navy destroyed the first warehouse ship on September 17, 2006, about 120 nautical miles east of the island. Three more such ships were sunk in early 2007.
Moreover, under an agreement between the two countries, the Indian Navy and the Coast Guard frequently sent out ships to patrol the Palk Strait and the Gulf of Mannar. The presence of warships and Indian Coast Guards's OPVs acted as a firm deterrence against the Sea Tigers.
Indian naval ships traveling between the east and the west coast and those going on overseas deployment were also told to look out for rogue vessels. Frequent exchange of information between the two navies resulted in a fine-tuned system that enabled quick remedial action.
Sri Lanka's navy chief Admiral Wasantha Karannagoda praised the Indian Navy's role. 'Cooperation with India has been extremely successful in countering the LTTE. Every year, the Indian Navy with the Indian Coast Guard and the Sri Lankan navy, holds four bilateral discussions. We are conducting coordinated patrols with the Indian Navy as well,' he said in early 2008.
'The navy has destroyed almost all LTTE vessels that could have assisted the Tigers in attacking the armed forces,' he said. 'Within one year, we have destroyed eight floating warehouses, which had carried more than 10,000 tonnes of war-like material including artillery, mortar, dismantled parts of three aircrafts, bullet proof vehicles, underwater delivery vehicles, scuba diving sets, and radar, among other things.'
Excerpted from Sri Lanka: from War to Peace, by Nitin Gokhale, HarAnand Publishers, 2009, with the publisher's permission.
India's hidden hand in 'whacking' the LTTE
Last updated on: August 21, 2009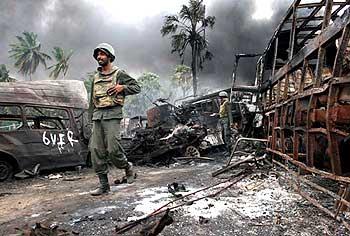 In one instance, accurate intelligence enabled the Sri Lankan navy to sail nearly 1,600 nautical miles southeast of the country, close to coasts of Australia and Indonesia, to destroy three ships in September 2007 and a fourth ship, which had escaped the initial action, three weeks later on October 7, Admiral Karrannnagoda said.
One of the LTTE weapons smuggling vessels was intercepted and destroyed by naval task units after a long pursuit in the high seas 1,700 km off Dondra Head, the southern extremity of Sri Lanka. At least 12 Tamil Tigers on board were killed in the attack.
'We went near Australian waters and whacked the last four vessels,' Vice-Admiral Karannagoda told Jane's Navy International in March 2009. 'Yet we are not a big navy; we had to improvise and use innovation and ingenuity to get our job done. The Sri Lankan navy does not possess any frigate-sized ships, so we used offshore patrol vessels and old tankers, merchant vessels and fishing trawlers as support vessels.'
What he left unsaid, according to sources in both Indian and Sri Lankan navies, was India's hidden hand in providing vital intelligence and operational support to identify and locate these ships.
In March 2009, the Sri Lankan naval chief deliberately avoided mentioning India's crucial contribution since electioneering in Tamil Nadu was picking up speed and Eelam War IV was in its final stage that month. Any public admission of India's hand in destruction of LTTE assets would have created a furor in Tamil Nadu and further strained the already delicate relationship between Sri Lanka and India.
But the fact remains that in late 2007, the Indian Navy's Southern Command deployed three fast attack boats and a missile corvette that patrolled the Palk Straits, searched and caught hold of LTTE fugitives.
Excerpted from Sri Lanka: from War to Peace, by Nitin Gokhale, HarAnand Publishers, 2009, with the publisher's permission.
'India is the big power in the region'
Last updated on: August 21, 2009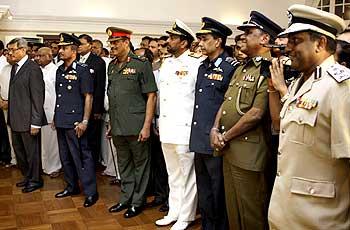 The 'sea denial' and 'naval blockade' by the Indian Navy started after a daring attack by the Sea Tigers on the Delft Island near Jaffna.
Delft Island, the largest inhabited island of the Jaffna peninsula, is located almost equidistant from Rameswaram in Tamil Nadu and Jaffna. The Sri Lankan navy used the island to monitor sea and air movements not only towards Jaffna but also between Mannar and Tamil Nadu coast.
In May 2007, the Sea Tigers mounted a daring attack on the naval attachment posted at Delft Island and after killing seven naval personnel, took away two anti aircraft machine guns, two machine guns, one RPG launcher and eight rifles.
Some reports said the Sea Tigers also took away functioning radar from the island. Jolted by this setback, the Sri Lankan navy requested India for operational help. The assistance was immediately given, but both sides had decided to keep quiet about the details.
Despite such a close working relations between the two navies, India was not happy with Colombo's increasing dalliance with China and Pakistan. New Delhi was acutely aware of the deep inroads made by Pakistan and China in India's backyard.
A worried Narayanan had bluntly declared in May 2007: 'It is high time that Sri Lanka understood that India is the big power in the region and ought to refrain from going to Pakistan or China for weapons, as we are prepared to accommodate them within the framework of our foreign policy.' Which in effect meant India could only supply 'defensive' equipment to Colombo.
Narayanan's statement in fact reflected the dilemma that New Delhi faced. The crisis was, of course, purely India's own making.
Crippled by the iron grip wielded by the DMK and other smaller Tamil parties on the UPA coalition at the Centre, New Delhi could not even openly approve of Colombo's determination to exterminate the LTTE.
Colombo understood India's predicament but had no other option but to shop for weapons and ammunition from elsewhere once India refused to comply with its requests.
Excerpted from Sri Lanka: from War to Peace, by Nitin Gokhale, HarAnand Publishers, 2009, with the publisher's permission.
Pakistan and China in India's backyard
Last updated on: August 21, 2009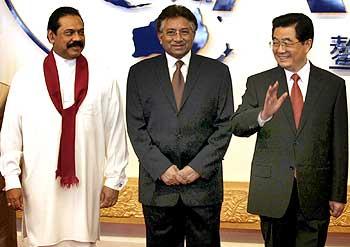 Army Commander Sarath Fonseka admitted as much in an interview to me, "It is only after India told us that it cannot supply offensive weapons that we looked at other options. We first tried western countries but their weapons are expensive. Also, the Western countries cannot be depended upon to continue the supplies when it came to the crunch as it happened with us in the middle of the war, when certain countries blocked supply of spare parts for our airplanes and helicopters. So we turned to China which offered us arms immediately and on favourable terms. They gave us five-year long credit line. We bought armoured personnel carriers, artillery pieces, basic infantry weapons and some ammunition from them. As for Pakistan, we only bought some emergency ammunition from them."
Even Defence Secretary Gotabaya Rajapaksa had a similar story to relate.
Little wonder then that Beijing and Islamabad took full advantage of India's quandary.
By February 2007, Gotabaya Rajapaksa had concluded several defence purchase agreements with China.
One of the earliest agreements in Eelam War IV was a $37.6 million deal with China's Poly Technologies in April 2006 to supply its defence forces with ammunition and ordnance for the army and navy.
Another company, China National Electronics Import Export Corp supplied a JY 11 3D radar for $5 million.
According to the UK-based Jane's Defence Weekly the Sri Lankan navy's requirement, valued at $2.7 million, includes a range of ammunition including 100,000 14.5 mm cartridges, 2,000 RPG-7 rockets and 500 81 mm airburst mortar shells was met by the Chinese.
According to the authoritative Defence Weekly, other arms included 50 Type 82 14.5 mm twin-barrel naval guns, 200 Type 85 12.7 mm heavy machine guns, 200 Type 80 7.62 mm multipurpose machine guns, 1,000 Type 56-2 7.62 mm submachine guns and 1,000 Type 56 7.62 mm submachine guns.
China was not alone in supplying arms to Sri Lanka.
A high-level defence delegation from Islamabad visited Sri Lanka in January 2008 to sell weapons to Colombo.
Pakistan Ordnance Factories (POF) chief Lieutenant General Syed Sabahat Hussein held detailed discussions with Sri Lanka's security officials, including the defence secretary. The delegation included senior POF officials, Export Director Usman Ali Bhatti and General Manager Abbas Ali.
POF is Pakistan's largest conventional arms and ordnance facility and its 14 factories and four subsidiaries produce several varieties of armaments for export. These include infantry weapons, tank and aircraft ammunition, anti-aircraft and artillery ammunition, rockets, aerial bombs, hand grenades and mortars.
Getting China's and Pakistan's backing was important for the Rajapaksa government but it also needed to get its own act together at home. So the government and especially Defence Secretary Gotabaya Rajapaksa got down to the task of reorienting the Sri Lankan air force and the Sri Lankan navy, always considered the weakest link in previous military campaigns.
Excerpted from Sri Lanka: from War to Peace, by Nitin Gokhale, HarAnand Publishers, 2009, with the publisher's permission.