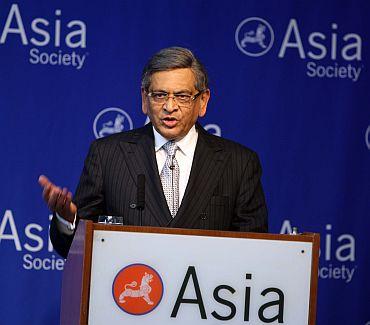 Slamming Pakistan Foreign Minister Shah Mehmood Qureshi for raking up Kashmir issue at the United Nations General Assembly, India on Tuesday said the 'unacceptable and untenable' remarks by him was a ploy to divert attention from the internal troubles that country is facing.
External Affairs Minister S M Krishna took strong exception to Qureshi's call for a 'plebiscite' in Jammu and Kashmir and said India does conduct a 'plebiscite' every five years in the form of elections and separatists prevented Kashmiris from exercising their franchise.
"It is with a sense of genuine disappointment that I react to the unacceptable references to the Indian state of Jammu and Kashmir made by Foreign Minister Qureshi in his address at the UN earlier today," Krishna said, speaking at Asia Society soon after Qureshi's speech at the UNGA.
"Such unsolicited and untenable remarks will not and indeed, cannot direct attention from the multiple problems Pakistan needs to tackle for the common good of its people and indeed of the entire region," Krishna said.
In his speech, Qureshi stressed that Kashmiris should be allowed 'to exercise their right of self determination through a plebiscite.'
Krishna said Pakistan is facing internal trouble and is trying to "deflect attention" by using "Kashmir as a ploy."
"There is nothing new in what they have been saying," he said, noting that Pakistan appeared to have dug out the 'plebiscite' issue from their old speeches.
Krishna pointed out that India does conduct a 'plebiscite' every five years in the form of elections. "Nobody has ever questioned the elections in Kashmir as fake," Krishna said.
Image: External Affairs Minister S M Krishna speaking to mediapersons at the Asia Society, in New York, on Tuesday   Photograph: SnapsIndia