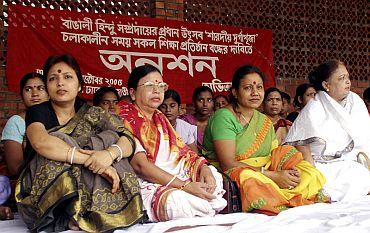 United States Representative Ed Royce, California Republican and the ranking GOP member on the House Foreign Affairs Committee, has slammed the alleged ethnic cleansing of Hindus in Pakistan, Bangladesh and Bhutan and said Hindus have been discriminated much more than any other ethnic group in these countries.
At the Capitol Hill reception hosted by the Hindu American Foundation last week, he was presented with the HAF's Friend of the Community Award. At the reception, Royce said he had nothing but 'feelings of humility and empathy for people who have been subjected to -- despite the tolerance of their own religion and despite the way in which Hindus have treated and accepted others -- more discrimination than just about any other ethnic group.'
The influential lawmaker said, "As someone who has been to Bangladesh, Pakistan, to Central Asia, to South Asia and talked with many of the victims," he deplored the kind of human rights abuse Hindus had faced in these countries.
"There are 2 million Hindu Americans here in the United States, and many of them have shared their own stories with their neighbours and us in the United States," he said. "So, we have some inkling of what they went through," he said.
Royce said one could fathom the ethnic cleansing that had taken place in Pakistan when one considers 'the fact that Pakistan was once 25 percent Hindu.'
He said it was a tragedy of enormous proportions, and added, "To think about the use of intimidation against Hindu women used and still used in those societies where there is a small minority yet of Hindus in Pakistan."
He said the same kind of blatant human rights abuses against Hindus was occurring in Bangladesh and Bhutan.
He said he knew 'what the Bangladeshi Hindu population has been through. It cries out for the international community to step in… It's absolutely unacceptable — the inhumane, intolerant way in which Hindus are treated when they are a minority in these countries in South Asia.'
Royce, the GOP co-chair of the Congressional Caucus on India and Indian Americans, acknowledged that 'we have built this India Caucus up to 158 members… We can use this (caucus) not only in India in our discussions with the Indian government to make sure that steps are taken. We should also use it to continue to educate members here in Congress so that they will use what leverage they have to guarantee the rights of those who have no rights today in Bangladesh, in Pakistan, Bhutan and other parts of the world.'
Image: Bangladeshi women during a hunger protest in Dhaka, October 3, 2005. The women were demanding a weeklong vacation for their school going children so that they could celebrate Durga Puja
Photograph: Reuters