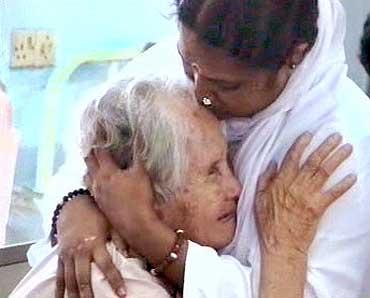 The spurt in economic development triggered by globalisation would fail to reach the entire humanity unless every one in the world overcame greed, selfishness and fear, Mata Amritanandamayi said on Monday at her ashram in Kollam, Kerala.
The saint was giving her 57th birth day message at the Amrithapuri Ashram near Kollam in the presence of Union ministers Sriprakash Jaiswal, Gurudas Kamat and K V Thomas and a large gathering of her devotees from different parts of the world.
Though globalization brought in its trail material progress its fruits failed to reach entire due to the failure to pay enough attention to uniting the hearts and minds of all, the spiritual leader said.
"Today globalization is becoming a reality. Alongwith this we have lot of expectations. All our lives will become more easier. More countries will become free from poverty. Expectations of education and health will rise and environmental protection would improve," she said.
"However, not only are we failing to achieve these goals but in many areas conditions are deteriorating," she noted. Vocing concern over environmental degradation caused by human greed, the Mata said "we are indebted to protect Mother Nature just as would our mother."
On the dangers posed by alcoholism and drug addiction, especially referring to Kerala, she said "there is no poison more evil than alcohol which transforms human into demon."
Addressing the gathering, Union Minister of State for Home, Sriprakash Jaiswal,said the entire humanity is deeply indebted to Amritahandamayi since her love and compassion always reached the pepole hit by natural disasters like the Tsunami of 2004.
Also, the life and work of 'Amma',as the spiritual leader is referred by her devotees, is a source of inspiration and solace to millions, Jaiswal said.
"What Amma is aiming is not just the well being of the people around her but that of the entire humanity", he said. Union Minister of State for Information Technology, Gurudas Kamat, launched the "Amritashree" social security scheme for women who are members of the Amritha self help network.
Union Minister of state for Agriculture, K V Thomas, launced the improved "Amrithanidhi" welfare scheme for economically weaker women. Former chief minister and senior Congress leader Oommen Chandy, former Union Minister and BJP leader O Rajagopal, Major Metropolitan of Mar Thoma Church Mar Chrysostam also spoke on the occasion.
Image:  Amma hugs a devotee at her ashram.
© Copyright 2023 PTI. All rights reserved. Republication or redistribution of PTI content, including by framing or similar means, is expressly prohibited without the prior written consent.