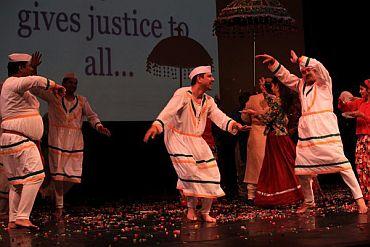 The Uttarakhand Association of North America's annual convention supported the shifting of the Indian state's capital from Dehradun to Gairsain. The issue was discussed at length at the convention held in Edison, New Jersey.
The small hamlet of Gairsain has been mooted as the future capital of the Himalayan state, owing to its geographic centrality, but controversies and lack of resources have led Dehradun to be the provisional capital.
Vijay Sharma, UANA president, said the convention not only focused on bringing the Uttarakhandi people together, raising awareness about the state's culture, but also looked into ways to help and uplift the people back home.
The organisation decided to expand the UANA Award of Excellence, which fetes the top two students from all 13 Uttarakhand districts for Class 10 and 12. The awards program will be broadened to include financially weaker students, Sharma said.
UANA also lamented the demise of social activist, poet, cinema artiste and theatre personality Girish Tiwari, fondly known as Girda. The UANA board of directors and its executive committee decided to name the awards for artists after Girda.
The Uttarakhand community is a small one, with about 1,000 families in the United States, Sharma said. Most of them are professionals.
Guests included Bollywood actress Chitrashi Rawat (Chak De! India), who performed at the convention. New Jersey Assemblymen Upendra J Chivukula and Samuel J Thompson, Edison Councilman Dr Sudhanshu Prasad and social-activist and industrialist Puran Tamta were among the other noted guests.
The 2011 UANA convention will be held in New York, Sharma said.
Image: A folk dance performance in the convention