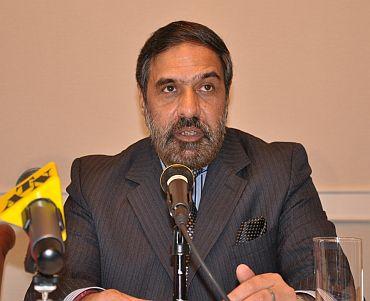 Commerce Minister Anand Sharma is in a fighting mood, blasting everybody, more so the media, the moment you offer any criticism of the Commonwealth Games that will open in New Delhi on October 3.
India's Commonwealth partners are risking a commercial backlash from its growing economic power if they are 'disrespectful' of the beleaguered efforts to host the event, Sharma told mediapersons in Ottawa on Friday.
He was in Toronto and Ottawa for comprehensive economic partnership discussions with his Canadian counterpart Peter Van Loan. But he went round blasting everybody -- like, "How dare you open your mouth against India, an economic giant"
At the media briefing at the Four Season Hotel in Toronto on Friday, Sharma sternly interrupted rediff.com when the question was about the larger ramifications of decision by two Canadian athletes to pull out of the Commonwealth Games for health and safety reasons:
"I understand … what's your question" and then responding that 'those athletes would lose out as tens of thousands of athletes from all over the Commonwealth are coming.'
Later, Sharma complained, "It would be wrong to have a picture that India is not able to host the Games. I would like to request the media to remember with freedom there are certain obligations for balanced and fair reporting. One sink picture and one dirty room picture two weeks ago is not the true picture…"
In Ottawa, Sharma reportedly said with disdain that India has been 'the victim of a campaign of unfair coverage by international media regarding the state of preparations for the Games'.
"We respect our relationship with every Commonwealth country," he told mediapersons after his meeting with Van Loan. Repeatedly referring to India's growing economic power, Sharma reminded the Canadian media should 'not engage with India with disrespect' as 'when it comes to business, whose loss will it be?'
"Is it the game of blackmailing going on? Shut up or no business for you!" he said.
Image: Commerce Minister Anand Sharma speaking to mediapersons in Toronto on Friday