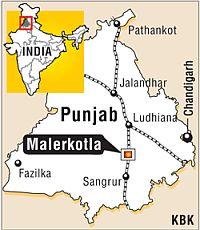 Curfew was clamped in Malerkotla town of Punjab's Barnala district on Monday following violence in which miscreants set ablaze church furniture and a police motorcycle over alleged desecration of a Holy Book in the United States, sparking off protest by Christians in Ludhiana.
The violence in parts of Malerkotla town late on Sunday night was triggered by rumours spread by some unidentified miscreants that a Holy Book has been desecrated in the US, Barnala Senior SSP Harcharan Singh Bhullar said.
The miscreants collected furniture and literature in the church premises and set them ablaze, he said. When police intervened the miscreants resorted to brickbatting in which a head constable Jaspal Singh and two constables were injured.
The mob set ablaze a police motorcycle and damaged a police vehicle besides a fire tender and police barricades. Two reporters, including a camerman, were thrashed by the mob, which also snatched the camera of the lensman.
Violence erupted after the Muslim clergy convened a meeting at the Jama Maszid following rumours that the holy Quran had been allegedly descerated in the US.
Meanwhile, the Muslims led by former councilor Dilshad and Mohd Ashraf Amir held a protest march in Ahmedgarh adjoining Malerkotla raising anti-US slogans.
The Punjab School Board examination of 8th and 10th standards were deferred in Malerkotla following curfew. The situation in Muslim dominated town was tense but under control, police said.
No untoward incident was reported till late on Monday evening without any relaxation in curfew. The Malerkotla police have booked five miscreants by name and about 150 unknown under various sections of the IPC.
The security of religious places has been tightened in Malerkotla particularly of churches in entire district.
Meanwhile, Father Maria Silwa Dass of the church and Muslim cleric Mufti Fuzail-Ul-Rehman Hilal Usmani have urged both communities to maintain peace and communal amity.
Meanwhile, tension prevailed in Ludhiana as youths belonging to the Christian community took out a protest march from Isa Nagari and set afire truck tyres on the roads.
The demonstrators were demanding immediate arrest of the culprits responsible for the Malerkotla incident. Bhullar said SMSes in this regard were also circulated by the miscreants after which some people gathered near a Church where a wooden plank kept there was set on fire.
There was no other damage to the church, the SSP said, adding the situation was now under control following strict enforcement of the curfew restrictions.
The violence mainly took place in the Loha Bazaar area of the town where police patrolling has been intensified to maintain peace and prevent any further damage.