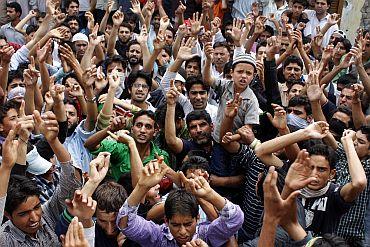 Fresh violence erupted in Kashmir on Monday leaving 18 dead including a policeman and over 80 injured with mobs torching several government properties and a private school, some of the trouble triggered by a television report alleging desecration of the Quran in the United States.
The state cabinet, which met on Monday evening, condemned the alleged act of desecration and made a fervent appeal to the people not to take law in their own hands.
In New Delhi, Prime Minister Manmohan Singh voiced concern over the ongoing unrest in Jammu and Kashmir. He also sought to reach out to the people in the state, saying their grievances have to be addressed and promised talks within the Indian Constitution with those who abjure violence.
The day also saw large-scale arson during which two Christian missionary schools and several government buildings and two police vehicles were torched by angry protestors.
Monday's killing of 18 persons is the highest single-day toll in Kashmir Valley's unrest since June 11 when a school-boy Tufail Ahmad Mattoo was killed after being hit by a tear smoke shell.
Following the daylong violence authorities were desperately trying to enforce the curfew with loudspeaker fitted police jeeps warning residents to stay indoors and not run the risk of being shot at.
Police opened fire in Tangmarg, the famous north Kashmir's health resort where an unruly mob set on fire a Christian missionary school and over 20 government buildings killing two persons on the spot and wounding 40 others, majority of them with gunshot wounds, a senior police officer said.
The injured were evacuated to capital Srinagar for specialized treatment where three more succumbed to injuries, he added.
An unruly mob set on fire another Christian missionary school in Pulwama town in south Kashmir on Monday evening.
The adjoining saffron rich Pampore town witnessed fierce protestor-security force clashes on Monday afternoon. Security forces opened fire killing a youth on the spot and wounding three others, two of whom succumbed to injuries in the hospital on Monday evening, according to deputy inspector general of police south Kashmir range, Shafaqat Ahmad.
In the central Kashmir's Budgam district, irate mobs shouting anti-United States and pro-independence slogans pelted stones and rocks on the police and paramilitary personnel and torched a rail hut and an abandoned house.
The mobs also made an attempt to torch a police station and a police camp in the district.
Security forces opened fire to quell the mobs in Budgam, Humhama and Charesharief towns killing six persons including a young boy, police said.
They said 20 others are undergoing treatment in various hospitals.
A police constable who was critically wounded in the day's mob violence in Budgam town succumbed to injuries in the hospital, a police spokesman said.
Security forces opened fire to disperse a stone pelting mob in south Kashmir Anantnag town this evening killing a youth on the spot and wounding another one who was evacuated to hospital for treatment.
Police said a mob pelted stones at police and paramilitary personnel in north Kashmir's Sopore town on Monday evening killing a youth on the spot.
Early on Monday, a 22-year old youth was killed in north Kashmir Ajas town in Bandipore district when Indian paramilitary border guards fired at a mob which targeted its convoy with stones.
The 22-year old Nissar Ahmad Bhat died on way to hospital while another one wounded in the firing was hospitalized, according to the district police chief, Sheikh Junaid.
The state chief secretary, S S Kapoor appealed the Kashmiri people to remain calm and said the government had banned the Iranian Press TV channel which broadcast the news of the defiling of Quran in the US.
Image: Protestors shout slogans on the outskirts of Srinagar on Monday
Photograph: Reuters
With inputs from PTI