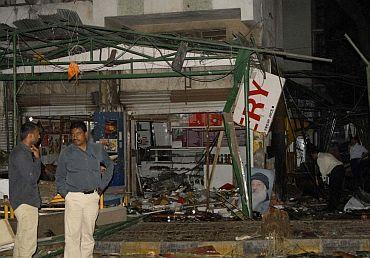 Two persons have been arrested from Pune and Nashik by Mumbai's Anti-Terrorism Squad in connection with the February 13 German Bakery blast case in Pune that left 16 people dead, and over 60 injured, Maharashtra Home Minister R R Patil said on Wednesday.
Himayat Baig and Bilal were arrested from Pune and Nashik respectively, Patil told PTI in Mumbai.
RDX and other bomb-making material have been recovered from the duo, Patil said.
Maharashtra ATS chief Rakesh Maria, while speaking to mediapersons in Mumbai on Tuesday, said that Baig was the present Lashkar-e-Tayiba chief of Maharashtra, who brought Aurangabad module and the Indian Mujahedeen module together.
Maria also stated that Beg conducted a recce of the German Bakery and was also involved in planting the bomb with Mohmmad Ahmed Zarar Siddibappa alias Yasin.
Conspiracy to carry out the Pune blast was hatched in January 2010, Maria added.
Among those killed were an Italian, an Iranian and two Sudanese. Police suspect the role of the Indian Mujahideen and the Pakistan based Lashkar-e-Taiba group in the blast. Located near Osho Ashram, the bakery was very popular with foreigners and students.
Image: People gather near German Bakery after the blast
Photographs: Reuters