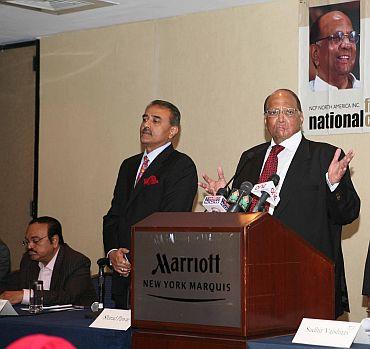 Nationalist Congress Party chief Sharad Pawar on Friday launched the North American Chapter of his party in New York.
Interacting with media persons after the launch of the party unit, Civil Aviation Minister Praful Patel said: "There are people here in the US who are passionate about India despite living here for so many years and we are here today to show our commitment to Indian Americans. We would like to lend a voice to their emotions, sentiments and thought processes and carry them back home."

"We would strive to strengthen the cause of non-resident Indians in North America as well as in other parts of the world," Patel said.
Pawar, who spoke very briefly while introducing the members of the delegation from Maharashtra that included Deputy Chief Minister Chhagan Bhujbal, said he was happy that the members of the Indian American community had worked hard to open NCP's chapter in the United States.
"I do not want to give a lecture, but I must say that this was made possible due to enthusiasm and interest of the Indian Americans here, some of whom met me some six months ago to explore the possibility of launching this organisation," he said.
He said that there were suggestions as to how this NCP North America could become a catalyst in India development.
Patel said that the NCP would take up issues that concern NRIs both inside Parliament and outside. "That is one of the major goals," he said.
A town hall meeting is slated for Saturday where the NCP leaders are expected to heed to NRI's problems and concerns relating to India and take suggestions for improvement back home for possible redressal.

Photo: Paresh Gandhi