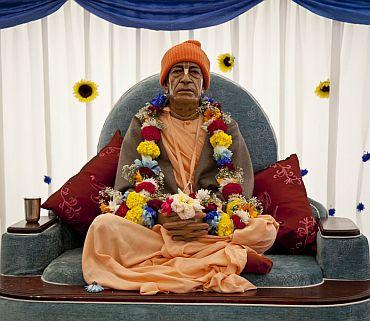 Just a day after devotees celebrated the birth of Lord Krishna, the Hare Krishna temple in Leicester, about 160 kilometres from London, caught fire after a massive explosion occurred, but the worshipers miraculously escaped the tragedy without serious injury. 
According to the Daily Mail, the explosion destroyed a third of the building and smoke could be seen billowing into the sky from the charred building.

A gas leak is believed to have led to the incident.
Worshipper Guaranga Sundara Das, who arrived at the scene later, said a friend had told him it appeared to be a gas leak.
"He told me there was an apparent gas leak and an explosion following it, with windows shattered and glass flying out," Das added.

Eyewitness Fatima Khatri said: "Everyone is really worried. There was a lady crying outside, and a really injured gentleman and people were really shaken. It's really upsetting to see this happen."
According to a police source, a technical rescue team was appointed to search through the debris and there are fears that the temple has become unstable.