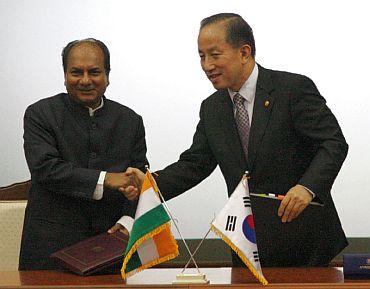 India and South Korea have entered into a five-year defence cooperation accord by signing two memorandums of understandings on sharing of military expertise and technology.
Defence Minister A K Antony and his Korean counterpart Kim Tae-Young signed the two agreements in Seoul during the former's two-day official visit to Seoul.

"Heralding a new chapter in the history of defence cooperation, India and South Korea on Friday signed two landmark Memorandum of Understanding to give a huge boost to the Strategic Partnership between the two countries," Defence Ministry spokesperson Sitanshu Kar said in a release from Seoul.
The two MoUs were signed at the end of nearly 90-minute intensive discussions between the delegations of the two countries, he said.
After the signing of the agreements, Antony said New Delhi would be happy to see the defence industry relationship to be "more than a buyer-seller relationship" and its further evolution into Transfer of Technology, joint production and joint Research and Development.
He expressed the hope that his visit would start a new chapter in the already close relationship between the two nations.
Kim, in his address, said the two MoUs would provide a "win-win scenario" for the two countries in a number of areas.
This was the first-ever visit of an India Defence Minister to South Korea.

Antony is accompanied by a high-level delegation that includes Defence Secretary Pradeep Kumar, Navy Vice Admiral R K Dhowan, Army Lieutenant General K T Parnaik, DRDO's Dr Prahlada and Adviser to Defence Minister Sundaram Krishna.
The first MoU envisaged exchange of defence-related experience and information, mutual exchange and visits by military personnel and experts including civilian staff associated with defence services, military education and training and conduct of military exercises, exchange visits of ships and aircraft, as jointly decided between the two countries, Kar said.
The MoU also provided for cooperation in humanitarian assistance and international peace-keeping activities.
The second MoU was signed by the Chief Controller of Research and Development of DRDO Prahlada and Vice Commissioner of Defence Acquisition and Procurement Agency (DAPA) of South Korea Kwon Oh Bong.
To be operational under the overarching umbrella of India-South Korea Defence Agreement, the MoU aimed at identifying futuristic defence technology areas of mutual interest and pursuing Research and Development works in both the countries.
Co-development and co-production of defence products with Indian industry through DRDO by South Korean industry was part of the understanding.
"There will be joint Intellectual Property Rights on all the products developed through this mechanism. Some areas of immediate interest were marine systems, electronics and intelligence systems and these have been identified as priority tasks," Kar said.