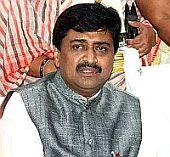 Maharashtra Chief Minister Ashok Chavan, whose name has been linked to a property scam related to the Adarsh Society in Colaba, Mumbai, attempted to clarify his stand on Friday.
Speaking to mediapersons, Chavan said that the charges were 'politically motivated.'
He said that the land was initially owned by the revenue department. It was on July 9, 1999 that the finance department gave its nod to the transfer of land. "When these requests for the transfer of land were cleared, I was neither a minister, nor the CM," Chavan said.
On March 3, 2000 the land was occupied by the defence forces, but was not under the defence area, the army said in a letter, Chavan pointed out.
The land was not reserved for any specific purpose; there are no records of the land being reserved with the government of Maharashtra, Chavan added.
"In March 2000, Colonel Jog, General Officer Commanding, Maharashtra, Gujarat and Goa, said that the land was outside the defence areas. The land was under the unauthorised possession of the army," Chavan noted.
The Central Bureau of Investigation must probe the terms of reference of the land transfer, Chavan said.
"My wife and children are individuals and are free to do their own thing. My relatives might have been members of the Society, but they have not taken possession of the property. My distant relatives Seema Sharma and Madan Lal Sharma have quit the society because they want no part in this controversy," he said.
"Thirty seven defence personnel are members of the society, three of these members are related to the Kargil war. Among them, two are veterans and one is the nominee of a Kargil veteran," Chavan said.

The embattled CM was further pushed into a corner when his party, the Congress chose not to come to his defence. "We are not holding any brief for anyone who might be responsible...We do not want to shield anyone's misdemeanour or indiscretion... Let us await the outcome of the enquiry," party spokesman Manish Tewari said. 

Tewari was replying to a volley of questions on the issue including whether Chavan would step down as the name of his late mother-in-law Bhagwati Manoharlal Sharma has come up as a beneficiary in the Adarsh co-operative housing society in Mumbai.

Tewari said that Defence Minister A K Antony has already stated that the matter would be investigated and action taken if someone was found responsible. A senior party leader said that Antony was also in charge of Congress affairs in Maharashtra and is known for his probity in public life.

Yesterday, Congress President Sonia Gandhi held consultations with senior leaders Antony and Pranab Mukherjee in the backdrop of the controversy. The CBI is investigating how defence land was transferred to the Adarsh co-operative housing society and how the beneficiaries, including former services chiefs, politicians and bureaucrats, raised money to buy apartments meant for Kargil war heroes and their families. The Adarsh society in Colaba was originally meant to be a six-storey structure to house Kargil war heroes and widows but was converted into a 31-storey tower.

Image: Maharashtra Chief Minister Ashok Chavan