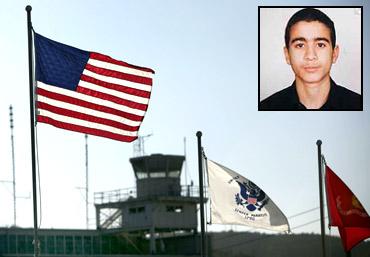 Pakistani-Canadian Omar Khadr, the youngest detainee at Guantanamo Bay has pleaded guilty to war crimes, including murder of an American army personnel in Afghanistan in 2002.
A plea bargain struck with the prosecution averted a trial that could have led to a life sentence for Canadian citizen Khadr, who was 15 at the time he threw a grenade at an American slider during a firefight in Afghanistan.
Under the plea bargain, the US will repatriate Khadr to Canada after he serves one more year at the detention facility and his total prison time will be not more than eight years, according to the Wall Street Journal.
In 2002, Khadr was captured in Afghanistan and the decision to send him to Guantanamo, at age 15, led to widespread criticism of the US government.
After Khadr, now 24, is repatriated, his attorneys are likely to challenge his continuing confinement as violating Canadian legal standards regarding juvenile offenders, the newspaper said.
Khadr pleaded guilty to murder in violation of the laws of war, attempted murder in violation of the laws of war, conspiracy, two counts of providing material support for terrorism and spying in the US, CNN reported quoting a Canadian diplomat.
The newspaper noted that Canada has been reluctant to assist Khadr. "This matter is between Mr Khadr and the US government," a spokeswoman for Canada's Minister of Foreign Affairs said on Monday.
"For today, we have no further comment." While the defense team maintained Khadr's innocence, the chief prosecutor, Capt John F Murphy, said Khadr admitted "that he is a murderer and a terrorist" and the admission in open court represents "the strongest evidence known to the law."
The New York Times pointed out that skipping the trial 'represents a breakthrough for the Obama administration's legal team,'[ which wasn't keen that the first case of the new military commissions should involve Khadr who was arrested as a minor.
NYT also described Khadr's decision to plead guilty as "a turnabout from his vow to never accept such an arrangement lest it allow the United States to save face."
The detainee has maintained that he war forced by older relatives into working with al Qaeda. Without the deal, however, Khadr could have faced a life sentence.
Pentagon spokesman Col Dave Lapan said he expects the sentencing phase of Khadr's trial to start on Tuesday, as reported by CNN. "During the next several days, I look forward to proving to the panel and the world that Omar Khadr is a kind, compassionate and decent young man who deserves a first chance at a meaningful life," his military defence attorney, Army Lt Col Jon Jackson, said in an e-mailed statement.
Image: In this photo, reviewed by the US Military, an American flag flies, at Camp Justice, at the US Naval Base in Guantanamo Bay (Inset) Omar Khadr
Photographs: Reuters