Xi Jinping to succeed Hu as Chinese president
Last updated on: October 19, 2010 14:36 IST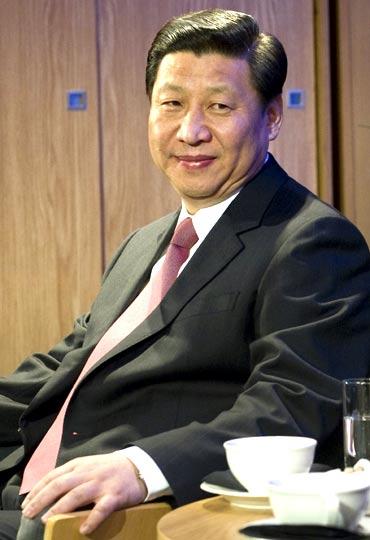 Chinese Vice-President Xi Jinping was on Monday promoted and made vice-chairman of the powerful Central Military Commission of the ruling Communist party, in clear indications that he will succeed the Chinese president and party chief Hu Jintao in 2012.

57-year-old Xi's promotion was announced at the close of the crucial Communist Party of China plenum, which also pledged to make 'steady and vigorous' efforts to promote political restructuring, official Xinhua news agency reported.

Xi is expected to become the party chief in 2012 and later may take over from Hu as president in 2013.


Click on NEXT to read further...
Major reshuffle in China politburo
Last updated on: October 19, 2010 14:36 IST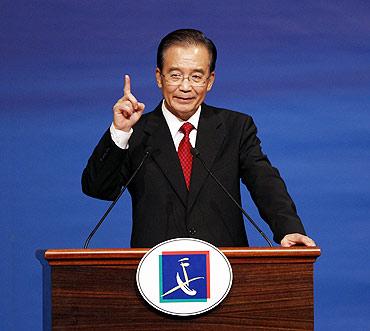 Xi's appointment could be a signal of a major reshuffle in China as along with President Hu, Premier Wen Jiabao and as many as seven of the nine current members of the key politburo standing committee are expected to stand down in 2012 having completed two consecutive terms.

This will pave the way for a takeover by a new generation of leaders in a country that tends to work out succession in advance to prevent power struggles among senior officials.

The Chinese vice-president is following Communist party tradition in the footsteps of Hu Jintao, who also became president and party chief after heading the Central Military Commission. The body oversees 2.3 million soldiers of the People's Liberation Army.

Though Xi was regarded as natural successor to Hu, doubts arose last year when he was not appointed to this post, setting off speculation that the all-powerful president may have been backing someone else.
China to rewrite history
Last updated on: October 19, 2010 14:36 IST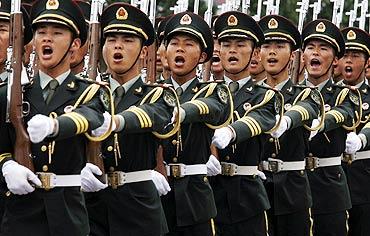 Born in 1953, Xi, who was named as one of the 100 most influential people in the world by the
Time
magazine in 2009, has served in a number of positions related to the armed forces and military reserve affairs during his previous tenures at national and local levels.
He was a military officer in active service when he worked as a secretary at the general office of the Central Military Commission from 1979 to 1982. Xi is also member of the standing committee of the political bureau of the CPC Central Committee, which is the policy body of the CPC.
A follower of reformer Deng Xiaoping, who succeeded hardliner Mao Zedong, Xi, recently launched a new project to rewrite the history of the CPC 'mainly to correct errors' made during the Cultural Revolution led by Mao Zedong, regarded by the present leadership as an event that brought great calamity to the country, causing serious setbacks and loss of life.
Xi, who heads the party school, also called for creation of a tolerant environment to encourage new ideas and more strikingly asked the party officials to rid of lengthy speeches, often laced with empty words and rhetoric to reconnect the party with people.
Hu Jintao's role in Xi's appointment
Last updated on: October 19, 2010 14:36 IST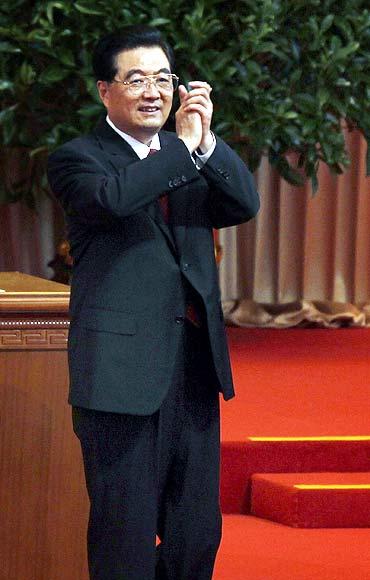 According to speculation, Xi was not preferred as he was close to former president and party chief Jiang Zemin, with whom Hu did not get along well, even though he succeeded him. It was still not clear why Xi was not nominated last year.
Some reports stated that Xi himself was not inclined. But Monday's appointment as vice-chairman of the military commission makes him a natural successor to Hu after the Party Congress in 2012.
After the four-day plenum, the CPC, which has ruled the country for more than six decades, said it will make 'vigorous yet steady' efforts to promote political restructuring in next five years. The communique issued by the fifth plenum of the 17th CPC central committee said that reform was a powerful driving force for accelerating the transformation of the economic development mode.
Reform in every realm must be comprehensively pushed forward with more resolution and encouragement.
"Great impetus would be given to economic restructuring, while vigorous yet steady efforts should be made to promote political restructuring," it said.
It also said more efforts should be made to speed up the promotion of cultural and social reforms. The communiqu said that China would continue opening wider to the outside world and accelerate the "going global" strategy.
Communist Party of China's new agenda
Last updated on: October 19, 2010 14:36 IST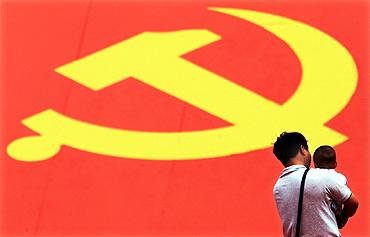 Approving an economic blueprint for the next five years, the meeting decided to achieve "major breakthroughs" in economic restructuring and maintain "stable and relatively fast economic growth."

To speed up the transformation of the economic development pattern marks a profound reform and should proceed throughout all sectors of economic and social development, said the communique. Economic strategic restructuring should be a major task in the transformation, which examined and approved the 12th Five-Year Programme (2011-2015) for National Economic and Social Development, the communique said.

China aimed to reduce its dependence on investment and exports, which made it vulnerable to global economic recession, and efforts had been made to increase domestic demand through consumer subsidies and rising incomes.
The communique said the CPC would continue the policy of boosting domestic demand, and push forward technology research and innovation.

It said improving people's lives and making them feel secure should be the "fundamental ends" of economic transformation.
The CPC vowed in the communique to further boost people's incomes, enhance social construction and deepen reform and opening-up.
© Copyright 2020 PTI. All rights reserved. Republication or redistribution of PTI content, including by framing or similar means, is expressly prohibited without the prior written consent.