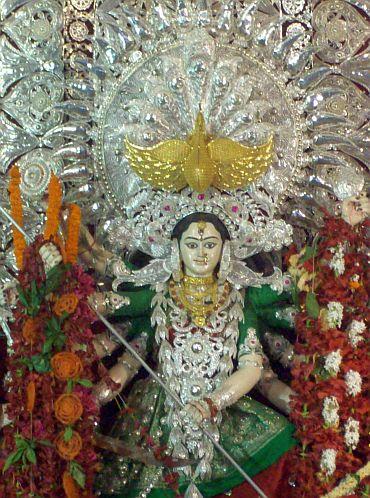 Kolkata may host the most lavish Durga puja pandals in the country complete with elaborate decoration and dazzling illumination, but in Cuttack the puja is popular for the extravagance in style reflected in gold and silver work.

Lakhs of people visit the puja pandals organised by three main puja organisers who compete with each other to put gold crowns on the heads of the deities.

It all started a few years back when the three organisers put up silver tableaux or 'Chandi Medha' in the pandals imparting a sparkling aura.

But gold? Nobody thought of it till Choudhury Bazar puja committee made gold crowns for the deities in 2002 to coincide with its golden jubilee.

Thereafter the three organisers are vying with each other to give the 'golden' touch to their worship of Durga. The budget for the Mangalabag Puja Committee this year is a whopping Rs 1 crore, the major chunk of which would be spent on making gold crowns.

Not just the Durga idol, all the other deities that flank her will sport gold crowns this year including Ganesh, Kartik, Laxmi and Saraswati.

While the main crown of Goddess Durga is made up of 2.5 kg of gold, the remaining four crowns weigh a little over 2.5 kg. The total cost for the crowns, including making charges, has crossed the Rs one crore mark, said a member of the puja committee overseeing the work.

Two other two puja committees -- Choudhury Bazar and Sheikh Bazar - have also made gold crowns for Durga idols this year. The crown for Mahisasura was made of 7.6 kg gold at a cost of Rs 50 lakh.

Besides the crown, they have ordered gold necklaces for the Goddess Durga as well.

Sheikh Bazaar had also made a gold crown for Goddess Durga in 2008. A crown of 3.5 kg gold was made at a cost of Rs 28 lakh which continues to be the star attraction of Cuttack Dusshera.

Known for their impeccable dexterity, filigree artisans of Cuttack have always received appreciation worldwide.

At a time when silversmiths of the city were deprived of government support, non-existence of cooperatives, poor entrepreneurship, professional rivalries and invasion of machine-finished products in markets, the competition to go for silver tableaus and golden crowns have given them a new lease of life.