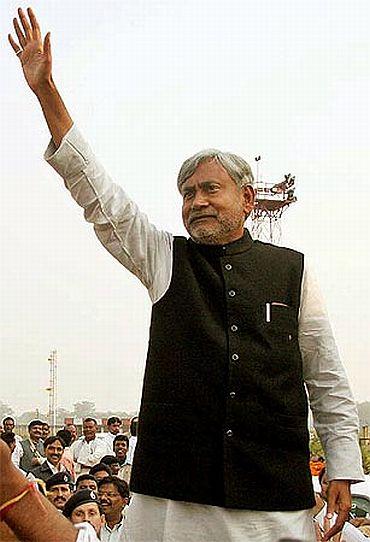 Confident and upbeat for changing the face of Bihar in the last five years, Chief Minister Nitish Kumar is seeking votes only for 'development' during his ongoing hectic campaign for the upcoming state assembly polls.


"Give us vote to continue the development work and to maintain law and order in Bihar, which was lawless and known for aatank raj (terror rule) before we came to power in November 2005," Nitish Kumar said in a series of public meetings he addressed in Kosi, Seemanchal and parts of Mithila region, where elections for 47 of the 243 seats are scheduled on October 21.

After making development as one of the main issues in Bihar assembly polls, Nitish Kumar asserted during campaign that 'caste is not going to decide the vote, it will be development and law order to decide the people's mandate this time.'

"Compare 15 years of Rashtriya Janata Dal regime with five years of National Democratic Alliance rule in term of development, law and order and decide your priority," Nitish Kumar said while addressing rallies in last five days.

Kumar is pleading before people to grant him another term to complete unfinished tasks of development. "I am here to seek your blessings for one more chance to complete the development work and to turn Bihar as a developed state by 2015."

With less than a week to go for the first of the six-phased assembly polls, Nitish Kumar seems aggressive to counter his rivals, including Rashtriya Janata Dal-Lok Janshakti Party combine and Congress. "Thanks to the development initiated by the NDA government, everything changed in Bihar, people are feeling better and would vote for development, not on caste line like in the past," he said.

"We can say with confidence that the law and order situation improved to such an extent that even women dared to go out of house in night, not only in Patna but elsewhere as well. There is no fear in the air," Nitish Kumar said in another public meeting to woo voters.

He noted that 'the rule of law has now been established in the state and criminals fear law more than ever, as more than 50,000 criminals were convicted during his rule.'

He further said that electricity would not be a problem in the next four to five years. "Each house would be provided electricity and Bihar would have surplus power to supply," he said.

At present Bihar is a power starved state and fully depending on central pool supply for it. Millions across the state are still living in the 'lantern age.'

Nitish Kumar, who has been camping in Madhepura for the last five days to campaign for party candidates in Kosi and Seemanchal belt, has been addressing eight to nine public meetings per day and also manages to meet workers and leaders to read the mood of polls.

Bihar will elect a 243-member house in a staggered election that begins on October 21 and ends on November 20. The results will be known on November 24.
Image: File picture of Bihar CM Nitish Kumar addressing an election rally
Photograph: Reuters