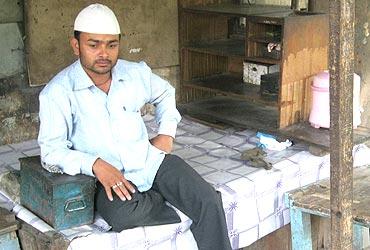 School dropout Aslam Bhure sold half his house and spent 19 years in pursuing the Ayodhya title suit. When the verdict was finally announced on September 30, Bhure's world crashed. Two days after the verdict he died of a heart attack, depressed and defeated. Sahim Salim reports.
The Ayodhya case was very close to this man's heart. In fact, Aslam Bhure spent over 19 years successfully fighting legal battles in the capital that led to landmark decisions and lately, to status quo in the Ram Janambhoomi-Babri Masjid case and the banning of religious activities in the complex. Interestingly, the 54-year-old Bhure dropped out of school after std V.
But post the Allahabad high court verdict of September 30, Bhure was so disappointed that he withdrew into his room, refused to talk to anyone, and was visibly depressed. Two days later, on October 2, he died of heart failure. 
"After the judgment was pronounced, he became depressed. We tried talking to him, but he would not say anything. All he would do was watch discussions on news channels about the verdict. On October 1, he fell very ill and he stopped talking completely," his younger son Imran told rediff.com.
Bhure, whose only source of income was his cycle repair shop in old Delhi, spent a fortune on legal battles. He even had sold over half his property for legal expenses. "At our Daryaganj home, a room had been turned into a Babri Masjid case office; full of files related to the case since 1991. And he knew where every single file was kept," said Imran.
MM Kashyap, a senior Supreme Court lawyer associated with Bhure ever since he filed his first PIL in 1991, agrees. "He kept a copy of all the documents, affidavits, counter-affidavits and judgments at his house. He may not have been educated, but was extremely methodical," Kashyap said and recalled the first time he had met Bhure.
"He wanted my help to file a PIL in 1991. I turned him down initially, saying that the court would reject it and throw the file away. But he was persistent. I turned him away five times, before we sat down to discuss the legalities. That is when I saw how much he knew about the case," Kashyap said.
The two were successful in their fight as the court decided in their favour on the petition filed in November 1991 and ordered a status quo on the disputed land in the demolished Babri Masjid complex in Ayodhya.  
But it did not end there for Bhure. After the Babri Masjid structure was demolished, he filed contempt cases against eight politicians including then prime minister PV Narasimha Rao, and Bharatiya Janata Party leaders LK Advani and Kalyan Singh.
Then in March 2002, the court took cognizance of his writ petition, which sought to restrain Vishwa Hindu Parishad karsevaks from performing puja on the acquired land adjacent to the disputed site in Ayodhya and ordered that no religious activity be allowed.
"For 19 years, my father worked from 10 am to 4 pm on preparing his cases. Every day, he spent over Rs 500 just on photocopying material. Right after breakfast, I would ask him if he had an errand for me and invariably it would be something related to the case," Imran said.
In fact, so much was his commitment to the case that he sold half his Daryaganj house to meet the expenses. "He had bought the house in 1990. Five years later, he sold the portion at the back to pay legal fees," Imran said.
His lawyer Kashyap fought the case pro bono. "He was passionate about what he was doing, but he had a modest source of income and could not afford my fee. After a while, I stopped charging him a fee," Kashyap said.
As far as his case goes, his son says that he does not have the energy or resources to fight it anymore. "This is it for us. It was dear to him and we respected his choice. But as his surviving family, we do not have his will power or conviction to take it any further. Kashyap saheb may decide to pursue it on his own, but as far as we are concerned, the fight ended with his death," Imran says.
Image: Imran, Aslam Bhure's son at their cycle repair shop in Old Delhi, says the family will not fight the case any more | Photograph: Sahim Salim