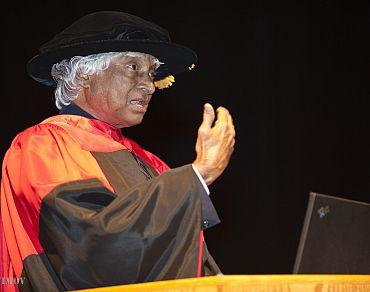 In recognition of his vision, dedication and leadership in the study and advancement of science and engineering, an honorary degree of Doctor of Engineering was conferred on former President Dr A P J Abdul Kalam by the University of Waterloo at a special convocation recently.

Calling him the 'people's president', Dr Adel Sedra, dean of Faculty of Engineering, said: "Prior to his presidency, Dr Kalam was an invaluable contributor at the Indian Space Research Organization and was project director of India's first indigenous satellite launch vehicle, successfully putting the Rohini satellite into orbit."
Dr Sedra then detailed all the work that the former Indian president had done as chief executive officer of the Integrated Guided Missile development programme and as the chief scientific advisor to the defence department.

The citation referred to Dr Kalam's biography 'Wings of Fire' and how it was inspiring the youth of India. 

In his speech, Dr Kalam said: "I would like to thank the University of Waterloo for conferring me this honorary degree. The evolving education system, and the successful accomplishments of many creative and dynamic teams have changed the world immensely. Therefore the university system itself has to meet new requirements in the twenty first century."

But Dr Kalam was concerned that "for want of quantity, quality and particularly research should not suffer."

He addressed five important criteria in this regard.

"The education has to meet the needs of the citizen for contributing to the sustainable growth in various areas of national and global development; it has to meet the diverse cultural needs; it should ignite the minds towards research and enquiry; it has to be cost effective for deserving students to take up subjects of their choice; and the contemporary education system has to have integrated learning process for students with five capacities inquiry, creativity, technology, entrepreneurial and moral leadership."