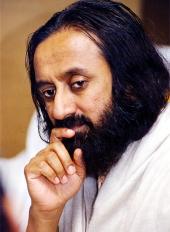 The day after an unidentified gunman fired at his convoy and injured a devotee, spiritual leader Sri Sri Ravishankar ruled out enhancing his security, saying it will block communications between him and the common man.
Addressing a press conference in Bengaluru, Sri Sri claimed that the 'divine intervention of a supernatural force and the vision of his driver' saved him on Sunday.
The spiritual leader was on his way to attend a programme near his ashram on Sunday evening when an unidentified gunman fired at his convoy. The shot accidentally grazed the thigh of a devotee who sustained very minor injuries.
Sri Sri added that he wanted to invite the gunman to attend a satsang (spiritual discourse) with him. "If he meets me, he will correct himself. Those who indulge in such acts do so with the sole objective of spreading terror," he said.
Sri Sri urged his followers to put the incident behind them and move on, adding that he had forgiven his attacker.
Sri Sri claimed that he had no enemies and didn't understand why such an incident took place. "I am unhurt and safe. We need to look at this incident from a spiritual level. I have no enemies at all," he said.
Preliminary investigations have revealed that the bullet was fired from a pistol.
While the devotees at the ashram suspect that it could be a terror attack, the police have ruled out such a possibility. A senior police officer said that they are probing the matter and the unidentified gunman was still at large. "We have some clues as of now, but it will not be right to reveal all that right now as it may hamper the probe," he said.
The police were informed about the incident nearly three hours later, he said.
At the spiritual leader's ashram at Kanakapura, the day started with the regular rudra puja.
"All activities at the ashram will go on as usual. There will be no change in any of the programmes," a spokesperson of the ashram told rediff.com.
Scores of policemen, security personnel and investigators probing the case have been deployed at the ashram.