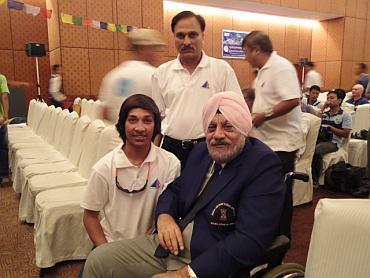 India's youngest Everest summiteer Arjun Vajpayee was to receive a medal from President of Nepal Ram Baran Yadav at function on Saturday, but instead recieved his medal from Nepal's minister of tourism & civil aviation, Sharat Singh Bhandari.

Yadav and Nepal Prime Minister Madhav Kumar Nepal both skipped the felicitation ceremony in view of the volatile political situation in the country.

Asked why the family was not willing to part with the pictures of Arjun at the peak of Mount Everest his father Sanjiv said that the family had reached an understanding that no picture would be released till Arjun held a press conference."
Image: Arjun Vajpayee (left) with his father Sanjiv (standing) and Major HPS Ahluwalia (seated).