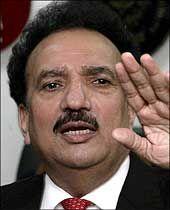 Call it the twitter diplomacy.
Pakistan's Interior Minister Rehman Malik has invited -- or say recommended -- India's Home Minister Chidamabram to twitter.
 
Responding to an Indian journalist's query -- apparently on Chidambaram taking it to twitter--on the micro-blogging site late Thursday night, the minister said, "I agree with your suggestion. I highly recommend twitter to my friend, colleague and counterpart, Mr. Chidambaram."
At the last count, Malik Malik has over 1,000 followers and he has been tweeting about everything from Facebook ban in Pakistan to terrorism and world affairs. Malik has been freely communicating with his followers and other users on the web.
In response to another Indian journalist, Malik said, "Sir, the issue of Hafiz Saaed is sensitive and subjudice. It was the court's decision and I respect the court's decision."
Regularly interacting with fellow tweeple from across the world, the minister makes it a point to answer pertinent queries, even the critical ones. A follower even said, "Twitter shows Rehman Malik has a real a sense of humour.'
On the Mumbai terror attack, he posted, " Sirs, I will prefer not to comment on 26/11. Both Pak&Indian govts are working closely together on this matter."
In another tweet, he said, "Turkish Ambassador called on me and appreciated my efforts in war against terror. I see Turkey emerging as a leader in this region."
A newspaper report in Pakistan says Rehman Malik is using twitter as a medium to interact with world leaders like United States' president Barack Obama. 
Interestingly, Malik joined twitter after Pakistan banned sites like Facebook and YouTube.
Meanwhile, follow rediff.com on twitter: www.twitter.com@rediffnews