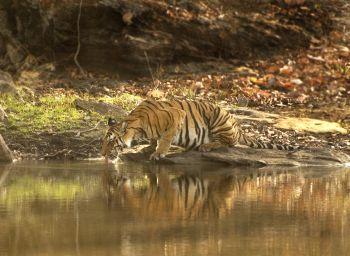 Acting on a report on rediff.com, Union Minister of State for Environment and Forests Jairam Ramesh on Thursday sought a report from the Madhya Pradesh Government over the death of a tigress in the Bandavgarh sanctuary.
The report that moved the minister 
The minister, after reading the column on rediff.com, called up the author, Shehla Masood, and assured her of speedy action in the issue that had environment activists up in the arms.
On May 19, the tigress was killed allegedly by a Madhya Pradesh minister's son's SUV. He owns a resort in the sanctuary
Taking serious note of the matter, Ramesh asked Madhya Pradesh Chief Minister Shivraj Singh Chauhan to personally supervise the investigation into the incident.
The state government has constituted a committee under the additional principle chief conservator of Forest Dharmendra Negi to probe the matter.
Wildlife activists have, however, demanded an investigation either by the Crime Investigation Department or the Central Bureau of Investigation.
Three forest officials have been suspended for alleged negligence.
With agency inputs