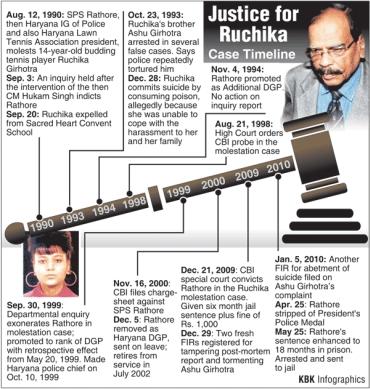 Disgraced former Haryana director general of police SPS Rathore, who was sentenced to 18-months in prison by a Chandigarh court in the Ruchika molestation case, on Wednesday filed a review petition in the Punjab and Haryana high court and sought bail.
Rathore's lawyer-wife Abha Rathore filed the review petition on his behalf in the court of Justice S S Saron.
She alleged that the appellate court had on Tuesday passed the order 'under media pressure'.
Rathore was on Tuesday jailed after a sessions court enhanced his prison term to 18 months for molesting teenager Ruchika Girhotra -- who later committed suicide -- 20 years ago.
While seeking bail for the former top cop, Abha also sought to inform the court about the heart ailment which Rathore is suffering from. The Judge is likely to hear the petition later in the day.