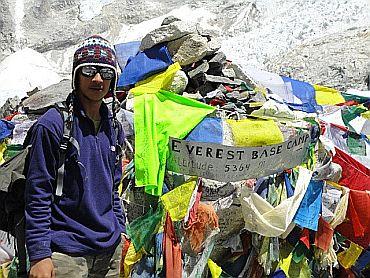 A massive reception is being planned in New Delhi for Arjun Vajpai, who is returning home after he became the youngest Indian to scale the Mount Everest.
Also see: The youngest Indian who scaled Everest 
On May 31, Arjun will be welcomed at the New Delhi airport by 100 schoolchildren and about 150 other persons, including friends. The procession will leave from the airport around 12 for his Noida residence.
Speaking to rediff.com from Kathmandu on phone, Arjun said the fact he shared the same name with great warrior Arjuna in Mahabharata helped him to stay focused.
"I told my mother that I want to see the sunrise from the peak. I am glad that I could reach the peak in time to see the dawn from the highest peak of the world," he said.
He is anxiously awaiting to rejoin with the members of his family. "I miss them," he said.
He had a word of praise for Mamata Sodha, a Haryana girl, who also reached the peak along with Arjun.
"She is a tough climber and that helped her in making to the summit," he said.When the team started their walk from South Cole towards the peak at 10.30 that night, it started snowing.
"For a moment, I thought the weather could play foul, but that was not to be. I managed to reach the top before the expected time because I did not fall ill at any point of time and I was determined to keep going and reach the peak. As the sun rays touched the white mountain, everything turned into sparkling gold. An experience that I would never forget," Arjun told rediff.com.